Serving it up:  
This warm, creamy, egg pie is a winner at breakfast here at West Hill House B&B. Quiche can also be enjoyed for lunch or, dare I say, dinner and is especially tasty cold with a crisp salad on a hot summer day.
Makes one 8″ (20cm) pie
Oven 375°F  (190°C)
Bake 45-60 minutes depending on your oven.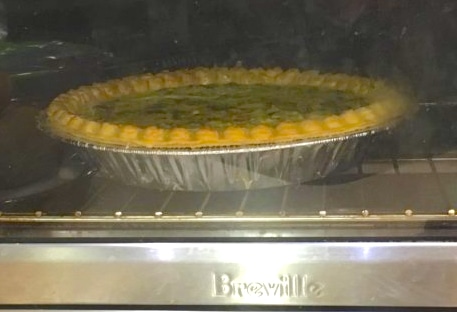 Abbreviations used in USA cooking:
c. = cup. USA cup measure has the capacity of 8 fl. ounces.
t. = teaspoon
T. = tablespoon
Ingredients:
4 large eggs
1 ¼ c. whole milk or half and half (355mL) or mixture of the two
¼ t. dried thyme (1.25mL)
salt and pepper to taste
8" ready-to-bake piecrust (20mm)
finely chopped veggies or meat of your choice [optional]
1/2 c.  sharp cheddar cheese, shredded (180mL) [optional]*
Method:
Lightly prick the crust bottom and sides so that large air bubbles don't develop during the blind bake. If the crust is frozen, let it thaw about 10 minutes then bake it.
Blind bake the pie crust for 12 -15 minutes at 375°F (190°C). I lightly brush my raw dough with an egg wash and add a sprinkle of parmesan cheese as I find it helps to keep the bottom crust from getting soggy once filled with the egg. You want the crust lightly browned. It is OK if the cools before you fill it.
In a medium sized bowl, whisk together the first four ingredients, you will have about 2 cups of liquid. If you are adding veggies or meat (see Tip below), place the additional items in the bottom of the baked crust then pour the egg mixture over the top and sprinkle the cheese on top. *You will find that most traditional French quiche recipes do not include cheese – the choice is yours.
Bake at 375°F (190°C) for 45 min to 60 min. depending on your oven. Keep an eye on it, it should be firm and toasty brown on top. Remove it from the oven and let it cool for about 5 minutes before you cut it. I would not recommend cooking it in the microwave.
Quiche tips:
Before filling the crust: Line a sheet cake pan with parchment paper and place a cooling rack on the parchment paper then move the quiche crust in its pan onto the cooling rack. Fill the crust with the veggies or meat (if using) and the egg mixture then put it into the oven. This makes for easy cleanup should your quiche decide to spill when you move it or to over flow a bit during cooking.  If you don't like crust, try a crustless quiche. No, it's not a frittata, it's a quiche cooked like a crusted quiche but with not pastry.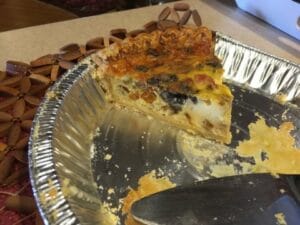 Veggies and Meat: You can cook this as is and it will be just eggy tasting or you can add veggies such as finely chopped onions, sweet peppers, sweet kernel corn, finely chopped kale and green cabbage (red cabbage tends to turn purple when cooked), or mushrooms.
Meats such as chopped ham, crumbled cooked bacon, or ground beef or ground or finely chopped turkey add a nice touch. What you add is up to your imagination.
I always par-cook the additional items beforehand to be sure they fully cook when the quiche is baking. Par-cooking and cooling the meat a bit before adding it to the liquid will help to be sure it is fully cooked during baking. If you are going to use a filling,  you may have a little of the egg mixture left over.
Dishing it out: Quiche is a great 'go-to' recipe for a short notice get together. When we lived in France we would often share a meal with  friends whenever the mood struck us. One or the other of us would suggest dinner and we'd each whip up something quick. Quiche was often on the menu but a fresh pasta with veggies, and soup with baguette and cheese were also favourites. Let me tell you, there is nothing better than sitting outside on the patio on a summer evening with good friends, a glass of rosé and a crisp salad accompanying a freshly baked quiche – especially if you are sitting in France!
Bon Appétit!