16=1 ? That's right, 16 pantry ingredients equals 1 great batch of cookies!
Stirring it up:
Skiers' Delight Cookies are packed with energy boosting ingredients. Tuck a couple in your pocket for when you need that mid-morning pick-me-up on the slopes or to tame the post skiing hunger pangs. 
Makes:  50+  2″  (5cm) cookies
Oven: 350°F  175°C
Bake: 15 – 18 minutes
Ingredients: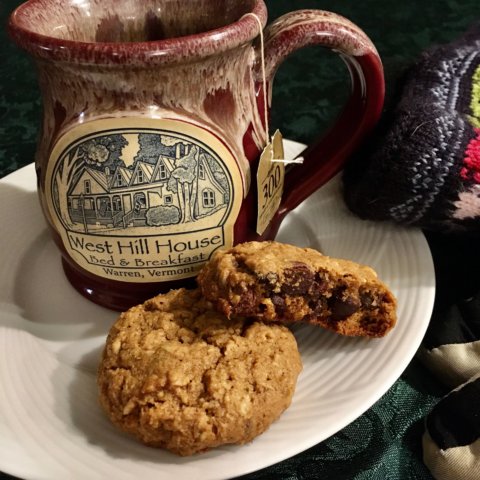 1 c. unsalted butter, room temperature  (250 ml)
1 1/2 c.  brown sugar, packed (375 ml)
1/3 c. molasses (80 ml)
1/3 c. peanut butter, crunchy or smooth (80 ml)
2 eggs, large (2)
1 1/2 t. vanilla extract or boiled cider (7 ml)
1 1/2 c. whole wheat flour (375 ml)
1 c. all-purpose flour (250 ml) I use King Arthur Baking Co. flour
1 c. toasted golden flaxseed meal (250 ml)
1 1/2 t. baking soda (7 ml)
1/2 t. salt (2 ml)
1/2 t. ground cinnamon (2 ml)
2 c. rolled oats, old fashioned (500 ml)
1 c. raisins (250 ml)*
1 c. semisweet chocolate chips (250 ml)*
1 c. chopped pecans (250 ml)*
Method:
The dough is quite stiff, so unless you have well developed arm muscles, I suggest using a stand mixer for this recipe! If mixing by hand you may wish to half the recipe.
In a large bowl cream the sugar, butter, molasses and peanut butter.
Blend in the eggs and vanilla (or boiled cider).
In a separate bowl, measure the whole wheat flour,  all-purpose flour, oats, flaxseed meal, baking soda, salt and cinnamon.
Add the flour mixture to the creamed mixture and mix until evenly blended.
Stir in the raisins, chocolate chips and pecans. (*or whatever you have chosen to use)
Line baking sheet with parchment paper.
Using a 2 T. scoop (30 ml) place cookies about 3″ (8 ml) apart. On a half-sheet pan you will get 12 cookies.
Press each cookie gently with your fingers to make them slightly flattened although still thick.
Bake 15-18 minutes. The tops will be slightly soft.
Cool on the pan for a few minute then transfer to a rack to complete cooling.
Here's where you can get creative with Skiers' Cookies by adding other items, perhaps Craisins, butterscotch or white chocolate chips, walnuts, or pistachios.  The recipe is open to whatever tickles your taste buds or whatever is in your pantry!
These freeze well, if they last long enough for you to get them into freezer bags. Watch out for cookie monsters!
Dishing it out:
It's true, this winter will certainly have a different look and feel from previous winters. To paraphrase a well known saying, "Yes, Virginia, there will be a ski season in 20/21."  Ski resorts around the world are making plans to greet skiers and keep them safely socially distanced while still providing a great winter experience. Here in the Mad River Valley both Sugarbush Resort and Mad River Glen are preparing for the opening day. Check each mountain's website for  information on opening plans, lift ticket availability, lift protocol, lessons, food and beverage availability, social distancing plans and more. 
The lodge cafeterias are one of the areas where many people congregate and social distancing, in the past, has basically been non-existent. This year it will be different. To help keep social distancing mind at lunch time, we are offering our guests the option to purchase skier's pack lunch to take with them, thus enabling them to avoid the cafeteria. There may just be a  Skiers' Delight Cookies included. 😋
The winter season will be here before you know it – are you ready?