Vermont farmhouses. Covered bridges. Cooling weather. Cozy rooms. Those ingredients add up to a perfect recipe for a romantic getaway, and our Bed and Breakfast in Vermont is the perfect place to immerse yourself in the romantic atmosphere. Swathed in beautiful landscapes outside and swaddled in gleaming wooded warmth inside, our Vermont B&B is as snuggly as a shared blanket before a blazing fireplace.
So take advantage of the need for a rejuvenating romantic escape and reserve your room today at our Bed and Breakfast in Vermont.
6 Reasons Our Vermont B&B Inspires Romance
At our Bed and Breakfast in Vermont, we could go on and on about our luxuriously appointed guest rooms. Or a long list of thoughtful amenities to meet your needs for comfort as well as technology. Or the delicious and hearty breakfast we greet you at the start of your day, and the opportunity to be served a drink from our selection of Vermont beers & ciders, a wide variety of wines and our single malt Scotch collection when you return from your day's adventures. Or the many incredible vacation specials we offer.
We'll focus on the special indulgences we offer to add an extra touch of romance to your intimate and secluded getaway at our Bed and Breakfast in Vermont:
Bouquet of seasonal flowers. At your request, we can arrange to have this splash of lovely color waiting in your room when you arrive — and we'll wrap them up for you to take home when you leave.
Champagne of ice. We can arrange to have a bucket of our house bubbly brought to your room on request. And we can even upgrade to the really good stuff — Le Mensil Grand Cru — for a small charge. Also with our special package, the champagne flutes we provide are yours to keep. We'll even pack them safely for you.
A romantic dinner in the village. Enjoy a 3-course dinner for two at the Relais and Chateau Hotel in Warren village at the special inclusive price of $159 per couple. Taxes and gratuities are included. Dinner will be your selection of appetizer, entree and dessert from the menu. Beverages are additional. Add this memorable dinner out when you book your room!
Concierge services. Peter and Susan, your innkeepers, are certified Vermont Ambassadors, able, ready and willing to help you get the very best from your visit to the area. Massages and day spa services, equipment rentals, day trips tailored to your interests, dinner reservations — just let us know what and when, and we'll make the reservations.
The little extras. If your getaway at our Bed and Breakfast in Vermont is an anniversary celebration or other special occasion, we're happy to add those little flourishes that make a big impression, such as roses or Vermont chocolates.
Elopements, intimate weddings and micro-weddings. If you decide to take your romantic getaway to the next level, we're here to help with a package for your scale preferences.
Why Stay at our Bed and Breakfast in Vermont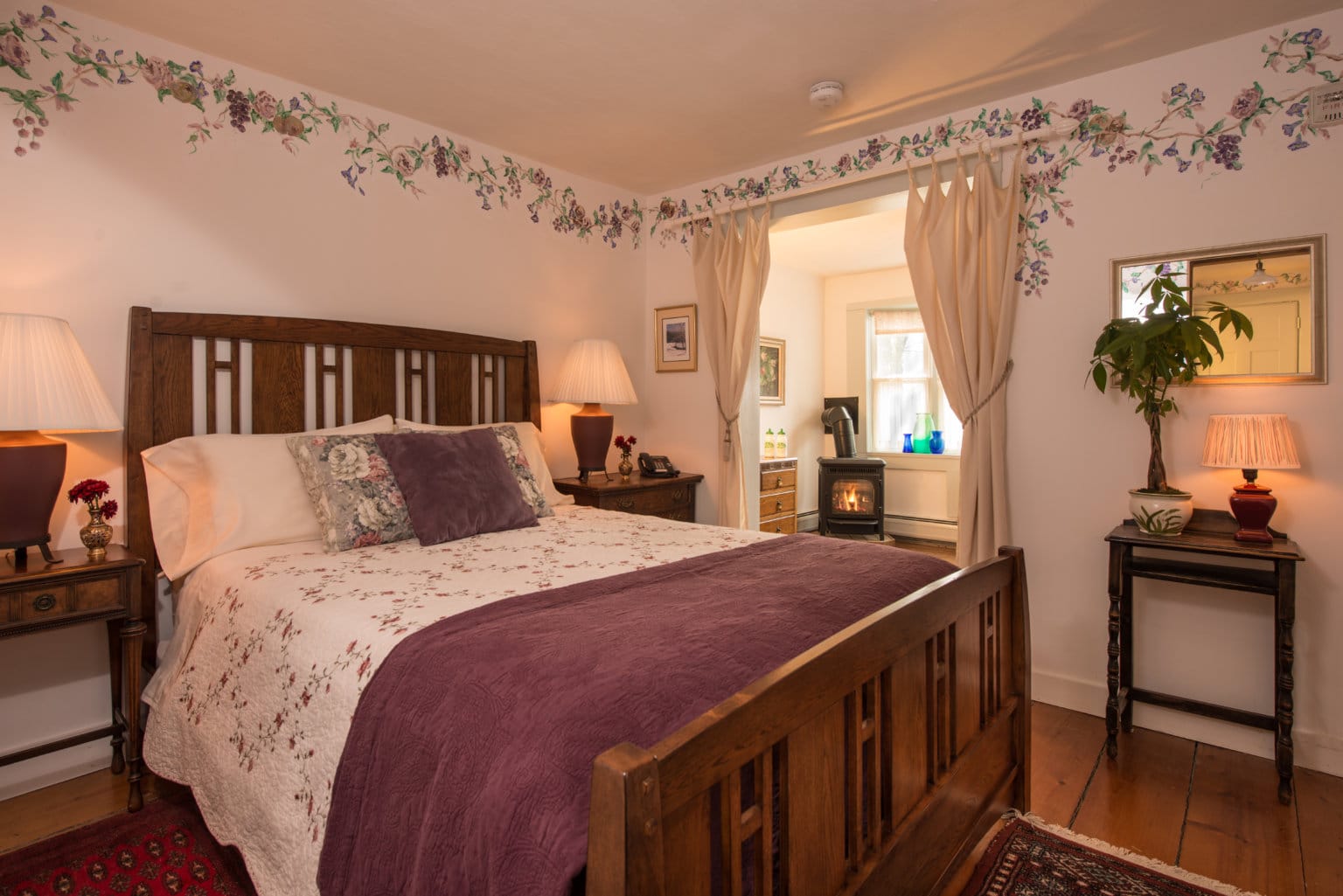 Don't just take our word for it — check out some of the recent experiences of happy couples at our Bed and Breakfast in Vermont from among the more than 600 five-star reviews posted at TripAdvisor:
"My boyfriend and I have made West Hill House bed and breakfast our year round, go to getaway spot because Peter and Susan's hospitality, the incredible three course breakfasts, the coziness of the inn, and the proximity to hiking, skiing, restaurants, and breweries truly cannot be matched anywhere else that we have traveled to before!"
"Due to COVID, we had to put off celebrating our 5 year anniversary (we were married at West Hill House too!) and we're glad to have been able to stay at this wonderful Vermont B & B again! Peter and Susan went above and beyond to ensure that we had a lovely stay while maintaining their safety and ours."
"My girlfriend and I had an amazing getaway weekend at the West Hill House. Peter and Susan's hospitality was superb. Breakfast was delicious! Our room looked and smelled very clean. Peter and Susan are very safe and considerate, wearing masks and checking we were all set to travel. They were also very knowledgeable of things to do around the area. … Beautiful property, amazing experience, will come again."
"My husband and I have stayed at multiple bed & breakfasts, however West Hill House was by far the best one. Susan & Peter have thought of EVERYTHING and everything has an extra special touch to it. They are beyond accommodating and it is very clear they truly care about making each and everyone's stay as special as possible. We particularly loved the homemade cookies that are available 24 hours a day, the 3-course breakfasts every morning, sitting by the multiple fire places and playing their board games, as well as all of the recommendations they give you to maximize your time in the Mad River Valley."
So make your plans for a romantic escape today, and reserve your room at our romantic Bed and Breakfast in Vermont right away!