Winter in the Mad River Valley is exceptionally magical, and it's as fun as it is beautiful!  There's plenty of downhill skiing and snowboarding at area ski resorts, and even more cross country skiing and snowshoeing at various trails and centers around the valley, including one of our favorites, Blueberry Lake Cross Country & Snowshoeing Center. We recently wrote an updated blog about the great snowshoeing opportunities found here at our Vermont Bed and Breakfast, but now we'd like to focus on one of our other favorite winter activities, Nordic skiing.
Cross country skiing, also called Nordic skiing, in the beautiful Green Mountains of Vermont is a great way to get in a little exercise during these cold and snowy winter months.  It's also one of the best ways to enjoy the peace and solitude of our wooded hillsides, taking in plenty of breathtaking scenery as you go. We love nothing more than sharing our little part of Vermont with our guests. The Mad River Valley truly is an astonishingly fun & beautiful place to visit, and has 4-seasons worth of things to see and do!  Give yourself the chance to get away this winter, and book your room at our Vermont Bed and Breakfast today!
Spend an Afternoon at Blueberry Lake Cross Country & Snowshoeing Center
While it's true that the big-name ski destinations here, Sugarbush Resort and Mad River Glen, are popular places to spend a day, there are plenty of smaller (and less crowded) trails that are perfect for an afternoon of cross country skiing.  One of our favorite places to send guests is the Blueberry Lake Cross Country & Snowshoeing Center. In total, Blueberry Lake offers 35km of cross country skiing, spread out among 11 different trails. Each of the trails is unique and offers a range of challenges for differing levels of ability.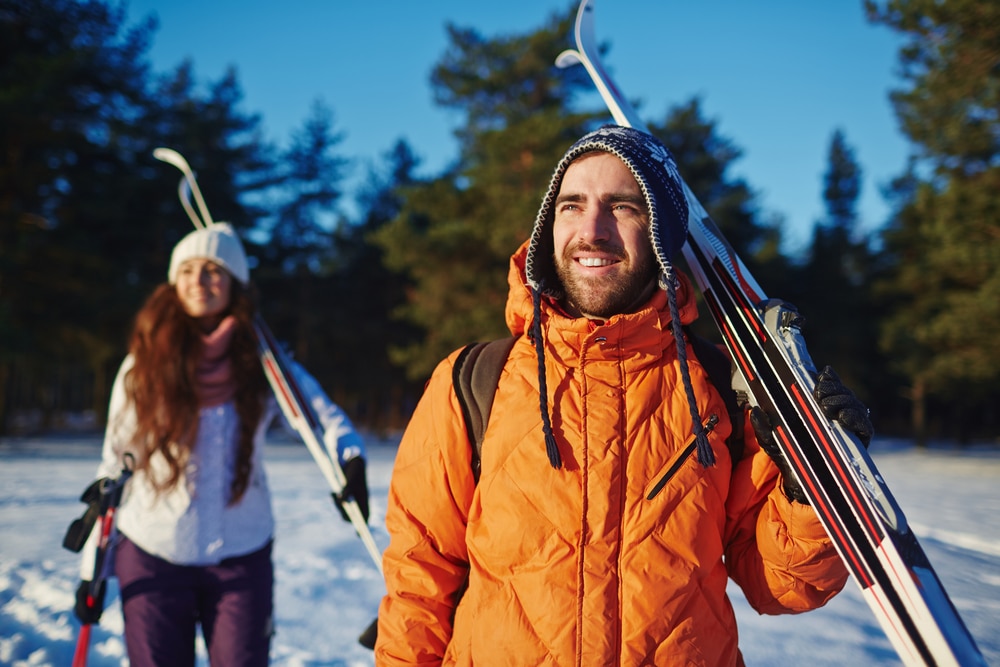 Vermont is still facing severe restrictions around the state, which are impacting cross country skiing and other winter activities.  Generally, only Vermont residents and those from out of state able to first quarantine for 14 days are permitted to ski and only then with a reservation. Masks are required at all times except during strenuous exercise. Even so, we find that our friends at Blueberry Lake are open for the 2020-2021 season, and offer a wonderful escape for those who are able.
Nordic skiing experience at Blueberry Lake will be worth it. The trails at Blueberry Lake Cross Country & Snowshoeing Center are engineered and graded for the average skier and include both classic-style and skate-style trails. You can expect the trails to be groomed daily, which is what makes this such a wonderful place to visit while you're at our Vermont B&B. Blueberry Lake isn't just for cross country skiing and snowshoeing, either.  Their trails are also fun to tackle on a fat tire bike, a fun and winter-centric twist on mountain biking!
More Nearby Places for Cross Country Skiing
While the trails at Blueberry Lake are a great place to start, it's not the only place for cross country skiing in the area.  There are also some wonderful groomed classic and skate trails at Ole's, in addition to some exciting backcountry trails in the mountains.
A section of one of these backcountry trails, the Catamount Trail, passes right behind the West Hill House B&B.  It's perfect for those looking for something of a challenge and is one of the most popular cross country ski destinations in the entire state of Vermont. The Catamount Trail extends for 300 miles, end to end through the state of Vermont, offering cross country skiers access to some of Vermont's most stunning backcountry. The 11.3-mile section that passes by our Vermont B&B features includes a challenging traverse and descent from Lincoln Gap, a crossing of the Sugarbush Golf Course where you'll enjoy beautiful vistas, and then a peaceful sojourn through the woods of the Mad River Valley.
If you'd rather enjoy a more leisurely day on these narrow skis, the golf course adjacent to our property is as good a place as any to explore.  You're free to follow any existing tracks, or make your own, especially if there's new snow on the ground.  And, of course, you can find plenty more to enjoy about winter in the Mad River Valley on our website!
Relax and Unwind at our Bed and Breakfast in Vermont
Cross Country skiing definitely requires a certain level of fitness, even if you're just gliding over the gently rolling hills of the golf course.  However, with a little instruction and practice, we're confident you can get out on the snow and have plenty of fun exploring!  And this ability to explore freely really is one of the best parts of winter in Vermont.
When you're done for the day, retreat into the comfortable accommodations at our romantic Vermont Bed and Breakfast.  Put your feet up in front of the fire, enjoy a glass of whiskey from our Quaiche single-malt bar, and sink into your comfortable accommodations for the remainder of the evening.  We're happy to help you arrange dining, including takeout which can be brought back and enjoyed at the Inn.
In the morning, the delectable smells of breakfast being made fresh for you will be a welcome start to your day. We're immensely proud of our 3-course breakfast spreads, which always include a specially prepared fruit dish, followed by a tantalizing hot entrée to give your taste buds an early morning treat. Coffee, tea, hot chocolate, and homemade treats are always available throughout the day, too.  Not only is breakfast one of our favorite parts of the day, but it gives you the perfect source of fuel for your days' worth of adventure ahead.
The Bed and Breakfast experience in Vermont truly is special, especially during these beautiful winter months.  Isn't it time you spend a few days of bliss with us?  Book your room at our Bed and Breakfast in Vermont today!