There's much more to the Mad River Valley region in winter than skiing. Those who like to take in the sugar puff glories of snowbound Vermont at a slower pace will embrace the delights of snowshoeing, and our Bed and Breakfast in Vermont is here to help get strapped in and on your way to sublime adventure.
This winter, admittedly, looks a little different. Due to COVID-19 protocols and restrictions, our friends at Clearwater Sports are not offering their usual variety of locally organized group expeditions. But don't despair! There's still plenty of ways to enjoy this uniquely intimate communion with backcountry nature in the Mad River Valley on your in a group or own, with a little expert local guidance. Start your Mad River Valley vacation planning by looking over our winter discount package for outdoor adventurers. Then book your stay at our Vermont B&B today!
The Mad River Valley is Perfect for Snowshoeing
If you've snowshoed before, you understand the appeal. If you haven't, it's a friendly, easy-to-adapt-to twist on hiking, and much easier than trying to plunge your boots through snowdrifts that can be several feet deep. Besides, you don't want to be staring down at your feet when there's so much breathtaking backcountry to take in during your sojourn in the Mad River Valley, our picturesque little niche of the Green Mountains in Vermont.
Our Bed and Breakfast in Vermont is a close neighbor to two great but very different ski resorts — big Sugarbush and smaller, independent Mad River Glen. Both offer guided and self-guided snowshoeing options, equipment rentals, along with some Snowshoeing 101 advice for first-timers.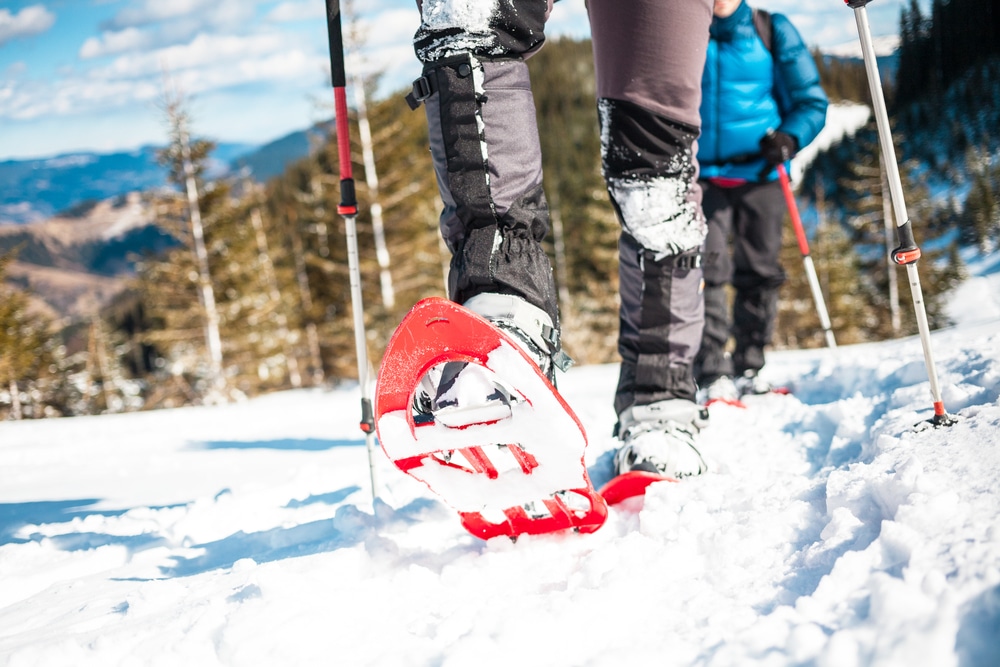 At Sugarbush, the private guided tours are not only fun but informative — you'll learn how to interpret the tracks of animals and the sounds of the forest. Though actual critter sightings are rare, you'll learn how to discern signs from among black bears, deer, moose, coyotes, bobcats, and more in the course of a few hours along the GateHouse Trail or the Slide Brook wilderness. Self-guided tours are offered on the marked trails on Sugarbush's Mount Ellen and Lincoln Peak. Trail maps are available to help you plan your outing.
At Mad River Glen, guided tours of Stark Mountain take place every Saturday and Sunday. These outings offer a window into the colorful and unique ecology and wildlife of this Mad River Valley winter wonderland.
At both places, book your tour reservations and your trail passes — and equipment rentals, if necessary — well in advance. This is not an outing you can arrange once you arrive at the B&B.
Ole's Cross Country Center and Blueberry Lake Cross Country & Snowshoeing Center also offer plenty of trails to help you get your snowshoe legs that you an arrange on the same day. Ole's also offers rentals and instruction, with booking well ahead on their website being essential for those.
West Hill House Private Snowshoeing Tour
While all of these options are wonderful, we're also happy to have our own guide lead you on your very own private snowshoeing adventure at your leisure. The quiet splendor of the wooded hillsides will be your only other companion on this breathtaking adventure. Along the way, we'll help you identify the different trees and tracks, and give you a little historical background of the area.
We can lend you the equipment needed. These tours will be one hour or longer and can be scheduled at a time that fits your relaxation schedule. Contact us for further details, or add to your stay when you book.  Please give us a much notice as possible, with a minimum of 48 hours, and tours will be subject to guide availability.
You're also welcome to snowshoe and Rocketsled right from West Hill House B&B on the adjacent golf course- it's a bit less strenuous and still a fun way to get outside. We'll show you where to go.
Our Vermont B&B Is Your Snowshoeing Headquarters
West Hill House Bed and Breakfast is the perfect place to begin and end a day of Mad River Valley snowshoeing adventures. We'll start you off with a delicious and hearty three-course New England breakfast that has something for every size of appetite and every dietary restriction. When you're ready to call it a day, we'll be here to greet you with a cozy fire, a fresh drink, and a dinner recommendation before you bed down for the night in one of our nine comfortable guest suites, each of which combines old New England country charm with all manner of modern amenities to meet the demands of today's traveler.
And if that doesn't convince you, how about our winter discount package? We call it "Ski & Save" but it applies just as well to snowboarders. It's simple: stay for three or more nights during the winter months and save 25% on weeknights and 15% on weekend nights at our Bed and Breakfast in Vermont. Make your plans for an aw-inspiring winter snowshoeing getaway in the Mad River Valley — and get started by reserving your guest suite today at our Bed and Breakfast in Vermont!