Outdoor aficionados flock to the Mad River Valley of central Vermont year-round to enjoy a variety of outdoor activities. There's plenty to do while you're here, of course, including visiting the wonderful town of Shelburne, Vermont. This charming town is home to the renowned Shelburne Farm and the incredible Shelburne Museum. The journey to Shelburne Farms takes just about an hour and is more than worth the effort. There, you'll find some shopping at the farm store, exquisite farm-to-table dining (closed for 2021), and plenty of family-friendly activities, a wonderful glimpse into Vermont history, and plenty of extraordinary art to admire.
For the rest of your time in the Mad River Valley, there are plenty of outdoor activities to enjoy, including a variety of itineraries and local attractions. Go to bed each night at our warm, inviting Vermont Bed and Breakfast, and wake up to a delicious breakfast each morning – the perfect fuel for your day ahead. There's nothing better than a few restful days in the quiet, scenic countryside of Vermont!
With plentiful vaccinations and pre-testing available, it's easier than ever to get here and enjoy a bit of rest and relaxation, too. What are you waiting for? Book a room at our charming Vermont Bed and Breakfast today!

Make a Trip to Shelburne Vermont This Summer
Shelburne, Vermont, located on the shores of Lake Champlain, is a wonderful place to visit, and not too far away from our Bed and Breakfast in the Mad River Valley! It's a beautiful trip to get there, and the scenery is spectacular. But there's more to Shelburne than just the scenery – it's also home to two great attractions: Shelburne Farm and Shelburne Museum.
Shelburne Farm offers visitors a variety of activities to choose from throughout the year. Whether you visit us for educational or recreational purposes, there's something for you to enjoy. The farm itself is located on historic Abenaki land and encompasses an area of 1,400 acres of a working farm and forest. It's also a National Historic Landmark. The farm has an on-site dairy, which has been producing delicious cheeses since 1980, as well as a beautiful mixed vegetable garden that supplies the restaurant.
The Shelburne Farm hosts a variety of events and workshops throughout the year. Though there are no currently scheduled events due to Covid, we're hoping to see events pick up as we head into the summer and fall. While visiting the farm, make sure to take a hike on one (or more) of our beautiful, nature-filled walking trails. The farm manages over 400 acres of forested lands to explore.
Though the Welcome Center and Farm Store is currently closed to foot traffic, you can order farm products and prepared meals online, which include such delicacies as cheddar, maple syrup, Bread, meat, vegetables, soups, and so much more. It'd be a great place to pick up a picnic lunch before heading out and enjoying the surrounding scenery in Shelburne Vermont! Unfortunately, the farm has made the decision to close their restaurant for the remainder of 2021, not opening again until May of 2022.
However, the farm-to-table cuisine offered here is so worth the trip, that we think you should consider planning to visit this incredible place again once it opens. The menu is built around what's being harvested in our Market Garden and from other Vermont farms on any given day or week, and always includes farm staples like our farmstead cheddar, seasonal lamb and pork, and more.
While you're visiting the town of Shelburne, Vermont, make time to stop at the equally incredible Shelburne Museum, which focuses on American history, art, and design. It's the largest art and history museum in New England. Spread throughout its 45 acres of land are 39 buildings, 25 of which are historic and were relocated to the Museum. This includes wonderful attractions like the Shaker design Round Barn, a General Store, a carousel, and the 220-foot sidewheel steamboat Ticonderoga. As you meander the buildings and grounds, you'll also enjoy 22 distinct and beautiful gardens.
Inside, you'll find a variety of changing art exhibits, along with a permanent gallery featuring significant American paintings by artists such as Andrew Wyeth, Winslow Homer, Grandma Moses, John Singleton Copley, and more. The museum plans to open for the season on June 2, 2021.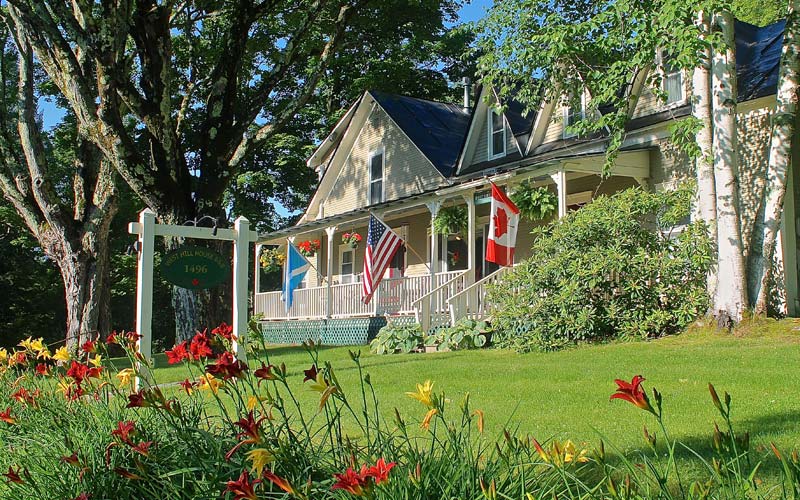 Stay at the Best Vermont Bed and Breakfast
We love sharing the great state of Vermont with our guests and helping them plan itineraries filled with great memories and experiences. This includes great towns like Shelburne Vermont! There's such much to do in the Mad River Valley and beyond, and visiting charming places like the Shelburne Farm and Shelburne Museum are just the tip of the iceberg.
When it comes to great Mad River Valley lodging, there is, of course, no better place to stay than the welcoming and relaxing accommodations at West Hill House B&B. We offer 9 uniquely appointed guest rooms, exceptional hospitality and concierge service, and breakfast you won't soon forget. In the evenings, we also love to unwind with our guests while they can enjoy a selection of wine, beer, and single-malt Scotch!
What really matters when choosing Mad River Valley lodging is experience. We consider ourselves local experts, and we're thrilled to share our little slice of paradise with every guest that comes through our doors. The Mad River Valley is waiting for you. Book your room at our luxury Vermont Bed and Breakfast today!