It is without a doubt that Mad River Valley in Central Vermont is a haven for many exhilarating outdoor activities. It's also one of the best places for mountain biking in Vermont. In fact, mountain biking has been a popular activity in the area for decades, largely due to the area's striking beauty and ever-growing trail network. The well-marked trails here also offer plenty of diverse, challenging, and fun terrain for a variety of riders.
Mountain biking in Vermont is as fun as it is exhausting. You'll need a place to recoup after a day on the trails! There's nowhere better for that than our Bed and Breakfast, the West Hill House B&B. We're located in the town of Warren, Vermont, in the beautiful Green Mountains, just minutes from Sugarbush Resort. We offer 9 peaceful acres to enjoy, plenty of places to put your feet up when you're ready, and even some safe indoor storage for your bikes! What are you waiting for? Book your room now, and let's plan an adventure!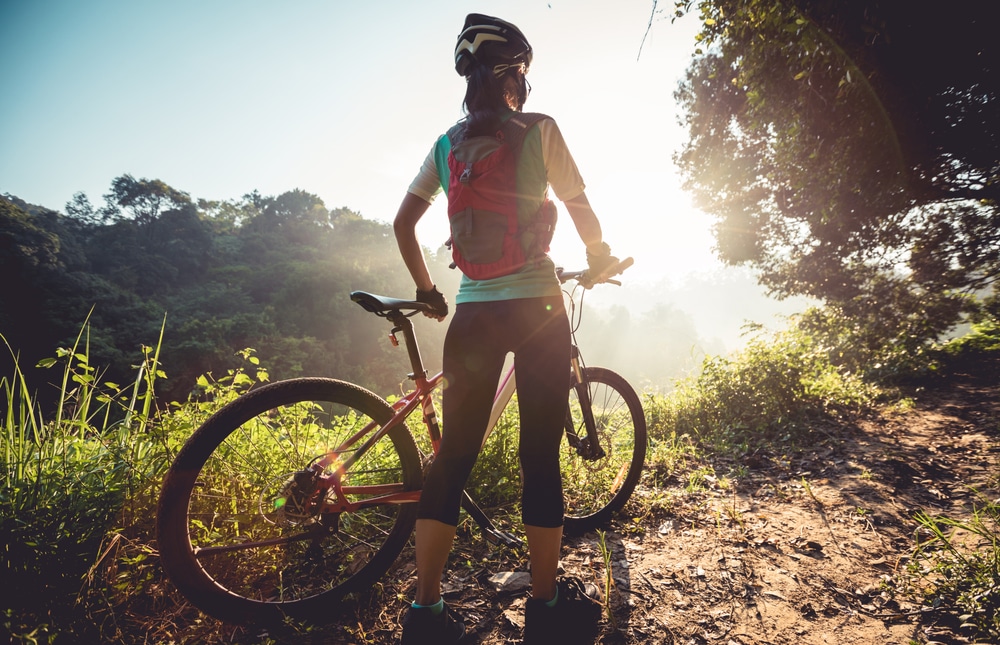 The Best Mountain Biking in Vermont
If tackling wild twists and turns on two wheels is your passion, then mountain biking in Vermont is your veritable paradise. Below are a few of the most popular trails and routes you can ride along to have your heart pounding with excitement, but know there are many miles more of incredible mountain biking trails in the Mad River Valley. We'd be happy to recommend a few for you during your visit, too!
Sugarbush Resort, just minutes from the West Hill House B&B, is an excellent place for some lift-served downhill mountain biking in Vermont. There are 28 trails and if you are not familiar with the Sugarbush terrain or with downhill biking you can book a guide. This season, downhill biking will be open Thursday – Sunday, starting June 26th. Rentals will be available if needed. If you'd rather not zip down hills, there is also plenty of trail biking available at the resort and for those not venturing on two wheels, there is also disc golf.
The Blueberry Lake Loop Mountain Biking Trail, located right here in Warren VT, is perfect for beginners and less advanced intermediate riders to try out a bit of mountain biking in Vermont. It's a fully single-track loop and a great place to experience the fun of mountain biking without all the usual roots and rocks that can make for trickier riding. Completely within the National Forest, views of Blueberry Lake abound. To help plan your riding, route maps are available on line.
The Mad River Riders, a local biking group, has worked through extensive public and private partnerships to create nearly 60 miles of mountain biking trails right here in the Mad River Valley of Vermont. The Mad River Riders develop and steward year-round sustainable trails for biking, hiking, skiing and snowshoeing, and there is free access for everyone. Find all of their mountain biking trails and descriptions here and maps of the trail network are available for purchase at our B&B. Some of the most popular trails in the area include Eurich Pond, Chase Brook Town Forest, and the Camel's Hump and Phen Basin State Forests.
The Mad River Riders have also put together a comprehensive guide to road biking in the area. The mountain roads in the area are absolutely made for cycling, and is just one more reason the Mad River Valley is one of the best places to enjoy a bit of mountain biking in Vermont!
About 30 minutes south of Warren are extensive mountain biking trails in and around the town of Rochester, mainly in the Green Mountain National Forest. In addition I DIG VT has details on nine varied trails for you to explore in the same area.
Cool Fact
Not only are there an abundance of mountain biking trails in the Mad River Valley, there are also two great bike shops, Stark Mountain Bike Works, a full service bicycle shop and Fix Wert which offers appointment based bike fittings, sales and service. Mountain biking in Vermont, we've got you covered from sales to trails!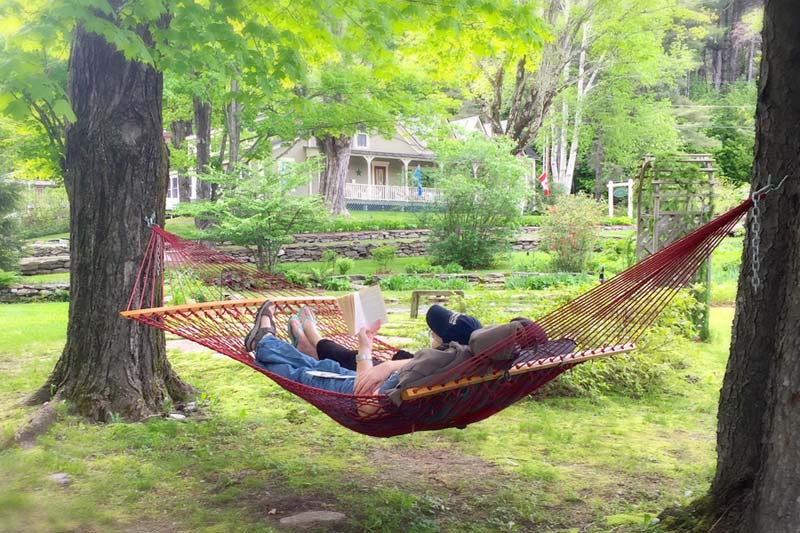 The Best Vermont Bed and Breakfast
Mountain biking in Vermont is one of the great summer thrills to be found here in the Mad River Valley. However, for you to be able to enjoy your biking adventures to their fullest, you'll need a place to relax and rest your tired body at the end of the day! West Hill House B&B is nestled in the green mountains of Vermont and offers guests a comfortable place to relax. We're surrounded by beautiful views, quiet gardens, and access to some of the best activities in the area.
There are 9 distinctive guest rooms all with en-suite bathrooms that feature a jetted tub or a steam shower. All beds are fitted with queens, twins, or king-sized memory foams – and we're frequently told by guests just how amazingly comfortable they are. For extra comfort, the rooms offer extensive amenities such as air conditioning for the summer months. In addition to that, we'll fuel you up for your adventure each morning with a delicious 3-course breakfast that will please your tastebuds.
The spirit of adventure is alive at West Hill House B&B, and guests will always find new things to do at each turn. This summer, roam miles of mountain biking trails while enjoying a getaway in beautiful Vermont. Book your room with us before it's too late!