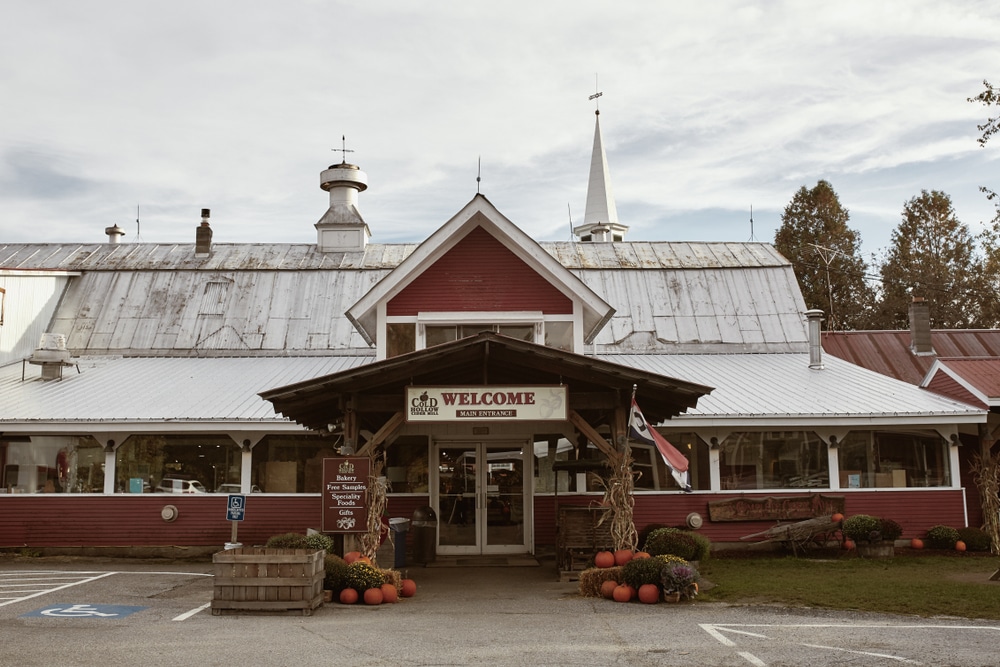 One of the best things to do in Vermont in autumn is visit Cold Hollow Cider Mill. In fact, visiting Cold Hollow Cider Mill is rated as the second best activity on Trip Advisor in the Waterbury Center, VT area. You'll find everything here for a festive fall outing, from fresh apple cider (you can see it being pressed) and hard cider tastings to tons of homemade and local products and a cute cafe for lunch—there's enough to keep you busy for at least a few hours.
Cold Hollow Cider Mill is family-owned and operated, while the Vermont farmhouse and dairy barn was built in the 1800s, the current owners have been tending to the business for more than 20 years now. As one of Vermont's most popular tourist destination, Cold Hollow Cider Mill hosts around 300,000 visitors each year. Some might argue that it's the fresh made apple cider doughnuts that bring the most people in. You'll have to taste them for yourself!
As a guest at our Vermont Bed and Breakfast, you'll be just about a half hour's drive that weaves through the beautiful, colorful fall foliage that our state is known for. A trip out to Cold Hollow Cider Mill is best around lunch time, so join us for a sumptuous breakfast in our dining room, plan a morning stroll around on our peaceful nine-acre grounds with a pond, meadows, and woods open for exploring, and then hit the road to Waterbury Center.
Check our fall availability and book your stay today!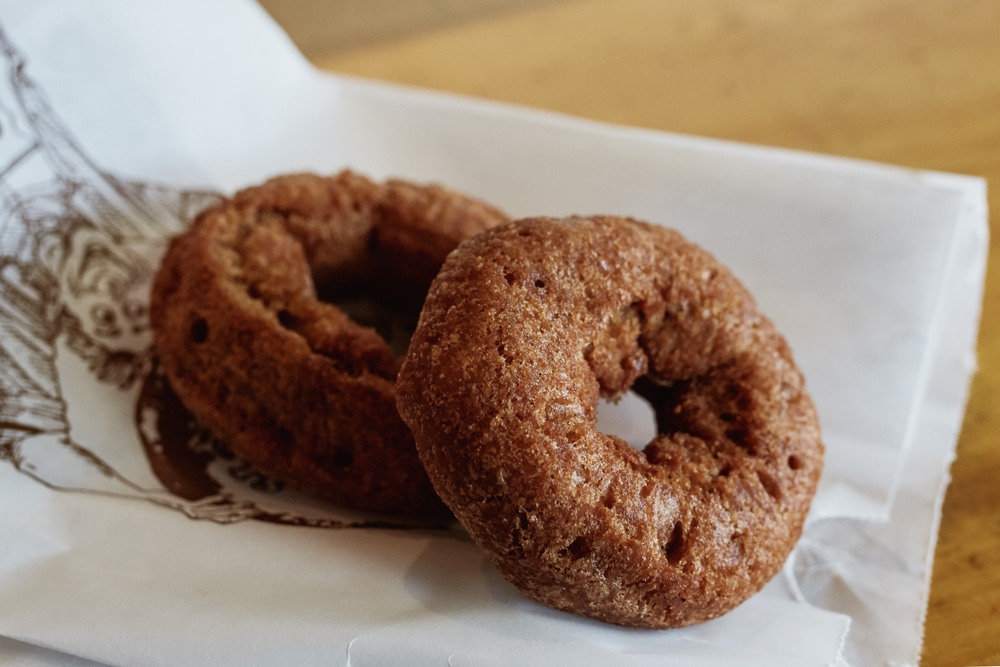 Spend the Day with Autumn Treats at Cold Hollow Cider Mill
There's just something special about Fall in Vermont. Surely in part to the gorgeous fall colors, the perfectly crisp sunny days, and activities like visiting Cold Hollow Cider Mill. Make sure to pack your best knit hat and scarf and head out to explore the beauty of the Vermont countryside in autumn.
Here are five festive fall things to do at Cold Hollow Cider Mill:
Watch the cider making process: It's not just everyday that you get to watch a vintage rack and cloth cider press at work, but it's a common scene at Cold Hollow Cider Mill. Make sure to grab a free taste of the fresh-as-it-gets Vermont McIntosh apple cider.
Sweet Treats: You also get a front row seat to watch the talented bakers at work here, making apple pies, pumpkin breads, and, of course, the famous apple cider doughnuts. The smell of the baked and fried treats is what they call "Vermont aromatherapy." You'll also find plenty of yummy goods to bring home with you.
Shopping for souvenirs: Along with fresh baked tasty things to eat, there's also a huge selection of jams, syrups, cheeses, and lots of other unique pantry items that you'll want to stock up on. On of the best sellers is the cider jelly, rarely found elsewhere, and made with local apples.
Lunch at the Cafe: The sandwiches come on fresh baked bread, soups are made from scratch in-house, and salads are healthy and hearty. Find indoor and outdoor seating options, as well as to go options. Don't miss the mac and cheese made with Cabot cheddar!
Hard cider tasting: While enjoying a pint of hard cider with lunch is encouraged, you'll also find flights of the popular (and very Vermont) beverage in the tasting room. Knowledgable staff can give you the details on apple varietals and the hard cider making process. For a festive choice, "The Grateful Sled" is a cider brewed with mulled spices for the perfect holiday treat.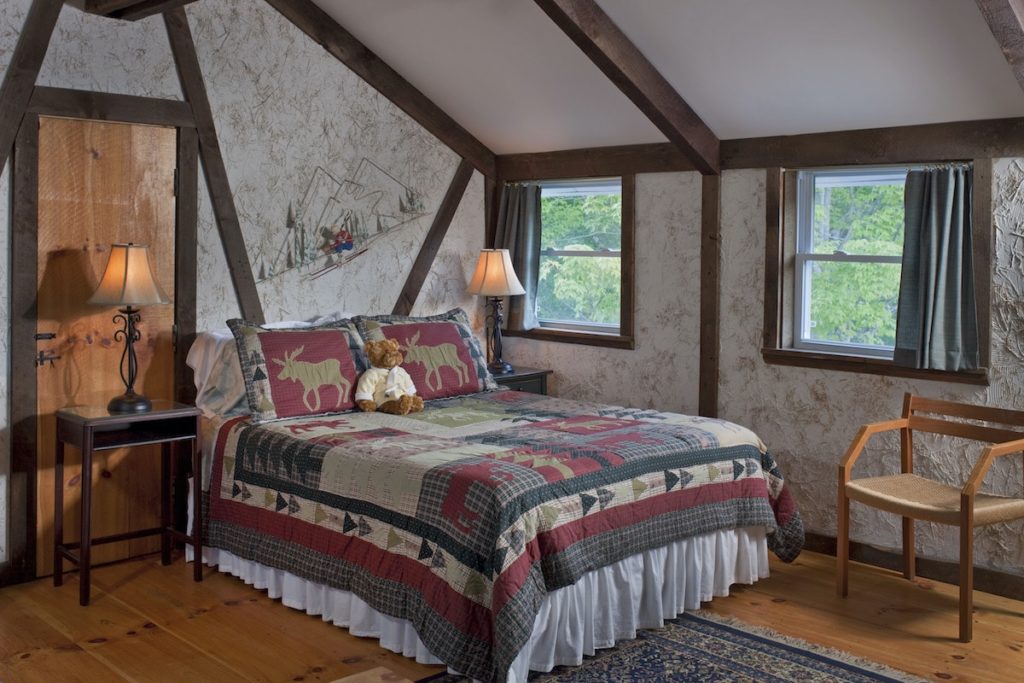 Rustic Lodging at Our Vermont Bed and Breakfast
Our historic Vermont Bed and Breakfast was built in the 1850s, but has since seen the needed restoration and remodels to bring our Inn into the 21st century. We offer comfort in every way, from the common rooms with wood-burning fireplaces and cozy chairs for sitting back to the high-end amenities in each private room and electric vehicle charging points. Our rustic decor fits perfectly within the landscape of the Green Mountains of Vermont.
Our nine guest suites offer different configurations for any kind of vacation you're looking for, be that a romantic getaway for two, a special friend's weekend away, or a family gathering. Thankfully, our gourmet breakfast each morning is included in your stay and often where our guests make some of the best memories on their time here. Check our availability and book your next stay in the beauty of Vermont today!