Stirring it up:
These Shortbread Biscuits (cookies) look like a collection of jewels. They are great to have in the freezer ready to bake at a moment's notice. While the candied fruit and cherries are not actually jewels and there may not be 100 "jewels" in each cookie they certainly dress up a cookie plate.
Makes: about 3 dozen
Oven: 350°F  (175°C)
Bake: 12-14 minutes*
Shortbread Ingredients: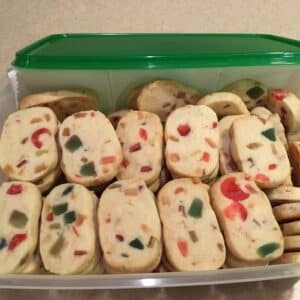 3 cups all-purpose flour
3/4 teaspoon baking powder
1/2 teaspoon salt
2 sticks unsalted butter, softened
1 cup sugar
1 large egg
2 teaspoons pure vanilla extract
3/4 cup chopped candied citron
3/4 cup glacéed cherries
Method: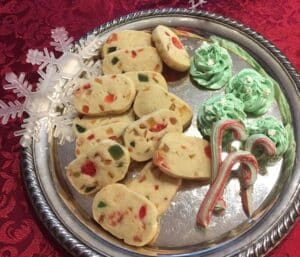 Whisk together flour, baking powder, and salt in a large bowl.
Beat butter and granulated sugar with a mixer until fluffy.
Beat in egg and vanilla.
Reduce speed to low.
Add flour mixture, and beat until combined.
Once the flour is incorporated according to dough add in citron and cherries.
Divide dough into 2 halves. Shape each half into a 10-inch-long square-shaped log.
Wrap in parchment. Refrigerate until very firm, about 2 hours.
You can even freeze the dough like this for up to a month.
Slice dough crosswise slightly thicker than 1/8 inch.
Bake at 350 degrees on parchment-lined baking sheets until firm, 12 to 14 minutes.
*If baking from frozen, add a few minutes to the baking time but watch they don't burn!
Dishing it out:
No Burns Supper menu is complete unless it includes shortbread biscuits. Needless to say,  years ago I learned to make shortbread biscuits as, being married to a Scot, we hosted many a Burns Supper. Probably the most enjoyable was hosting a Burns Supper in France where many of our guests had never tasted Haggis before – it's another menu must! Perhaps we will have shortbread for breakfast dessert on Robert Burns' birthday – January 25th. Come for a treat!
Unadorned shortbread can be found any time of year in most Scottish kitchen cupboards. Holiday seasons bring the desire to jazzed up this stand-by biscuit by adding bits of candied ginger, dipping one end in chocolate, or even making them chocolate! Wanting to do something a little different I decided to make these with candied fruit.  I make these especially during the Christmas holidays and throughout the winter as well as they dress-up a cookie plate very nicely.
I wonder if I could make tartan shortbread for Burns Supper…humm maybe I'll give it a try!