The post-holiday season is a great time to plan a (much deserved) vacation, and thankfully, our Warren Bed and Breakfast is one of the best places to stay in Vermont. Set in the picturesque Mad River Valley, mountains and forests surround our Inn, creating the perfect backdrop for a romantic getaway, couples' trip, or even a quiet solo retreat. You'll feel a world away from the hustle and bustle of everyday life while only minutes away from the favorite attractions in Vermont.
There's something extraordinary about a hosted lodging experience compared to an impersonal big-box hotel stay. You'll be treated to a fantastic, homemade breakfast each morning, be given personalized recommendations about the area, and make some lasting memories along the way. The West Hill House B&B is one of the best places to stay in Vermont due to our welcoming service, warm hospitality, and deep knowledge of our great state.
If you're searching for a completely one-of-a-kind immersive experience, then you've come to the right place. As Innkeepers, we strive to make each and every guest feel completely comfortable and at home, almost as if you're cozying up into a favorite Aunt's house or a distant relative that you've missed over the years. We also offer an array of amenities that you just won't find at other lodging options in the area.
Start planning your next trip to New England and join us at one of the best places to stay in Vermont. Book today!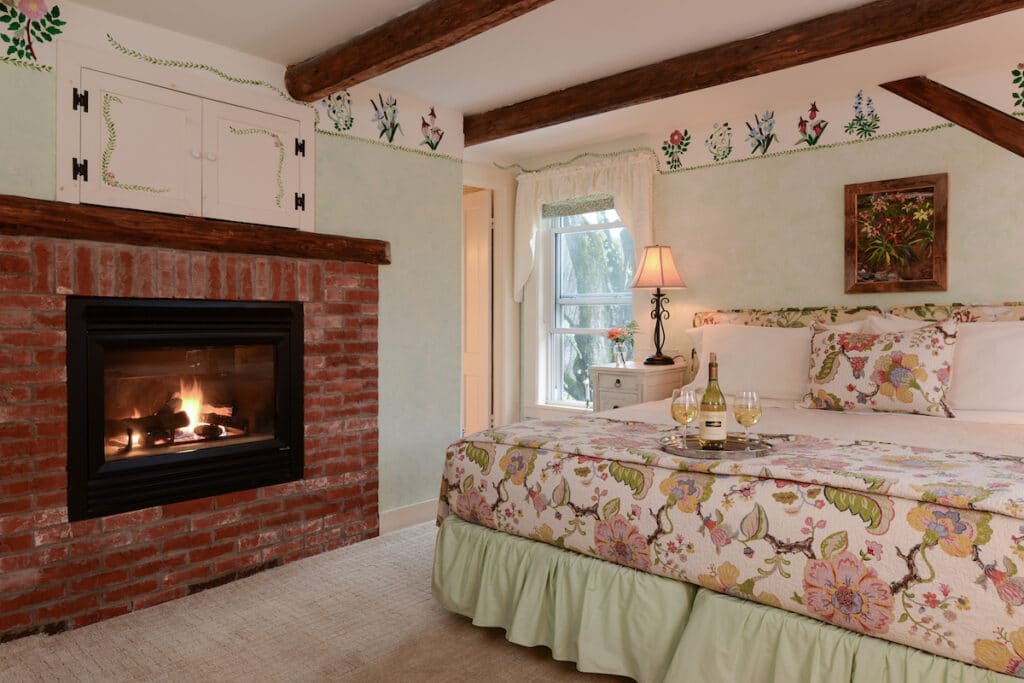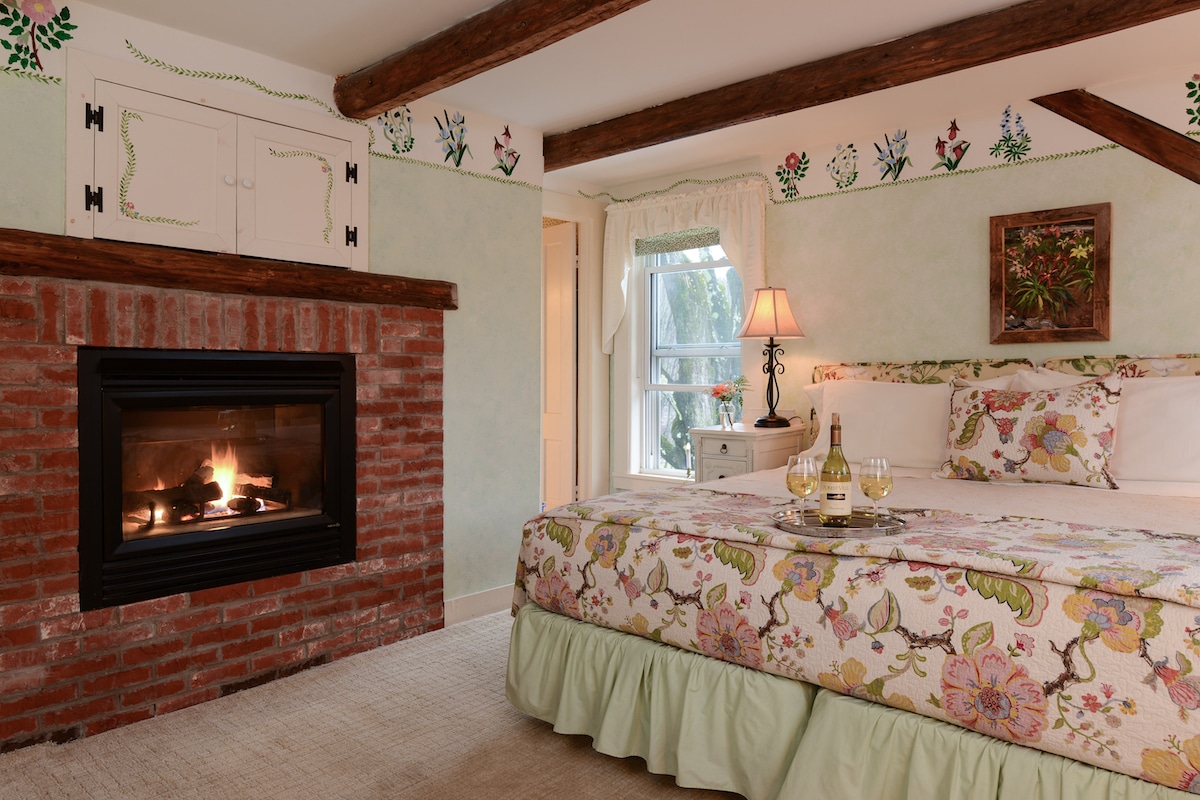 Our B&B is one of the Best Places to Stay in Vermont
From the minute you arrive at our cozy Warren Bed and Breakfast in the Mad River Valley, you'll be able to take a deep breath and fully unwind. There's a natural air of serenity and calm in our rustic 1850s farmhouse and the stunning landscaped garden grounds. You'll find plenty of space to have peaceful moments to yourself and take it all in.
Here are some of the highlights you'll experience when you book at one of the best places to stay in Vermont:
Ideal Location: All year round, our location in the Mad River Valley is perfect for experiencing all of the beauty and excitement of Vermont. Wintertime brings the skiers out for the slopes at Sugarbush Resort and Mad River Glen. You'll also find some of the best snowshoeing trails right from the door of our B&B. Spring and Summer are a great time for hiking in the Green Mountains and searching for waterfalls, and Autumn is all about the Vermont fall colors on scenic drives with the famous covered bridges along the way.
Accommodations: Each of our nine guest suites are thoughtfully appointed and unique. Our Inn is one of the best places to stay in Vermont because no two rooms are the same! Each offers either a cozy king-size bed, twin beds or a comfortable queen bed, seating areas, gas fireplaces, and all have private en-suite bathrooms. These rooms are all packed with amenities to create a comfortable space for a quick weekend getaway or a longer leisurely vacation.
Spa Baths: We ofter here that a favorite part about staying at our Vermont Bed and Breakfast are the exceptional bathrooms. There's no better place to relax than soaking in a hot bubble bath or steam shower after a long day out in the fresh air. Our eclectic decor continues into each bathroom, where no detail goes overlooked.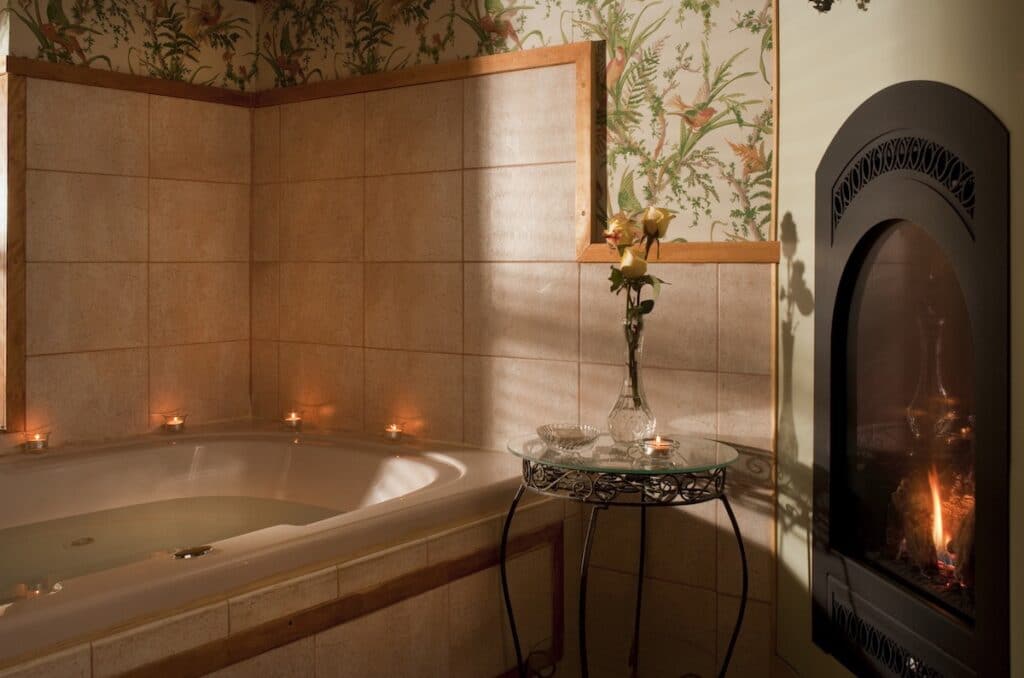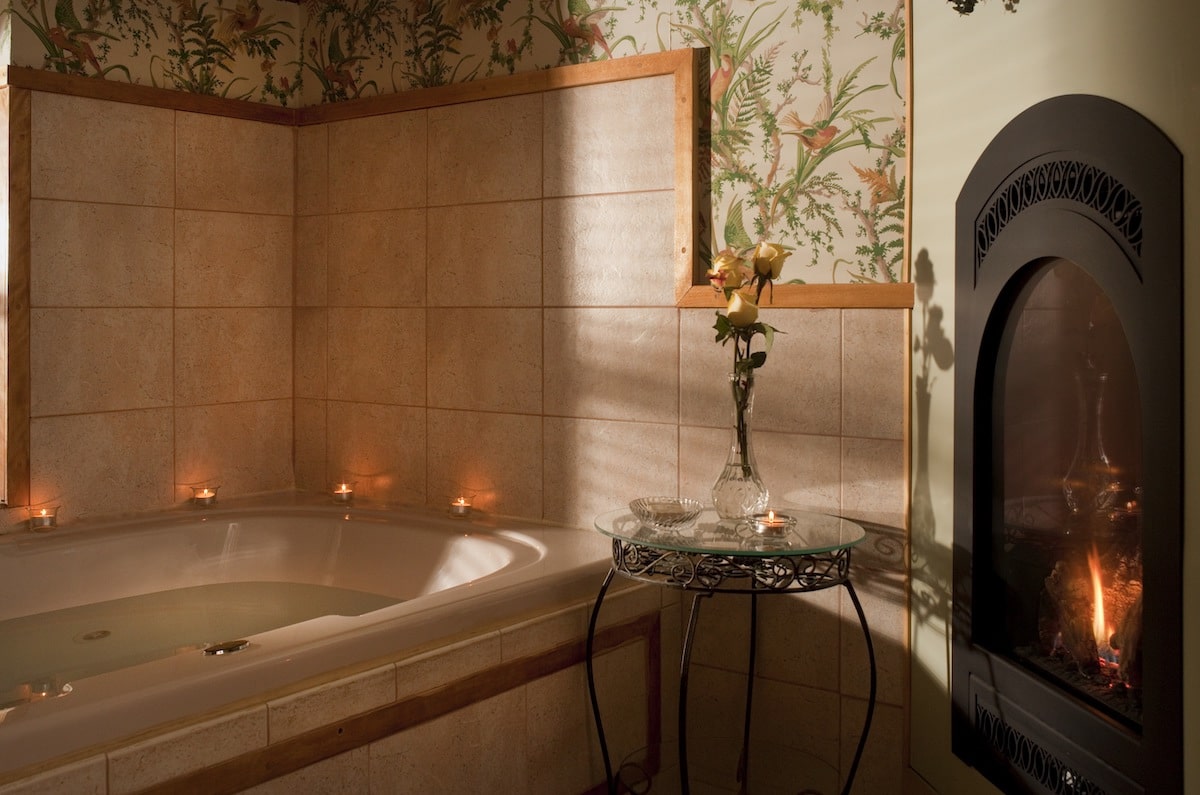 Common Areas: A few extra perks that make our B&B one of the best places to stay in Vermont are the three spacious common rooms—we encourage guests to enjoy these spaces as much as they please during their stay. The living room has a wood-burning fireplace and is home to our Quaich Single Malt Scotch Bar, and we offer wine and beer as well. You'll find a pool table in the Library room and the perfect place to put your feet up in the Sun Room.
The Gardens: While you'll have gorgeous sweeping views of our garden grounds from the windows of your suite, it's a must to head out and explore the flowering blooms in Spring and Summer and the autumnal colors of fall. In winter, we always receive a healthy dose of snow, and you'll love snowshoeing along the trails close to our property.
Welcoming Hospitality: As one of the best places to stay in Vermont, we take our level of service very seriously. It's important to us that you feel pampered and have fun while you're here. Allow us to host you in our beautiful Inn, start your day with hot coffee and a meal, and end the day with a nightcap and friendly conversation.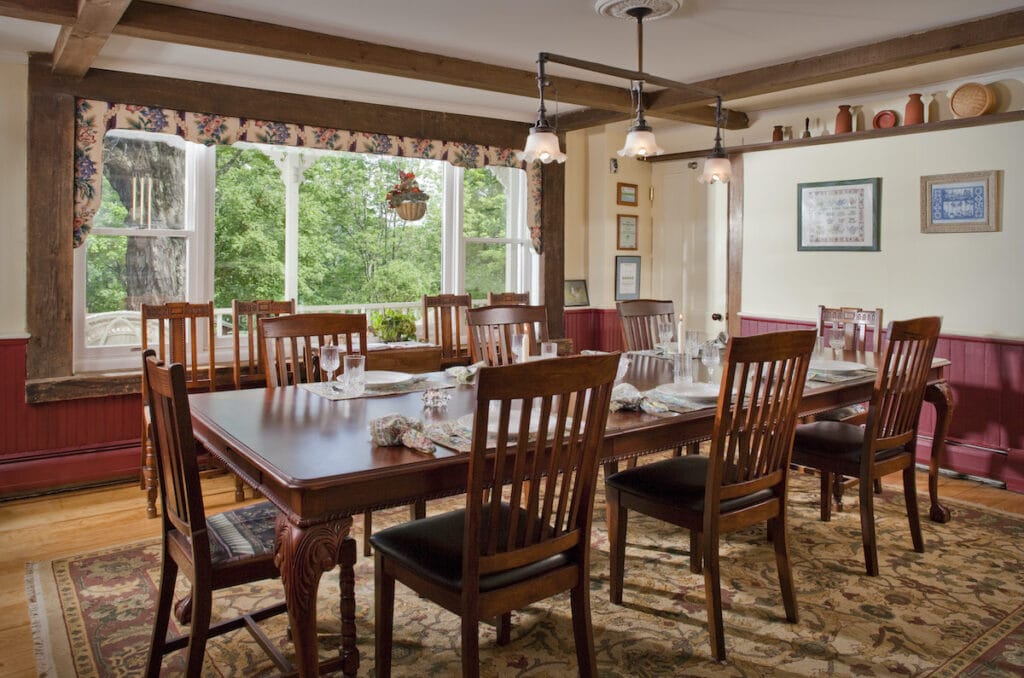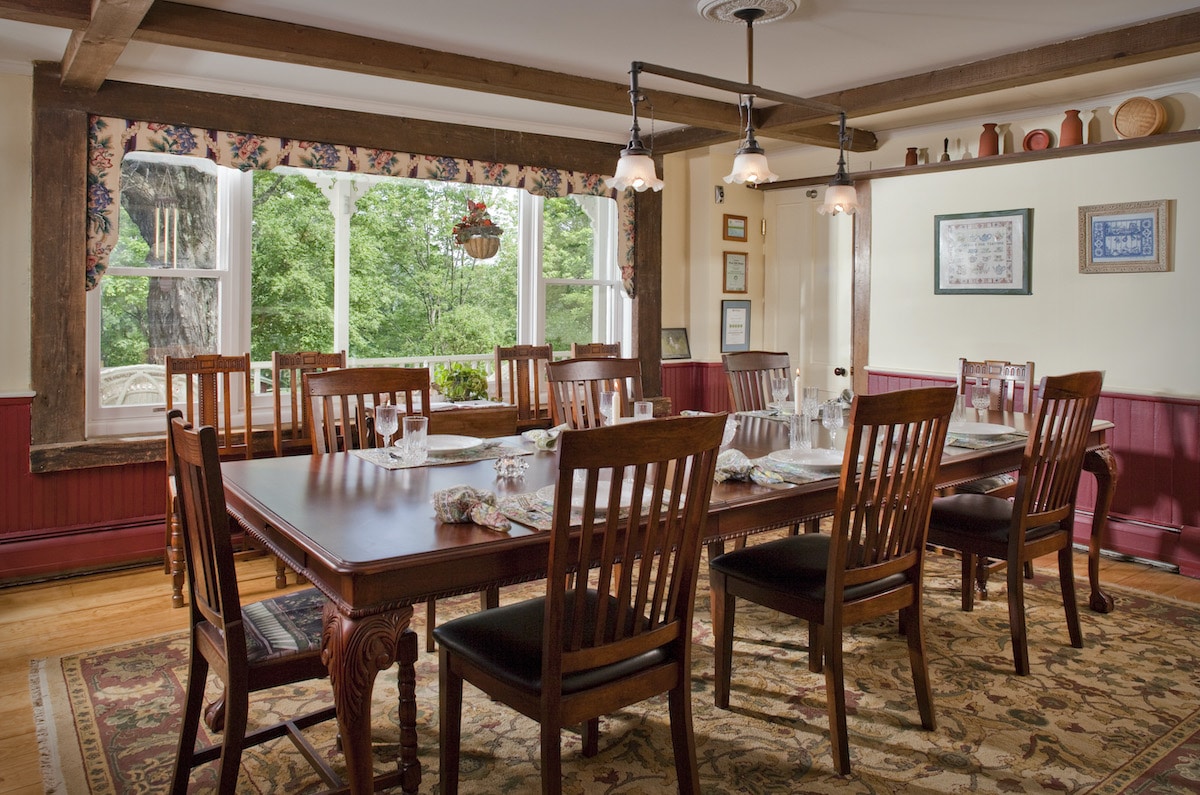 Join Us at Our Dining Table for Breakfast Service
An important part about vacation (in our opinion) is that it should go hand in hand with great food. Thankfully, as a guest at our Vermont Bed and Breakfast, you'll begin each morning with a bountiful, homecooked meal, consisting of three courses, including freshly baked breads or muffins, a unique fruit dish, and a hot entree with seasonal and local ingredients. Many of our return guests consider our Inn one of the best places to stay in Vermont, all in part to these fantastic breakfasts!
It helps that this meal is often paired with lively conversation from folks across the globe. Start planning your next getaway and book your trip to one of the most spectacular places to stay in Vermont!