As you begin your search for the best Vermont wedding venues, look no further than the West Hill House Bed and Breakfast. Our stunning nine-acre parcel is nestled in the Mad River Valley at the foot of the Green Mountains. This backdrop adds a natural romance to any ceremony, reception, or elopement at our Inn. There's something so joyful about seeing happy couples make the leap and we love hosting these celebrations on our property.
One of the best things about getting married at our Warren Bed and Breakfast is the diverse selection of Vermont wedding venues right here at our Inn. We have multiple outdoor sites to hold your ceremony throughout the lovely three-season and award-winning gardens. The rustic red barn is the perfect place for an indoor lively event where we hold the majority of the receptions for drinks, dining, and dancing. We've even held micro-weddings inside the Inn.
When you decide to have your big day at one of our Vermont wedding venues, you'll have your pick from these amazing spaces. And more importantly, you'll have a beautiful and romantic guest suite awaiting your first night together as a married couple. Our cozy and welcoming Inn is the ideal place to relax and recount your busy wedding day, and better yet, it will be only a matter of steps from the party.
Start planning your wedding with us and book your next stay today!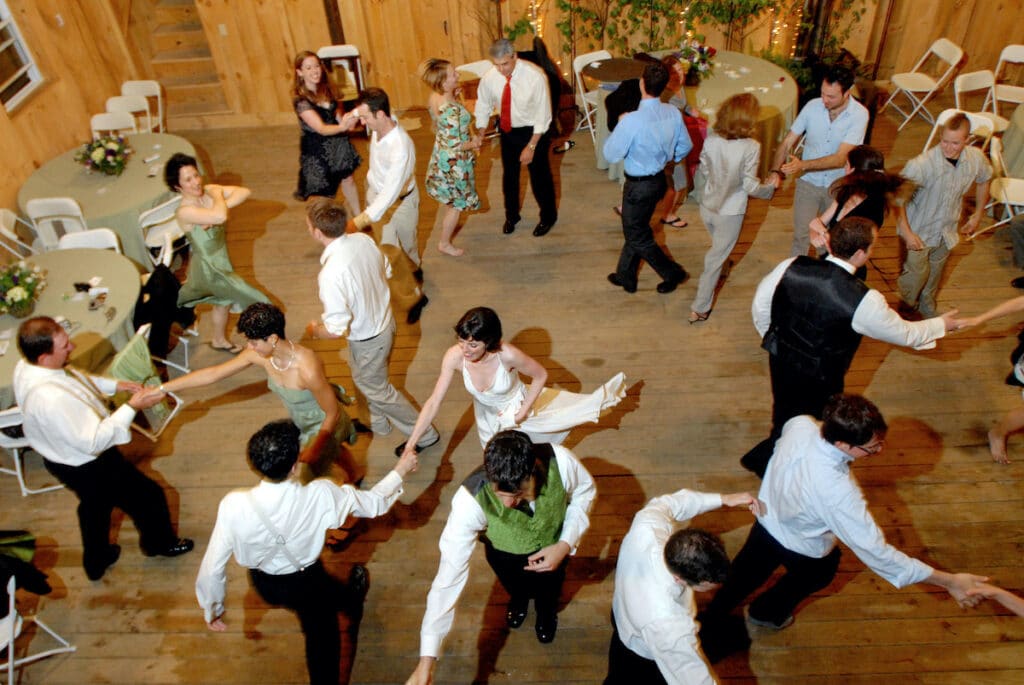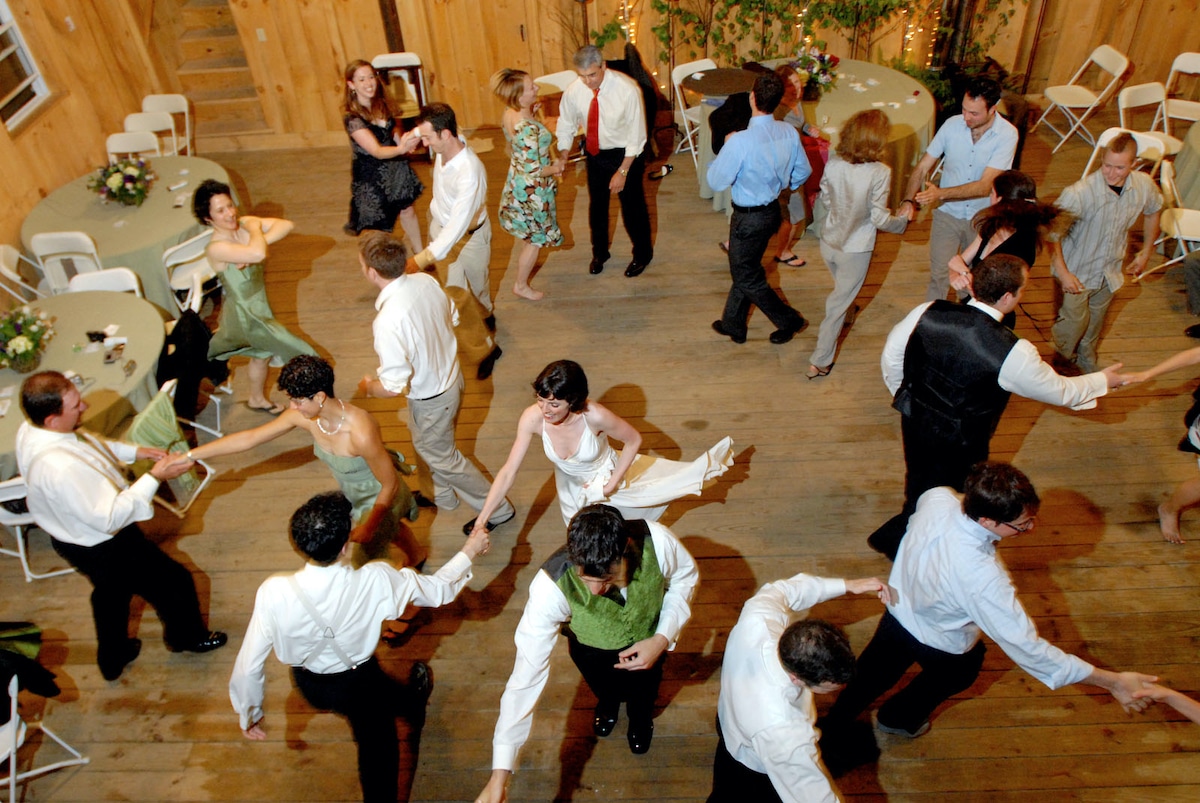 Vermont Wedding Venues: West Hill House B&B
Throughout the years, as one of the premier Vermont wedding venues, we've hosted everything from large and lively celebrations (up to 50 people) to quiet elopements and micro-weddings. We welcome and support LGBTQ+ couples and people from all walks of life. It's always such a lovely feeling to be a part of these significant life events with our guests. Bonus: when you choose our B&B for your ceremony, you'll know exactly where to stay for your upcoming milestone anniversaries; we always love welcoming back those who tied the knot here.
We have multiple arrangements for food options for receptions, including a buffet or sit-down dinner layout. We take care of the culinary options in-house for smaller groups (6 to 18 guests). For bigger events, the catering company you choose is entirely up to you as long as they are licensed Vermont caterers, but we have a preferred list of our favorite vendors full of local picks with delicious and creative menus paired with excellent hospitality. These companies are also familiar with the facilities at the handsome red barn which always assures a smooth setup, social hour, lunch or dinner service, and breakdown.
For those who imagine a garden space for their ceremony, you're in luck! The nine peaceful acres at our Vermont Bed and Breakfast offer a number of possible locations for your wedding ceremony. The stunning scenery alone is what makes us one of the best Vermont wedding venues. Choose to get married in our beautiful custom-built Vermont Hemlock gazebo, surrounded by blooming flower gardens, by the pond, or a rolling green meadow, all of which have views of the forests and mountains in the distance.
For more details on the packages we offer—either for intimate weddings, micro-weddings, and elopements—head to our page for all of the in-depth information about our Vermont wedding venues. To check availability and start planning the details of your wedding day, please email us at weddings@westhillbb.com or call us at 802-348-2832—we'd love to talk about your special event.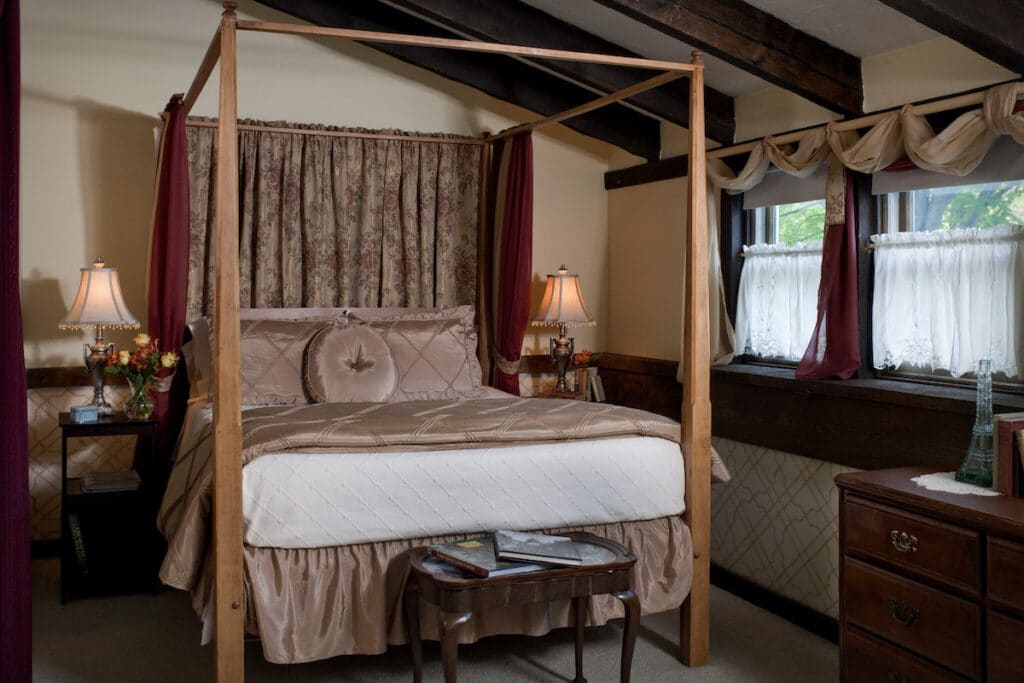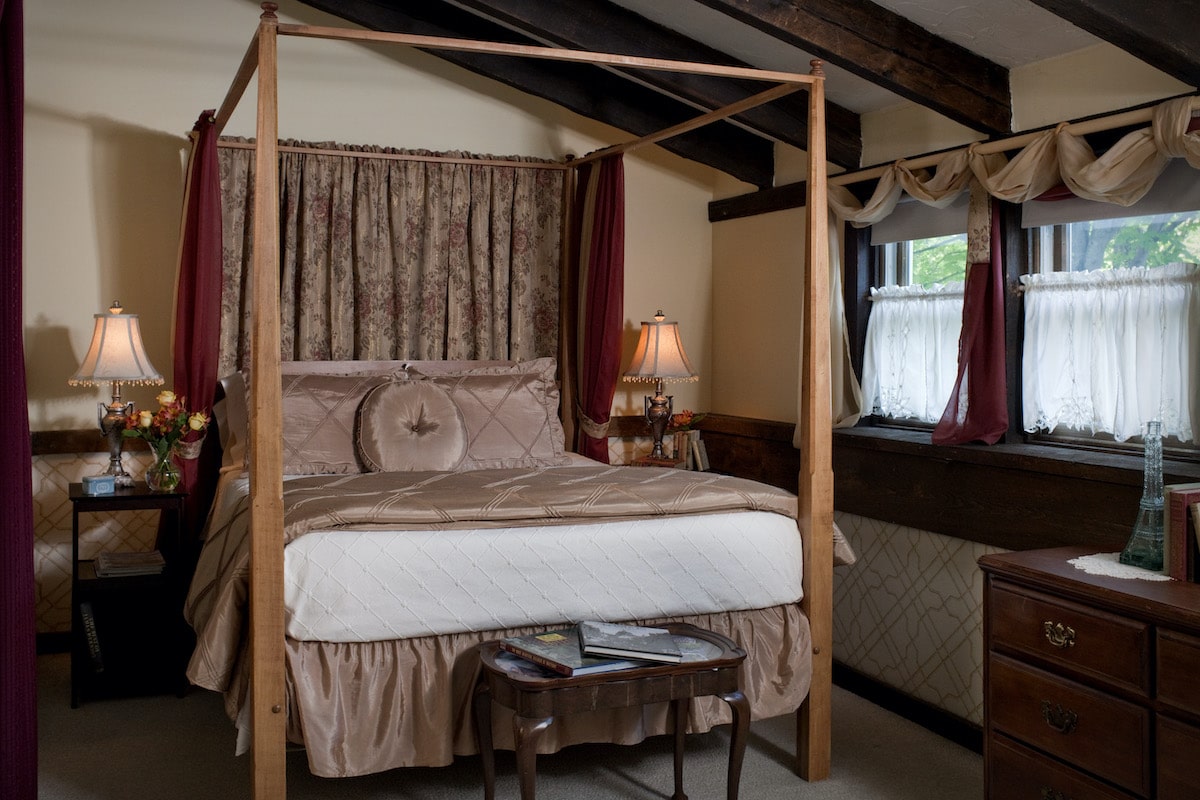 Romantic Lodging for your Wedding Night & Honeymoon
Inspired by the Innkeeper's three-year stay near Versailles, France, the Paris Suite is a quiet, cozy premier suite where romance can be your focus. We always recommend this room to our newlyweds! This room has easy access with a private entry connected to a terrace just six steps up from its own dedicated parking spot. You'll find a stunning four-poster canopy bed, a separate study, and extensive amenities.
The suite's spa room is extraordinary, with a two-person jetted tub, a small gas fireplace, and a window overlooking the private terrace. As well as a glass corner shower and pedestal sink in the main bathroom. After your big event, there's no better place to draw a bath and recap the wedding of your dreams. End your search through the best Vermont wedding venues, and book your next stay at the West Hill House B&B today!