How many words can you think of that contain the word moon? 10? 25? 50? More? Well done! An internet search finds over 190 words containing the word moon. Here are but a few…
Moon: The Moon is an astronomical body that orbits planet Earth, being Earth's only permanent natural satellite.
Man-in-the-moon: Although there is said to be a man in the moon whose face is always looking at us, Neil Armstrong was actually the the first man to set foot on the Moon.
Moonstone: n. A variety of feldspar valued as a gem for its pearly translucence.
Moonlight: n. The light reflected from the surface of the moon.
Moonshine: n.Illegally distilled liquor, especially whiskey. Also called regionally white lightning.
Blue Moon: a song written by Rodgers and Hart in 1934 which has become a classic and recorded by many.
Moonwalk: n. A dance step in which the dancer creates the illusion of walking forward while actually sliding back one foot at a time.
Honeymoon: n. The traditional holiday taken by newlyweds to celebrate their marriage in intimacy and seclusion.
Did you include Babymoon in your list? Yes, babymoon. It's not a tiny moon however it is a popular "moon" to be enjoyed by parents-to-be.
Babymoon: n. A relaxing and romantic vacation taken by parents-to-be before their baby is born.
Whereas a honeymoon is a celebration of your new life ahead, a babymoon is a celebration of the old life you're about to leave behind, well hopefully not leaving behind but celebrating the life you are about to bring into to your world.
General wisdom says you and your significant other are entitled to a babymoon during each pregnancy. After all, you're about to embark on seemingly months of straight up nighttime feedings (where you may even get a chance to see the moon!), dirty diapers, and crying so you might as well try to get in a little relaxation while you can.
No matter the season, a babymoon should not be the sightseeing adventure of a lifetime rather a chance for the two of you to relax and rekindle your relationship before your baby comes and life changes in ever so many ways. Some babymoon couples head to sea and sand, some to countryside gardens,  and some to the peace of the mountains.
So if it is the fresh air and peaceful mountains you are looking for, Vermont is the place to be. Outstanding bed and breakfasts invite relaxation, additionally many offer Babymoon Specials which may include such treats as a romantic dinner for two, couples' massages with a special prenatal massage for mom, chocolates of course and a small keepsake for baby. Nearby pathways and mountain trails invite walking and our friendly locally owned shops offer everything from hand crafted children's toys and snuggly quilts for the new little one to that something special to remember your trip by.  Especially noteworthy are the excellent restaurants with healthy, locally grown food which is a treat to body and soul.
Therefore, if you are parents-to-be, we invite you to book yourselves a babymoon and relax in beautiful surroundings of West Hill House B&B nestled in the beautiful, peaceful Green Mountains of Vermont.
May 29, 2016 by Peter MacLaren
2016 is the 100th anniversary of the founding of the National Park Service and this summer West Hill House B&B and Vermont based 'Wonder Walks' are taking to heart the challenge given by the US National Park Service to help you explore Vermont's Green Mountains. Did you know that the US National Parks originated with the advocacy of Scotsman John Muir?
In our state we are fortunate to have the Green Mountain National Forest, and to honor this anniversary we encourage guests to discover and explore the magnificent mountains, forests, waterfalls and trails in our own backyard, including the famed Long Trail. Bruce Acciavatti* owner of 'Wonder Walks' and experienced guide will personally guide you on a customized Green Mountain discovery adventure.
We shall be happy to customize two, three or four day hiking packages for you.
Read the rest of this page »
December 20, 2014 by Peter MacLaren
Have you been reading "Top 10" lists over the last few weeks? If so you will have you see lists of almost everything under the sun, Top 10 Ugliest Cars, Top 10 Best Places to Live, Top 10 Best Companies to Work For, Top 10 Best Universities, and who knows, maybe even a list for the Top 10 Best Top 10 Lists!
Well…  here's our "Top 4" list – Four Great Reasons to come Ski in the Mad River Valley this Winter.
1.  Mad River Glen – Mad River Glen – Ski It If You Can. Seriously, don't miss out on skiing this legendary co-op owned ski area. Ranked by Ski Magazine as one of the most challenging on the east coast of the US, Mad River Glen provides an opportunity for skiers of all levels to ski a variety of trails on natural snow though narrow trails which follow the terrain. Riding the Single Chair, chairlift is an absolute must! Lessons, ski shop and General Stark Pub are hillside amenities. Down hill, telemark, and cross country skiers will love MRG but be warned snowboarders… you will  have to look elsewhere for your downhill excitement as no snowboards are allowed.
2. Sugarbush Ski Resort – As one of the largest ski areas in the northeastern US, and with two mountains to choose from, Lincoln Peak and Mount Ellen, snowboarders and skiers alike will enjoy the range of it's 111 trails from beginner slopes to the more challenging black diamond runs. Sugarbush is locally owned and offers lessons, a variety of places for foodies, ski shop and accommodations.
3. Blueberry Lake Cross-Country Center– Is a cross country skiers' delight. Designed for the average skiers,  outdoor enthusiast can enjoy the classic or skating style of skiing or can snowshoe on the 11 trails which includes 30km of groomed trails. Ski and snowshoe rentals are available as are lessons. Pre-skiing age children can also enjoy the outdoors in the comfort of a pulk which can also be rented. And for dog lovers, your well behaved dog is welcome and please, remember to clean up after your pooch.
4. Olé's Cross-Country Center – Offering about 40km of groomed trails, lessons, rentals of both skis and snowshoes, a deli and friendly staff, Olé's beckons to cross-country skiers of all ages to come and enjoy winter. With relatively flat terrain skiers can explore the trails while getting great mountain views and if quiet woodland trails are your choice you'll find them here too. There are about 15km reserved for snowshoeing only and today's modern snowshoes are a lot easier to walk in that the old, oversized 'tennis rackets' and you don't need special boots, your regular winter boots fit these snowshoes nicely.
The Mad River Valley offers skiing of all sorts, comfortable B&Bs and slope-side accommodations, friendly folks, great food, beautiful shops, gorgeous mountains, stately trees, as well as wonderful snow, more mountains, more trees, more snow and lots of fresh, crisp mountain air.
Get your mittens and scarf ready and consider this your invitation to visit Vermont, winter in its natural state. Come experience skiing at its best. We're ready and waiting for you…what are you waiting for?
December 15, 2014 by Susan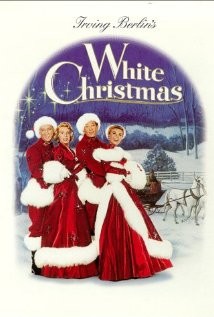 Dreaming of a White Christmas but live where there isn't any snow? Stop dreaming and come live your dream. Come to Vermont!
The movie White Christmas is indeed a classic and a must see Christmas movie in our family and perhaps yours too. The holidays are not complete without a visit, via DVD, to the the Columbia Inn in Pine Tree, Vermont.
Starring Bing Crosby and Danny Kaye as successful broadway producers, and Rosemary Clooney and Vera-Ellen as a sister, singing act, a twist of fate brings the foursome to The Columbia Inn in Pine Tree, in late December. Dreaming of a white Christmas and that "Vermont should be beautiful this time of year, all that snow" the four arrive and find, to their great disappointment, that there is no snow at all. The sisters find, with few registered guests, their singing contract is to be cancelled. Meanwhile, the two men discover that the innkeeper is their former commanding general.
Despite the lack of guests and the challenge of the weather, the four decide to stay and the story develops as a light-hearted romance suitable for family viewing. With songs sung by Crosby and Clooney and beautiful dancing by Vera-Ellen and Kaye, the movie is a good way to spend a winter evening.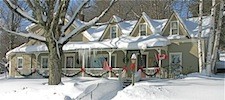 While there is no Columbia Inn, there is West Hill House B&B in Warren, Vermont, a place to enjoy a white Christmas and winter in all its glory.
We can predict with some degree of certainty that we will have a white Christmas and we most certainly have a copy of the movie for you to watch!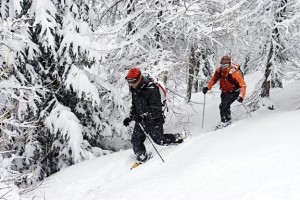 Skiing at  Mad River Glen  and Sugarbush will be in full swing with people from around the world enjoying the opportunity to ski some of New England's best slopes. On the Sugarbush golf course just behind our Handsome Red Barn, is a perfect hill for sledding on one of the Mad River Rocket Sleds created here in Warren. If your pace is slower, there are miles of cross-country skiing at Olé's and  Blueberry Lake only 10 minutes from West Hill House B&B. If skiing isn't for you, our snowshoes are perfect for exploring around our property or farther afield.
If you're not an outdoors type or your skiing days are past, there are numerous artisan shops, small stores and coffee shops to visit but that will have to wait for another blog.
If  a white Christmas to you means looking at snow through a window,  how about curling up in a big chair by the fireplace and losing yourself in a good book, or playing a board game with your special someone.
If you are dreaming of a white Christmas look no further than Vermont in winter. Winter in its natural state!
January 11, 2014 by Corey A. Edwards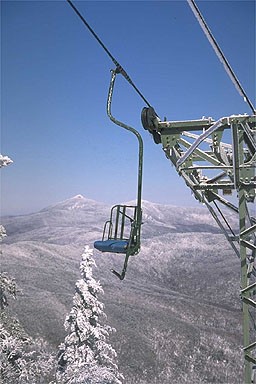 Perched on the backbone of the Green Mountains, Mad River Glen has been ranked by SKI magazine as the most challenging resort on the East coast, due in no small part to having a 2,000 foot (610 m) vertical drop – this despite the fact that it's not that large of a resort!
Mad River Glen is a committed "skier's mountain," too – meaning it is one of the few ski resorts in the US to enforce a total ban on snowboarding. Now, while this is bad news for snowboarders, it's great for those skiers out there who have, for what ever reason, formed a, shall we say, "definite opinion" about sharing the slope with snowboarders – or even those who have *no* opinion on snowboarders.
A lot of Mad River Glen's approach is hand's off: they don't groom the slopes much, if at all, preferring to let things lay as they land, as it were. This means the trails can have a decided natural feel to them – and boy do they vary in difficulty!
Read the rest of this page »
Today on our Sap-bucket list we highlight the Stetson Hollow Trail and Falls. A perfect activity for a hot summer day in the Mad River Valley, the tree shaded Stetson Hollow trail follows along the Stetson Brook and is an easy 1.2 mile hike.  Take your camera – there is some gorgeous scenery on this 45 minutes hike to the falls.
At the head of the trail you will be treated with the sight of a 40 foot 'horsetail' falls. A seasonal falls, spring and fall are when the water is most abundant however during other times of year this is still a lovely trail. While the water is cooling, swimming is not permitted.
Heading south from the town of Warren, Stetson Hollow Road is on the right 2.2 miles from the Lincoln Gap/Rte 100 intersection. It looks like you are  driving into someone's yard and actually you are (please respect their privacy) but keep going, you're on the right track to the start of the trail and a bit  farther along is space for parking.
Have fun and keep cool.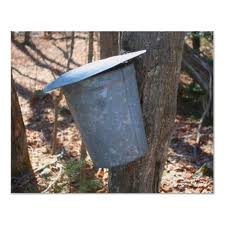 What's on your bucket list?
There are so many wonderful places to visit and things to do in Vermont that we have created none other than our own Vermont Sap-Bucket list!
In the 6 years we have been in Vermont we have taken the opportunity explore this wonderful Green Mountain state. We're excited when our guests ask "What's there to do in Vermont?" because we are more than happy to fill them in on what's what.
As our guests at West Hill House B&B, we will help you to plan your itinerary and activities by providing you with ideas based on your interests and driving routes that will show off the beautiful scenery.
So we invite you watch this space for our Sap-bucket list.
May 21, 2012 by Peter MacLaren
A basket filled with Vermont cider, cheeses, crackers, home made cookies and other goodies brings smiles to Grace and Charlie who welcomed the warm spring weather with a picnic by our pond. Spring has indeed sprung in the Mad River Valley. Signs of the season are all around us; chipmunks are sunning themselves on the rocks, peepers are singing our guests to sleep each evening and our beautiful gardens are coming back to life with brilliant daffodils now in bloom. We won't even mind a few April showers. Sugarbush has opened the golf course, folks are out walking and cycling as well as hiking on the many local Green Mountain trails.
Though we can't guarantee that there will be warm picnic weather when you come, we can guarantee that a warm welcome awaits you.
See you soon!
February 5, 2012 by Peter MacLaren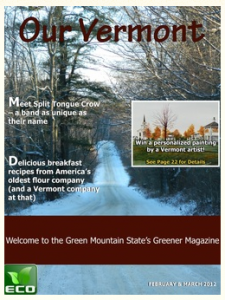 Our Vermont,  is the new Green Mountain State's Greener Magazine, and features articles about people, places, events, food, and local flavor offered in the great state of Vermont. Not only is this a paperless magazine, and you can subscribe for free on line, but they chose a 100% wind powered company to do their hosting.
Lucky us, West Hill House B&B has a featured ad in the magazine's inaugural edition. Check us out on page 2-3, the full-screen option, and accept our invitation to come to Vermont to sample the wonders of our amazing state. West Hill House is a 'Green Hotel in the Green Mountain State'. We offer Ski & Stay Packages. If you and your sweetie need a little pampering check out our Valentine's Day special. Perhaps a proposal is in your future …let us help you make that a memorable event.
West Hill House B&B is where you'll want to B&B.
December 3, 2011 by Peter MacLaren
We've found it! The Pot of Gold is in the Mad River Valley!
November brought us 11″ (28cm) of snow for our Thanksgiving Day guests to enjoy and 60°F (15°C) weather a few days later. November also brought us this magnificent rainbow on the 30th. While we can't guarantee you a rainbow or a pot of gold when you visit West Hill House B&B, Sugarbush or Mad River Glen, we can guarantee you beautiful scenery and warm Mad River Valley hospitality.
November 28, 2011 by Peter MacLaren
Picture yourself doing your Christmas shopping and enjoying Christmas music in the quiet serenity of the green mountains of Vermont.
Saturday, December 3 marks the 13th annual Country Christmas Open House in the Mad River Valley. Over 30 local shops and services are offering special discounts which will make your pocketbook happy and may offer free refreshments which will make your tummy happy. Pick up a punch card at any merchants displaying the Participating Merchant sign then visit 5 businesses and have your card punched at each. When you leave your card with the 5th business it will be entered for a prize drawing. Check out the list of participating merchants and services.
On Friday, December 9 The Vermont Symphony Orchestra presents Holiday Pops "Fun and Games"  at the Barre Opera House, just under one hour from West Hill House. Favorite Christmas music with a twist as they take a look at the youthful side of the holiday. Fun for everyone. Tickets required.
Thursday, December 15 the Warren United Church will host the Vermont Symphony's Brass Quintet and Counterpoint for a perfect mix of brass and voices to ring in the season. Free admission although tickets are required.(802-496-9714).
And of course the area also offers skiing and riding at Sugarbush, skiing at Mad River Glen, and cross country skiing at Ole's and Blueberry Lake. Dog sled rides, sledding, skating, and moonlight snowshoe tours are just some of the other ways to enjoy a white Christmas in Vermont – oh and you can also curl up with a warm beverage and watch the movie White Christmas.
October 27, 2011 by Peter MacLaren
OK everyone… IT'S SNOWING HERE TODAY! 
Time to think about getting those skis tuned up and making those ski holiday reservations.
Vermont photographer, "Snowflake" Bentley, was the first person to photograph snowflakes. Check out the website dedicated to his works.
Also check out our skiing specials.