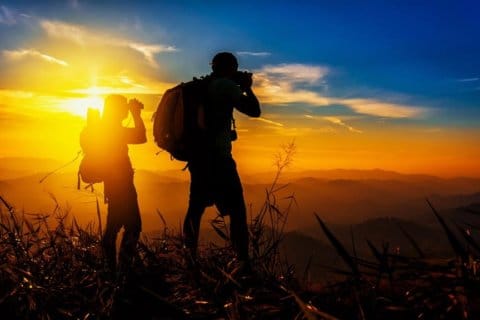 There's nothing quite like a romantic getaway that includes the great outdoors and now is the perfect time to explore Mad River Valley hiking trails. Let West Hill House B&B's lodging specials – and our special area – help make your romantic summer hiking getaway the best it can be!
We here at West Hill House B&B, have a reverence for both the great outdoors, which surround our Mad River Valley B&B in all their splendor, and the love bug, by whom we, too have been bitten. Consequently, we love helping people to get out and explore our area. There's always something to do here in Vermont's Mad River Valley: hiking, biking, running, skiing, snowshoeing, and more!
Just now, it's hiking season and Mad River Valley hiking is some of the best around. When it comes to romance, couples hiking is a great way to get to know one another. A fun, successful trip helps to create a bond because nothing nurtures a relationship like a collection of shared, happy memories. Of course, this is all dependent upon the success of your trip!
This online article has some advice for hiking couples as do we: take advantage of our Vermont lodging specials to help make your Mad River Valley hiking getaway the best it can be!
If you have diabetes or know someone who does, the Ultimate Hiking Guide for People with Diabetes offer some excellent guidance.
Our Luxurious Pampering special gets you a host of romantic perks, including two or more nights in one of our premier suites. You'll also receive six long stemmed roses, a chilled bottle of bubbly, and two keepsake, signature champagne flutes to take home.
Hungry? Your package also includes Vermont chocolates, cheese and crackers, and dinner for two at one of our excellent local restaurants.
Sore muscles after your hike? Fuhgeddaboudit with a one hour couples' 'Relaxation & Therapeutic' massage at Mad River Massage! Lounge around in comfort after your massage in the terry-lined, "Doe skin" signature robes you'll find in your room. Oh, did we mention you get to take those home, too?
All this starting from only $999 per couple, plus tax. Read more about our Luxurious Pampering special here.
If the Luxurious Pampering lodging package doesn't tickle your fancy, how about the BFF Friends Getaway? BFF stands for "Best Friends Forever" and, while that may not be the most romantic phrase ever, what are our lovers, if not also our very best friends?
Our BFF Friends Getaway package includes 2 nights accommodation for two, with 2 breakfasts, and dinner for two at one of our wonderful local restaurants. You'll also receive a Vermont Welcome Basket loaded with goodies. These include Cabot cheese, Castleton crackers, Lake Champlain chocolates, and your choice of a bottle of wine or sparkling pear juice. All starting from only $499! Read more about our BFF Friends Get-away here.
Romantic Mad River Valley Hiking Getaway
Exploration and beautiful scenery is just minutes from West Hill House B&B. From Sunset Rock to General Stark Mountain, if you've a hankering to get out on the trail, we've a trail or two for you! In fact, we've recently published a blog post on some of the more popular hikes in our area.
Book your stay at our Warren area B&B today!