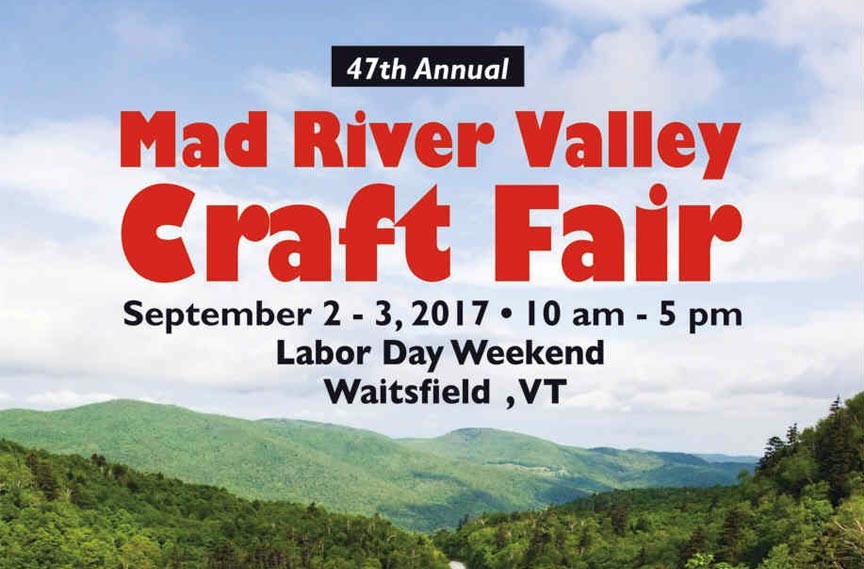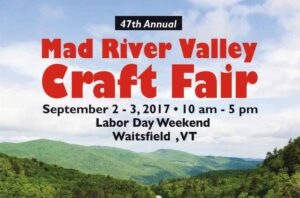 September is just around the corner and that means it is Mad River Valley Craft Fair time once again! This annual cornucopia of handmade goods, live music, great food, and more happens every Labor Day Weekend: September 2nd and 3rd, 2017!
The Mad River Valley Craft Fair brings 100 top artisans to Waitsfield from around the region to display and sell their beautiful, one-of-a-kind items. This popular event comes close on the heels of the Vermont Festival of the Arts each year and is imbued with that same festive spirit.
In fact, the show's feel has been compared to that of a renaissance fair. While you're not likely to see jousting exhibitions or medieval caparisoned players capering about, the craft fair's green tents and open cheery atmosphere do lend a festival atmosphere.
The Mad River Valley Craft Fair is put on in Waitsfield by the Valley Players Theater. Vendors tables beneath the sheltering tents offer unique, hand-crafted decorative and functional goods. Art, clothing, furniture, baskets, jewelry, pottery, sculpture, and much more.
Many of the artisans at the fair will also offer demonstrations so that you can hone your own crafty skills. There will also be lots of activities for kids to keep them from being bored and underfoot. Door prizes also help to keep the weekend full of fun surprises.
Hungry? You will be after looking through all the great tables of handmade items but worry not! The Mad River Valley Craft Fair food court always comes through with a smorgasbord of delicious offerings. Live music by great, regional bands will also help to keep your energy aloft.
Bored? Did your significant other drag you to yet ANOTHER craft show? Oh, the humanity! But wait – hold up! This year's fair has something for those who are too old to get much out of the face-painting booth. It's called The Man Cave. The (gender neutral) Man Cave is a spacious tent with couches, ping-pong, plus liquor tastings and a cash bar for those over 21. Not so bored now, are you?
Now THAT'S a craft fair with something for everyone!
Mad River Valley Craft Fair 2017
Labor Day Weekend ~ September 2nd and 3rd, 2017
Kenyon's Field ~ Rte 100 ~ Waitsfield Vermont
Visit the Mad River Valley Craft Fair website or follow the event on Facebook for more information.
Mad River Valley Craft Fair Lodging
The Mad River Valley Craft Fair in Waitsfield is less than 15 minutes away from our Warren area bed and breakfast, West Hill House B&B. Our amenity-rich, Vermont hideaway is located on a quiet country lane. Yet skiing, golfing, shopping, dining, sight-seeing, and more are all right at your fingertips. Whatever it is that brings you to the Mad River Valley, West Hill House B&B remains your best choice for accommodations. Book your stay today.