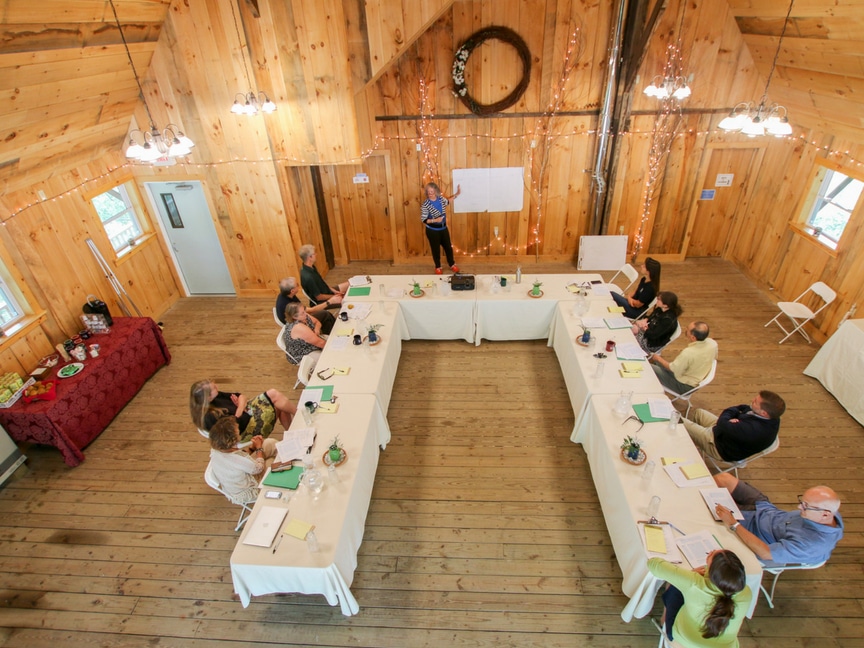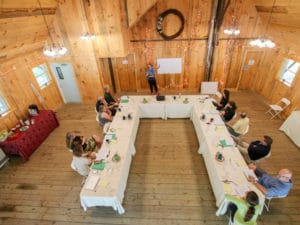 How often do you go to a conference or meeting and find the location completely lacking? Whether it's the jail like feel of the room or cardboard refreshments we don't know. What we do know is that we can help. Our premier event and meeting space is perfect for everything from company retreats to weddings.
While weddings and meetings don't seem like they have much in common, they can both inspire a lot of one little thing: stress! This is why we know our event space is perfect for you; we have a quiet and beautiful location where guests feel relaxed and taken care of.  It's hard to enjoy a happy occasion or focus on what your coworker is saying if you feel uncomfortable.
If you're staying overnight there is plenty to go do and see once the meetings and parties are over. We're located right next to Sugarbush Resort which offers as many activities in the warmer months as it does in winter. Taking a break to enjoy the Green Mountains and fresh air is a must if you have the time. (Did we mention there are trails bordering the property?)
For those looking to sample some area culinary delights, we can recommend a suitable restaurant and are more than happy to make reservations for you. See all area attractions here.
---
Our Handsome Red Barn holds up to 50 people with a projector screen available. Tables and chairs can be arranged in whatever style will best suit your needs. We highly recommend this space as it is beautiful and very versatile. Catering can be arranged to suit your plans.
Our Sun Room can accommodate up to 16 people and allows for 270-degree views of the landscape; this is a great idea for when you want to enjoy the outdoors, but it may be too chilly to sit outside.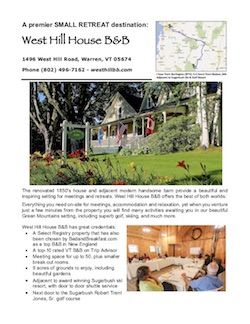 The Covered Garden Terrace is ideal for warmer months and can seat up to 30 people. We recommend this area during the summer and warmer fall months.
If you like a traditional Boardroom set up, we have a lovely table that can seat 12. Breaks can be enjoyed in our living room and library, where we have many activities and games to clear your head and destress.
See our small retreat brochure here.
All locations have access to Wi-Fi, refreshments upon request and complimentary projection equipment for the Handsome Red Barn. Our pricing is competitive and our service can't be beat. Give us a call to discuss your upcoming event and we'll make it one to remember.