Stirring it up: Crustless Quiche with Broccoli and Cheese will make your tastebuds happy.
Early in our B&B experience we realized that while our guests liked quiche, the great majority of them left the crust. The hunt was on for a crustless quiche.
Makes: one  8″ quiche
Oven: 350°F  (170°C)
Bake: about 40 min.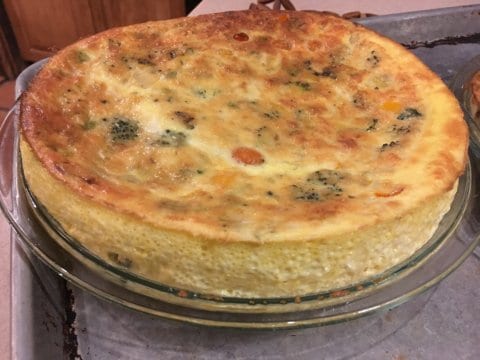 Ingredients for Crustless Quiche
cooking spray
3 c.  broccoli florets, chopped
5 eggs, whisked together
2/3 c. whole milk
1/4 c. half & half
1 c. cheddar cheese, grated
3/4 t. salt
1/8 t. back pepper
1 T. Dijon mustard
pinch nutmeg
Method: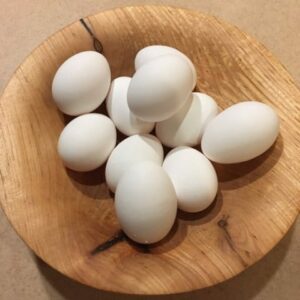 Preheat oven to 350°F (175°C). Spray pan with cooking spray.
Steam chopped broccoli in microwave with 1T +/- water until tender crisp but not mushy. About 2 1/2 -3 min.
Evenly spread broccoli in the pan and top with grated cheese.
Whisk together eggs and the remaining ingredients.
Gently pour over the broccoli and cheese. The pan will be quite full so use caution when moving it.
Bake 35-45 minutes. Your oven may vary so keep an eye on it but don't keep opening and closing the oven door🤨
Serve immediately with fresh greens, other veggies and maybe some homemade biscuits or cornbread.
Ideas:
Experiment with spices and herbs as well as other veggies such as diced potatoes,  sweet peppers, grated carrots, asparagus  or corn.  Use your imagination. 
While  tomatoes, zucchini and other soft vegetables are tasty, they produce lots of juice which makes the cooked quiche a bit watery.
Most veggies need to be par-cooked before including them into the quiche as the oven time isn't enough for them to be fully cooked.
Dishing it Out: Why Crustless Quiche?
Prior to purchasing our B&B, we attended some aspiring innkeeper seminars. Based on information gleaned, I made a list of menus which would rotate through six days. Fluffy pancakes with Vermont maple syrup, quiches with a golden crust, eggs and veggies in crispy pastry pocket, and baked French toast with streusel topping were on the list.
In real life, that idea lasted approximately three days. From day four I would become more versatile, catering to egg free, dairy free, gluten free, vegetarian, vegan, and various other dietary requirements, oh, yes, add one fruitarian to that list! And sometimes multiple dietary requirements were needed for the same breakfast!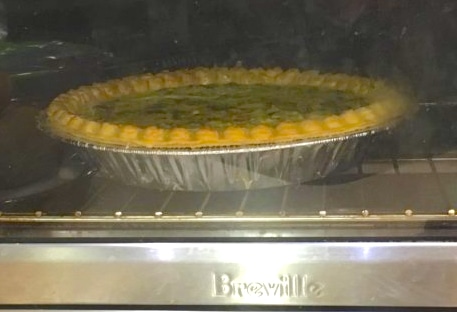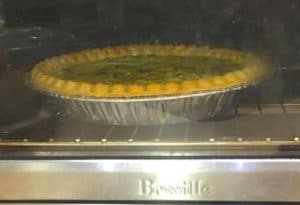 More often than not, the crispy quiche crust was scraped clean and left on the plate. Now I happen to love a crispy crust on quiche,  but the hunt was on for a crustless quiche recipe. After spending time on the web searching for recipes, kitchen-testing recipes was actually fun, akin to going on a treasure hunt. During the experimentation process Peter and I ate numerous "please don't cook that again" quiches 😝.
Finally, the crustless quiche pictured above is a big hit. A good quality cheese is a must, our favorite is Cabot Seriously Sharp. Cheese accompanied by broccoli, or other times with diced potatoes, sautéed onion, thinly sliced carrot rings, chopped kale, or any combinations thereof, is delightful. These additions give the quiche a bit of body to make up for being crustless.
Now everyone is happy. Guests like the quiche, no crusts go into the compost and along with the breakfast starter and our tiny breakfast desert, guests leave the table satisfied and ready for a day exploring the Mad River Valley in Vermont; the beautiful Green Mountain State.