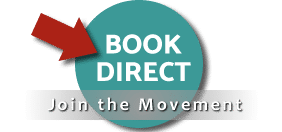 While most of our guests book directly on our website or by calling us, some others book – often accidentally – on sites like Booking . com, Expedia, Hotels . com, Orbitz etc. While these OTAs (Online Travel Agencies) serve a purpose for those who do not have a specific destination in mind and are looking for the best match for their plans, they are NOT the best way to book when you know where you wish to stay.
Here are the top 5 reasons to Book Direct:
When you book using an OTA you likely will not have access to all available rooms and booking dates, as only some parts of our room inventory are made available via the OTAs.
Through an OTA you will have no visibility to special seasonal pricing that is available only via our website or when you call.
When you book direct you will be able to add special packages such as our luxurious pampering package, relaxing massages, roses for your significant other, etc. These are not available with an OTA booking.
When you book through an OTA any updates or cancelations need to be made the same way. There is almost always less flexibility plus fees are usually higher, and the time involved on the phone can be frustrating. When you book direct, changes and cancellations usually just take an email or a quick phone call.
When you book direct you have personal access to the innkeeper who can answer questions about the local area, help you customize your getaway, and assist with special needs & preferences.
It is unfortunately very easy to accidentally book through an OTA without realizing it. When you do a Google search the first matches will often be one or more of the OTA's listings for our B&B. Before you click be sure you are actually clicking on the property website you are looking for.
Also even when you see the new Google approach of illustrating in a visual table the properties that match your search, and you click on the one you want to book, be careful with the next steps.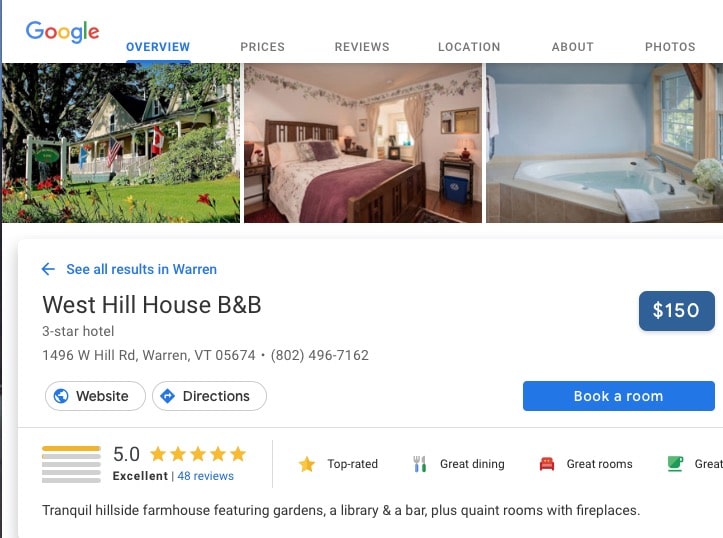 "Book a room" does NOT take you to our website – it takes you to one or more OTAs. This approach by Google is what leads to many guests accidentally booking via an OTA without realizing it.  You should always click "Website" to reach the property to make your booking.
So: choose carefully!  If in doubt, pick up the phone and call us at 802-496-7162.  When you book direct you will always get the best deal AND all the benefits noted above.