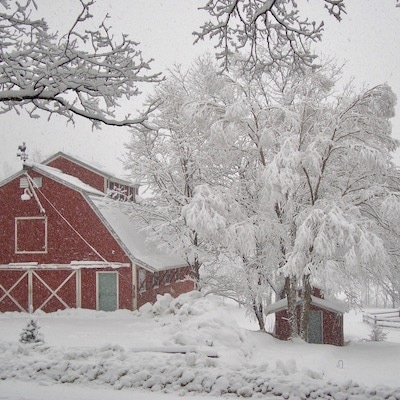 It's winter magic!  Close your eyes and imagine the silence of a wintry day with snowflakes gently drifting around you as you walk through newly fallen snow.
Here in the Mad River Valley of Vermont, "it's a marshmallow world in the winter when the snow comes to cover the trees". The evergreen branches will be bowed down with their coat of beautiful snow. The bare branches of the hardwoods will have a frosting of snow and the fences posts and tall grasses will wear elf hats of snow.
"Walkin' in a winter wonderland" awaits you as soon as you step outside the doors of West Hill House B&B. Whether you explore one of the Mad River Paths for a winter walk, stride along West Hill Road, or don a pair of snowshoes and head to the open field, the magic of winter will surround you.
Look and listen carefully, you may be treated to a view of some deer or turkeys. Perhaps you'll see or hear some of the many birds from climates farther north which come to enjoy the winter magic and warmer weather of Vermont.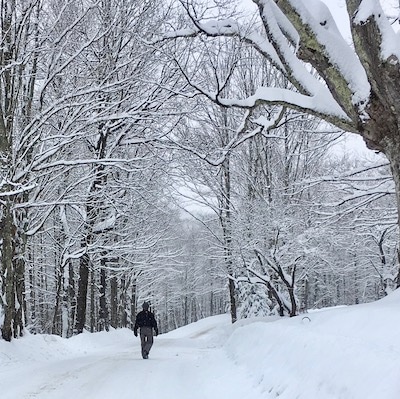 In this part of the world we say "let it snow, let it snow, let it snow".  With miles of downhill and cross country runs, gliding down a beautifully groomed ski run with only the sound of your skis on the snow is music to the ears of many. "Vermont must be beautiful this time of year, all that snow." Yes it is! No wonder we say let it snow – it's all part of winter magic.
Winter magic is highlighted in the Mad River Valley artisan and locally owned shops and restaurants which celebrate Country Christmas with various activities and displays during November and December.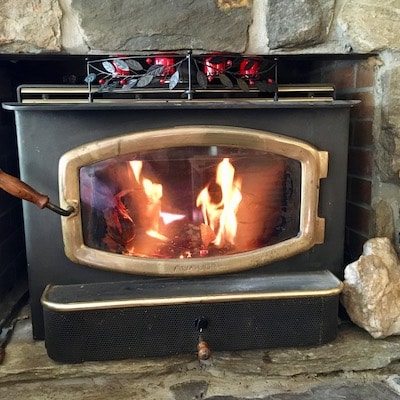 After a busy day, come on back to West Hill House B&B enjoy a comfy chair by a fire in the big fieldstone fireplace and our library full of books and games. If you're still up to more outdoor activity, how about roasting marshmallows around the outdoor fire pit? And if you book a stay over Christmas you can add Christmas Dinner with us and our other guests – always lots of fun!
So, what's winter magic? It's the glistening snow, the inviting mountains, the stately forests, and the friendly folks here in the Mad River Valley.
That's winter magic in Vermont!