When we mention getting away to Vermont, what do you picture? For many, the vibrant colors of fall foliage instantly spring to mind, and for others, its quaint covered bridges. Vermont covered bridges are, without a doubt, an iconic symbol of days gone by. These historic structures have withstood the test of time, some still standing in their original and untouched condition, reminding us of a simpler time and a simpler world.
These quaint and historic structures are undeniably romantic, and the perfect subject for photographs. Visiting Vermont covered bridges is a wonderful way to pass some time, especially if you happen to want to keep socially distant from large crowds.  This might just be the perfect activity for you to enjoy when you visit us in Vermont this summer or fall. Don't let the opportunity pass you by. Book your room at our Vermont Bed and Breakfast today.
8 Vermont Covered Bridges Near our Bed and Breakfast
Covered bridges were popular in the United States in the 19th century, mostly serving as an economic necessity to the communities they connected.  Quite simply, the covers over the bridges were built as a protective mechanism, keeping harsh natural elements away from the wood structure of the bridge, while also making them more efficient and durable for crossings. Though covered bridges do remain in various places around the country, Vermont, with 104 covered bridges, certainly has the highest density of them.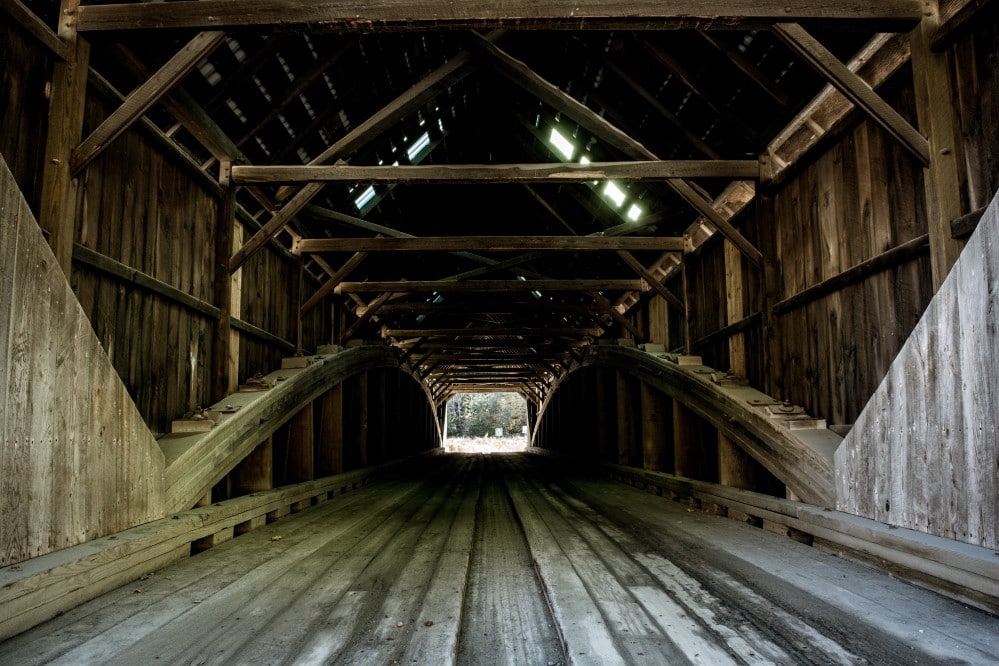 If you've always wanted to visit these structures and see them for yourself, you're in luck! There are a number of Vermont covered Bridges near our Bed and Breakfast, including right here in our town of Warren. You can easily visit 8 Vermont covered bridges in a single day trip, starting at ending right here at the West Hill House B&B. We've put together the perfect guide in our Covered Bridges and Culinary Tour that takes you to these 8, and pairs it with some other great stops along the way!
From our Inn, head north on Highway 100 towards Waitsfield, where you'll encounter the first Vermont covered bridge.
And, finally, you're back in Warren, where you'll find the beautiful Warren Bridge. It's a prominent symbol of our town and was built in 1880. The bridge, which spans the Mad River, has a unique feature. There are different portal openings at either end of the 59-foot-long bridge.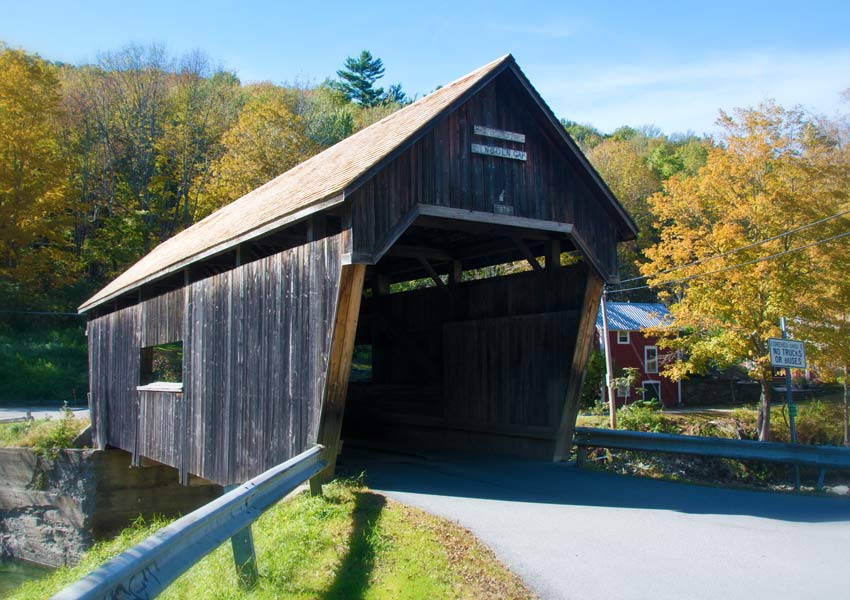 Relax at our Vermont Bed and Breakfast
After a day spent touring the scenic countryside of Vermont, you'll be ready to relax and put your feet up. Our Inn offers many places to do just that, and we serve up a delicious selection of wine, beer, and single-malt scotch for your pleasure, too. We pride ourselves on offering warm hospitality, great beds, fabulous food, and a relaxed, rural setting in the Green Mountains of Vermont.
From the moment you first arrive, you'll wonder why it's taken you so long to get here, and we'll wonder when we're going to see you again!  Get in on the action this summer and fall, and enjoy the very best of Vermont's Mad River Valley.  Book your room at our Vermont Bed and Breakfast today!