Stirring it up:
Want fresh garden goodness in 1 great pancake alternative? Yes, waffles and french toast are much loved and tasty alternatives however, I offer for your enjoyment, Cottage Garden Cakes. A simple recipe full of fresh garden goodness. Cooking as quickly as pancakes and smelling wonderful, I'll bet you will add this recipe to your favourites.
Makes:
about 4 large "pancakes"using a 1/3 c. scoop
Cooking: use a greased skillet or griddle
Ingredients: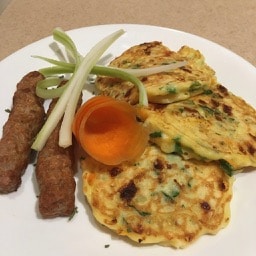 4 eggs, beaten
1 c. cottage cheese
4 T. butter, melted & slightly cooled
1/2 c. flour
1/2 c. carrots, grated
1/4 c. fresh corn kernels
small handful of fresh spinach, finely chopped
1 small red or green sweet pepper, minced
2 T. sunflower seeds
salt and pepper to taste
Method:
Heat griddle on medium heat.
Whisk the first three ingredients together.
Fold in the flour.
Gently mix in the veggies.
Using a 1/3 measuring cup, scoop batter onto griddle.
Cook as you would for pancakes.
Serve with your choice of sides and garnish and maple syrup, of course. Yummm!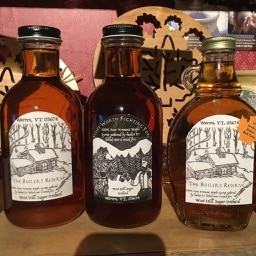 Special notes:
*Using fresh veggies brings fresh garden goodness to your meal and few more veggies to contribute to a healthier diet.
*I have replaced cottage cheese with ricotta cheese.
* An alternative to using all cottage cheese, use 3/4 c. of cottage cheese plus 2 T. of full fat greek yogurt and 2 oz of  grated mozzarella.
* I replace flour with Pamela's Baking and Pancake Mix to make these GF.
Dishing it out:
This recipe is inspired by a recipe from The Inn at Manchester (VT). As the saying goes, imitation is the sincerest form of flattery. But this isn't an exact imitation. I tend to followed the advise given to me by my friend and French Chef, Thierry Caboche, "Nothing is imitation if you add your own touches, that makes it your own". Thanks for the inspiration.
Each summer and fall we purchase a share in the Muddy Boots CSA. Muddy Boots CSA is a collaborative effort between three certified organic Vermont farms:  Kingsbury Market Garden in Warren, Burnt Rock Farm in Huntington and Wood's Market Garden in Brandon.  Each farm has its own specialties thus, each week when we collect our share, we have a super variety of freshly harvested produce to incorporate fresh garden goodness into our meals. Wishing to incorporate fresh vegetables into breakfast recipes led me to experiment. Cottage Garden Cakes were the happy outcome with guests giving us thumbs up every time we serve this veggie packed great alternative to pancakes.