If you have time to squeeze in a last-minute summer vacation, our Vermont Bed and Breakfast, set in the picturesque Mad River Valley, is the ideal place for your next getaway. Our Inn is set on a stunning nine acres of manicured gardens and natural woodlands. You'll find plenty of outdoor space to relax in, whether on our front porch with a glass of something cool, in the shade of our canopied garden terrace, or gazebo with your favorite book—the grounds are spacious and serene.
Inside our 1850s historic Vermont family farmhouse, you'll see that the space has been meticulously renovated with particular attention to detail in keeping the charm of the original architecture. But we've also brought the structure into the 21st century with high-speed wi-fi throughout, HDTVs in each room (some with Netflix), individually controlled heating and air conditioning, and four complimentary EV charging stations. We've also been recognized for our commitment to the environment with our green practices. Staying at our Vermont Bed and Breakfast is a unique experience that creates lasting memories.
We can't wait to host you in the Mad River Valley; book your next stay today! 
Stay at our Vermont Bed and Breakfast this Year
Whether you're searching for a place for your next romantic getaway, quick weekend trip before the end of summer, or a leisurely vacation, our Vermont Bed and Breakfast is the best place to stay in the Mad River Valley. Read on for more details about our Inn and what you can expect on a visit to West Hill House B&B.
Our nine beautifully appointed guest suites set the perfect tone for your getaway at our Vermont Bed and Breakfast. Each is unique and has its own theme, where we call to the mountains, the Scottish highlands, or even Paris. All have cozy, comfortable beds, en suite baths, air conditioning, gas or wood stoves or fireplaces, and beautiful views from the ample windows.
The other shared spaces at our Vermont Bed and Breakfast are ideal in which to make yourself at home. We encourage all of our guests to take advantage of  "the commons". Play a round of pool in the Library Room, relax in the Living Room with an adult beverage, or soak up the warmth in the Sun Room.
Breakfast in the morning is such a special treat! Prepared with love and culinary skill, you'll be treated to sweet and savory dishes, homemade baked goods, and a seasonal fruit course. We proudly support other local businesses and farms in the area and feature many of these products and ingredients on our menus.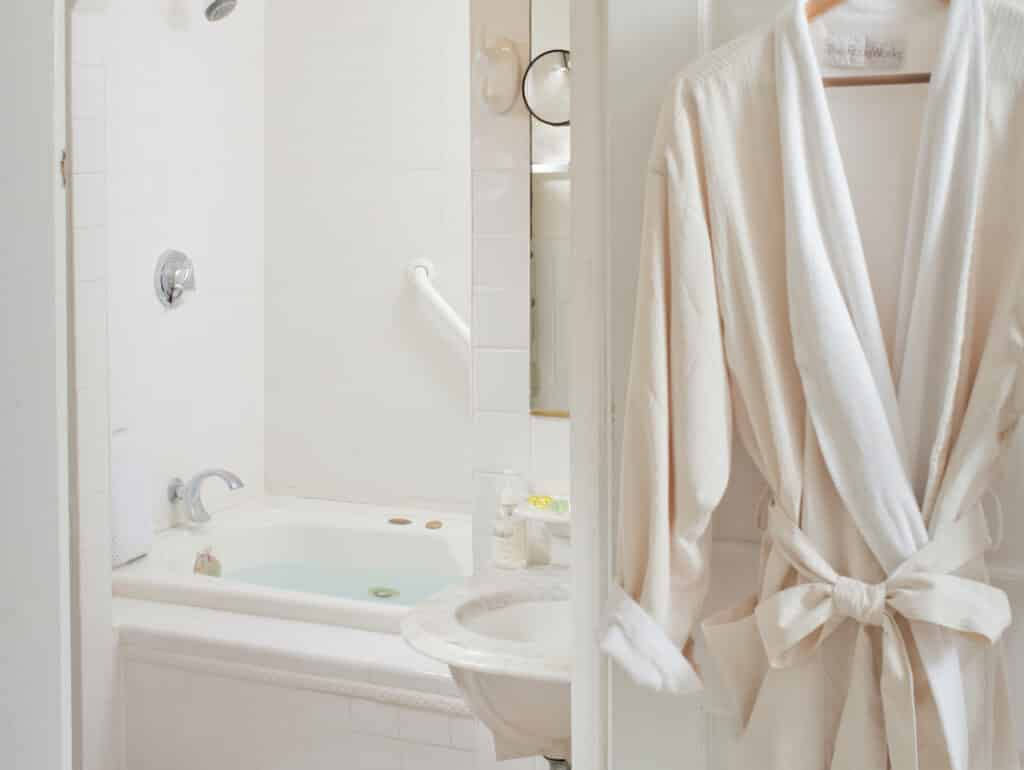 As you can see by the picture above, our en suite baths are a pristine oasis of calm. All offer shower-tub combinations, many with steam showers and jetted tubs. We offer fluffy towels and robes to relax in, and quality soaps and toiletries. And that's just the start of our long list of included amenities!
If you're heading to our Vermont Bed and Breakfast for an anniversary or birthday, we offer many add-on packages to make your stay extra special. From pampering and romance to dining and activities, we have you covered.
Sometimes we're more than just a Vermont Bed and Breakfast; we're also a wedding venue and event space. Our handsome red barn is ideal for weddings, elopements, and corporate retreats or meetings, and the grounds serve as a beautiful backdrop for a summer party. We offer excellent packages where we have every detail planned out.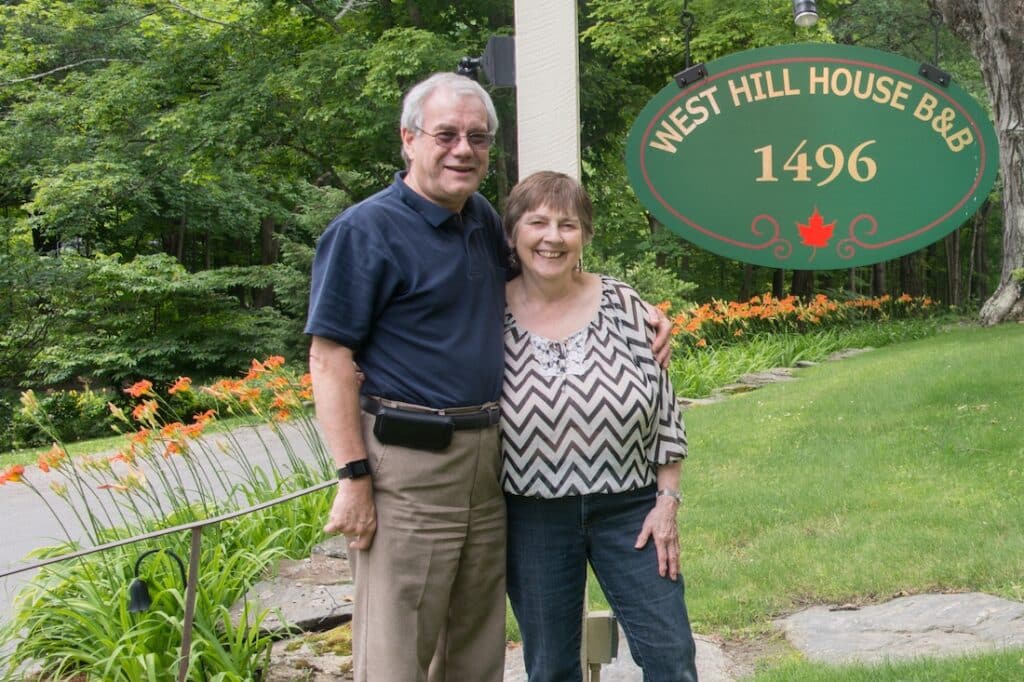 Meet Your Innkeepers at West Hill House B&B
This past May 2022, Peter and Susan began their 17th year of providing hospitality to guests at West Hill House B&B. Over the course of their nearly 20 years as consummate hosts, they've welcomed thousands of guests to our Vermont Bed and Breakfast, many of them several times over and from all seven continents. Yes, they even hosted a guest who was stationed in Antarctica!
During your stay, you'll quickly see why guests return to West Hill House B&B time and again. Peter has a wealth of knowledge about things to do in the Vermont area and would love to chat about scotch with you at their traditional Quaich Single Malt Scotch Bar. Susan takes care of all the cooking, creating decadent daily treats and a bountiful breakfast each morning.
Join us at the best Bed and Breakfast in Vermont and book today!