December 16, 2016 by Corey A. Edwards
Go beyond the ordinary during your winter vacation this year with an exciting Vermont dog sledding adventure!
Vermont's Mad River Valley offers a wide variety of excellent winter sports opportunities. From alpine and cross-country skiing to snowshoeing, snowboarding to rocket sledding, there's something for everyone here.
One of the less common winter activities that you simply have got to experience is dog sledding. And yes: you can do that here, too!
Read the rest of this page »
November 29, 2014 by Corey A. Edwards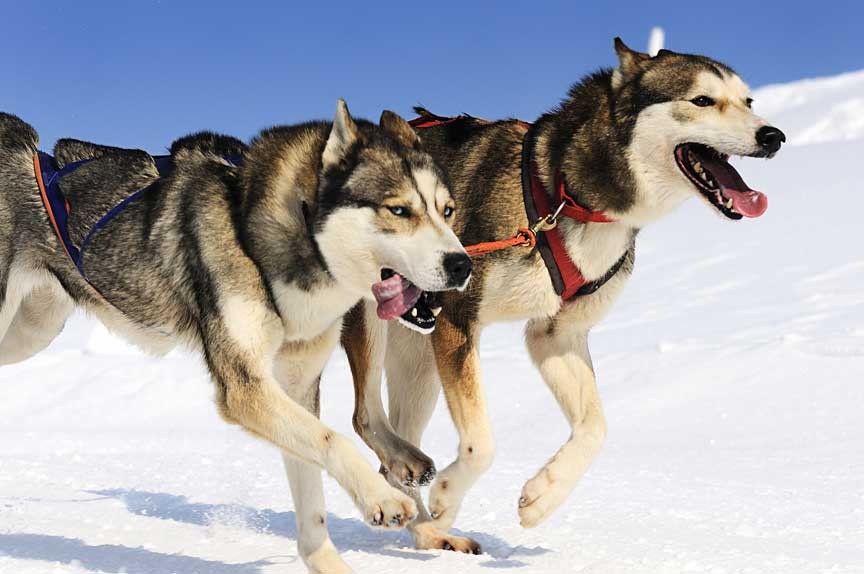 You knew you could ski, sled, and snowshoe Mad River Valley – but did you know dog sledding Mad River Valley was an option as well?
You hear a lot about those other winter sports because you can do them just about anywhere (albeit not as nicely as you can here) and, thus, people expect them – but dog sledding doesn't come up all that often because, unless you're headed to Alaska, right? Well, think again! Dog sledding Mad River Valley isn't just a possibility, it's a popular pastime!
Read the rest of this page »
November 13, 2013 by Corey A. Edwards

One of the things we here at West Hill House B&B pride ourselves in is providing our guests with the kind of unique experiences they'll remember for years to come. Something that you will return to in your mind time and again as having been the vacation of vacations.
It is with this in mind that we mention (and heartily suggest) one of our state's best-kept secret, vacation activities: dog sledding in Vermont!
Read the rest of this page »
February 28, 2013 by Katie Pate
In this era self-promotion via Facebook, Twitter and other social media, it is said that an amazing experience is worth just as much as an expensive watch. People are willing to pay more for memories they can treasure (and share), rather than a physical object which might lose its luster or become unfashionable.
If this reasoning resonates with you, we have a suggestion for the experience of a lifetime: Dog sledding. Envision yourself as an Inuit native guiding the dog team to hunting grounds. Or perhaps you'd prefer a Jack London-esque setting, where you are a gold seeker in the 1800's. Taking a trip on a dog sled can help you understand those stories and histories better.
October Siberians is our preferred tour provider for dog sledding. They are one of Vermont's best kept secrets! Offering tours in the Little River State Park in Waterbury Vermont, their Huskies are friendly, energetic, hard working dogs that literally transport you to an era when human and dog depended on each other for more than companionship. Little River State Park is about 30 minutes north of our B&B in Warren Vermont.
One reason we like October Siberians is because they make sure you are part of the group, not just a tag-along. You will have a hands-on experience working with a dog team. Share in the beauty, peace and history of the Green Mountains and the sport of Mushing.
We can book the adventure for you, however, it is important to let us know ahead of time as there is limited availability and outings are weather dependent.