January 30, 2013 by Susan
Stirring it up! Cornbread is often thought of as a southern US food and seldom served in the northern states which is a pity. This cornbread recipe has become a favorite of our guests especially when served warm with honey-butter and along side an eggy breakfast casserole. Can't say where I found this recipe as it's been in my collection for ages.
Ingredients:
1/4 c. butter, melted
1 c. yellow cornmeal  (I use coarse cornmeal)
3/4 c. flour
2-3 T. Sugar
4 t. baking powder
1/2 t. salt
1 can creamed corn (8oz)
1 c. milk
1 large egg lightly beaten
Turn the oven temp to 450°F. Pour 2T. of melted butter into an 8×8 pan and bake for 5 minutes until the cake pan is very hot. While the pan is heating, whisk together the cornmeal, flour, sugar, baking powder and salt. Make a well in the center of the mixture and pour in the creamed corn, milk, egg and the remaining 2 T. of melted butter. Stir until smooth then pour into the hot cake pan. Bake for 30 – 35 minutes or until golden brown and tests done in the center. Let stand for about 10 minutes before serving. Makes 9 pieces.
Dishing it out!  When I was about 10 years old, a friend and I decided to start a cooking club with only ourselves as members and our moms as consultants. We took turns week about in each other's kitchens and choose recipes from our mom's recipe collections. With their  blessings we'd cook up a storm and of course have to clean up after, this part was not nearly as fun as the making part!  I cannot remember what we made or how long we did this but I do remember we enjoyed the time in the kitchen.  I wonder if Brenda still loves to bake?
December 25, 2012 by Susan
Stirring it up! Until a few weeks ago I had never cooked with chestnuts. Many years ago I had chestnuts roasted on an open fire  (as one does at Christmas time!) from a street vendor in Toronto but nothing since then. I purchased some a few weeks back, sautéed them with some bacon and red onion and the results weren't bad at all. The  next day however,  I decided that left-over chestnuts weren't going to be on my list of favourite foods. Always ready for an experiment though I decided to try making some Chestnut Soup. I opened the pantry and this is what I came up with.
Ingredients:
1 lb chestnuts, precooked and roughly chopped
1 small red onion, diced
1 small yellow onion, diced
4 slices bacon cut into 1/4″ bits
1 medium potato, diced
2 c. chicken stock or vegetable stock
thyme, a couple of good shakes
salt & pepper
In a heavy bottom saucepan, sauté the bacon bits till cooked but not quite crispy.  Add the red and yellow diced onions and continue to sauté until the onions are soft and the bacon is crispy. Add the diced potatoes, chestnuts, thyme and stock. Cook on low heat until the potatoes are soft then simmer for a bit so the flavours can blend. Using a hand blender, purée the soup to a smooth thick consistency. Use caution when blending the hot soup and do NOT pour hot soup into a blender or processor to purée it.
Dishing it out! My dad was the soup maker in our family and his experiments in making vegetable soups were renowned amongst our friends. Dad could make soup out of just about anything and it was always "terribly healthy". Although at the time we often thought  "Not soup again", recently a homemade soup experiment  is often dinner for Peter and myself. Dad would be proud!
November 29, 2012 by Susan
With early season snowflakes whirling about them, and the temperature sitting at about 28°F, Ryan and Jeff were married in the meadow at West Hill House B&B. Our favorite Justice of the Peace, Greg Trulson officiated at the wedding making it a very meaningful occasion, as he always does. Following the ceremony,  the newly married couple asked Peter to continue taking photos as they enjoyed a short stroll around our wintery gardens.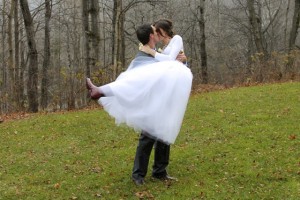 Warming up by the fireplace a few minutes later Ryan and Jeff enjoyed an intimate wedding reception complete with wedding cake, made here at West Hill House, and a bottle of  Champagne. They were kind enough to invite Greg and Peter and Susan to join them.
Ryan loves experimenting with recipes. Check out her food blog called Skinny Supper. It's a fun site with lots of photos to help you along.
Stirring it up! While cleaning rooms the other day I clicked on the TV and found The Barefoot Contessa featuring a batch of the Ultimate Ginger Cookie. They looked absolutely scrumptious so after finishing the rooms I cleaned up and headed off to the kitchen to cook up a batch for our weekend guests. Unfortunately I didn't have all the ingredients called for in that recipe so I made my own version of ginger cookies.
Ingredients:
2 1/4 c. all purpose flour (I use King Arthur Flour)
1 t. baking soda
2 t. ground cinnamon
1 1/2 t. ground cloves
1/2 t. nutmeg ( I grate nutmeg so  just eyeballed the quantity)
1/2 t.  ground ginger (I used a tiny bit more than this)
1/4 t. fleur de sel
an additional 1/3 c. granulated sugar for rolling cookies in before baking
1 c. light brown sugar, lightly packed
1/4 c. canola oil
1/3 c. unsulfured molasse
1/4 c. to 1/3 c. crystalized ginger, chopped into small pieces
1/2 c. raisins (optional)
Preparation:
Set the oven to 350°F. The cookies will bake for about 12-14 minutes. I made 22 cookies.
Put the first 7 ingredients into a large bowl and set it aside. In the bowl of an electric mixer,  mix on low speed, the brown sugar, canola oil and unsulfured molasses. Note that the dough is fairly stiff so I don't recommend using a hand mixer. With the mixer still on low speed add the egg, mix for about 1 minute and remember to scrape the sides of the bowl – stop the mixer first. Without changing the mixer seed, very gradually add the dry ingredients which are in the first bowl. If the mixer is going too fast you will find yourself and the mixer covered in a fine white dusting of flour! Increase speed and mix on medium speed for about 2 minutes. Add the crystalized ginger and raisins (optional) and mix until incorporated. Make dough balls about 1 T. in size and roll in the reserved 1/3 cup of sugar. Place dough balls on a parchment lined jelly roll pan or cookie sheet and flatten slightly with your fingers.
Bake until the cookies are crackled on top but still soft to the touch. Cool cookies on the pan for a few minutes then transfer to a cooling rack to complete cooling. These freeze well if they last long enough for you to get them into containers!
Dishing it out!  One sunny summer day, my dad and I decided to take a drive along a nearby lake so stopped off first at the grocery store for sustenance for the journey. While I choose a well aged cheddar cheese, my dad went off to find crackers or so I thought but back he came with a box of gingersnaps. Supplied with these items and the thermos of tea from home, we set off on our adventure. This was the day that I learned how well cheddar cheese and crunchy gingersnaps go together. While these ginger cookies are soft, they are still pretty darn good with a cup of tea and a chunk of strong cheddar cheese.
Enjoy!
December 12, 2011 by Peter MacLaren
This past summer we were delighted to get to know Martina and Tanja, university students from Macedonia. While they were here I purchased a jar of Ajver for them. I had no real idea of what it tasted like but it looked good and I wanted to give them a small taste of home while they were so far away. The four of us sat around the table and enjoyed this tasty treat along with hearty bread and cheese while the two girls told us of how Ajver is made and how in the fall, the wonderful aroma of roasting red peppers wafts through the villages.
Having some red peppers on hand, I looked up Ajver recipes on line, chose one and yesterday made some beautiful looking Ajver. While it looked right, it lacked that special taste. Martina and Tanja, what's the magic ingredient? Help!
December 8, 2011 by Peter MacLaren
Stirring it up! Special baked goods play a key role in many of the winter holidays whether it be Christmas, Chanukka, Pancha Ganapati, Kwanzaa, Chinese New Year or any  number of others celebrations. Here's a yummy recipe for cookies to help us encourage winter, Pecan Snowballs.
Ingredients:
2 c. pecans
1 c. butter, softened
1/4 c. icing sugar
2 c. all-purpose flour
1/2 t. salt
1 1/2t. vanilla
1 c. icing sugar (for rolling cookies in)
Preparation:
On a baking sheet, bake the pecans at 350° for 7 to 9 minutes, or until fragrant, stirring once. Let cool then chop finely and set aside.
In a large bowl, cream butter with sugar until smooth.
Beat in vanilla.
With a wooden spoon, stir in flour, salt and pecans using your (clean!) hands to finish the mixing and to form the dough into a mound.
Wrap in plastic wrap, cover and refrigerate for 30 minutes.
Form dough into 1 inch balls and place 1 inch apart on an ungreased baking sheet.
Bake at 325° for 18 – 20 minutes or until lightly golden.
Remove to racks and let cool for 5 minutes.
Using the 1 cup of icing sugar, roll baked cookie balls in icing sugar then return to rack to cool completely.
Roll once again in icing sugar.
Snowballs can be stored in an airtight container for up to one week or frozen for up to 3 months.
Makes about 40.
Dishing it out! My first Christmas in Texas, my friend Jacquie invited me to a cookie exchange at her home. While I can't remember the exact number of guests, I believe were each to make 5 dozen cookies of the same recipe, bring them festively wrapped in groups of four,  along with 12 copies of our recipe and a cookie tin for our own collection of cookies. One dozen of the cookies were for refreshments at the party, the others were for sharing,  4 of each variety went into our tins. We visited over glasses of wine and plates of cookies – what a wonderful variety of delights for so little work!. I'm not sure how Jacquie managed to organize it, but after several years there were, I think, upwards of 30 ladies at the cookie exchange. No, we didn't have to make 30 dozen cookies – Jacquie did some mathematical magic and we each went home with a super selection of our friends' baking. Thanks, Jacquie, for your recipe for Pecan Snowballs.
November 13, 2011 by Peter MacLaren
Stirring it up! Here's a never fail coffee cake which is quick to make and yummy to eat.
2 c  all purpose flour
3/4 c  butter
1 c  white sugar
Rub these three ingredients together to the crumb stage. Put 1 cup of the mixture aside to use as topping
Mix the remaining mixture (from the above) with the following:
1 egg
1 c. sour milk
1/2 t  baking soda
2 t  baking powder
1 t cinnamon
1 t  ground cloves
1 c  raisins, dry cranberries or dry cherries -add these to the dry ingredients before adding the egg and this will help keep the fruit distributed throughout the cake rather than sinking to the bottom.
Pour the mixture into a well greased 9″x13″x2″ (33cmx23cmx5cm) pan and sprinkle the 1 cup of topping over the batter.
Bake at 375• F (190• C) for about 25 minutes. Cool slightly and serve or can be served cold and goes very nicely with an afternoon cup of tea. Freezes well.
Dishing it out! Ever been the new kid in school and hoping to make new friends? In a family that moved numerous times, come the first day of school the big question was, "who will be my friend?". Starting a new school in grade 7 there was little time to worry about this as I was soon befriended by Maureen. We were in the same class, went to the same church and discovered we liked many of the same things. For three years we were best friends then a new job for my parents took us to a new home across the country . Maureen and I have kept in touch by email and  have only seen each other a couple of times in all these years. All this to say, Maureen sent me this recipe hoping it might be something I could use and every time I make Cinnamon Crumb Cake I silently thank her for making another breakfast enjoyable for both the cook (me) and our guests. Thanks Maureen!
April 26, 2011 by Peter MacLaren
Stirring it up! Unexpected guests for dinner? This quick curried fruit sauce has come to my rescue more than once. Good on a variety of meats or on rice or quinoa, this sauce is quick and easy to make.
1/2 c butter
1 c brown sugar
2-3 t curry powder (more if you are a curry lover)
1/4 t  salt
2 – 14oz tins fruit salad (mixed fruit) drained
In a saucepan, heat butter, sugar, curry powder and salt. Stir the mixture while cooking, until the butter bubbles and the sugar and curry powder are blended together. Continue to stir and add the drained fruit and bring it to a boil then turn the heat to low and allow the flavours to meld. If it is too thick, add a bit of the drained juice. Serve hot over your choice of food. Can be made ahead and heated before serving.
Dishing it out! My dear friend Jyo makes the best curried food on the planet! Our families have spent many happy hours together enjoying fellowship and her fantastic cooking. While she would not consider this a very authentic curry sauce, I know she would appreciate that I think of her when I make it and I wish that we lived close enough to each other to once again gather around the table.
January 25, 2011 by Peter MacLaren
Stirring it up! Can you think of a better breakfast than hot steaming Baked French Toast on a cold and blustery winter morning? Me neither! The other day I made Baked Blueberry Croissant French Toast for our guests. I often create and adapt recipes when I cook and don't take time to write them down so I had to think about this one for a bit – it was one of my "let's try this" recipes. It is easy to do because you put this together the night before, refrigerate it and cook it in the morning. I made this for 20 people and that is a bit much for the ordinary family so here's is how to work this out on a smaller scale.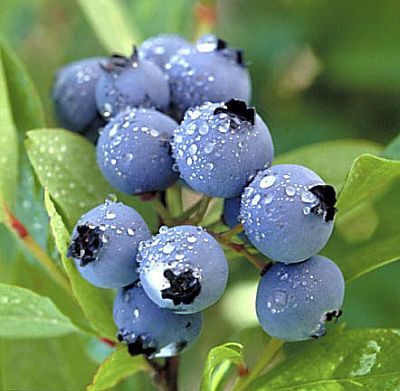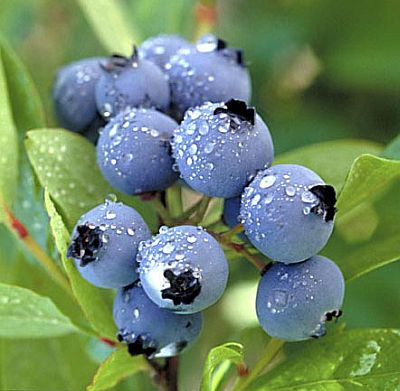 1 slightly frozen croissant for every two people (Real croissants, not the brand name pop-open-the-container and bake kind!)
1/4 cup of whole milk (or Silk) per person
1 egg per person plus 1 extra egg for every 4 people
2 T softened cream cheese per person
1/8 t vanilla per person – a little more if you like a stronger vanilla flavour
1/4 cup medium sized blueberries, fresh or frozen
2 T brown sugar per person
1 t melted butter per person
1 T chopped nuts per person (pecans or almonds are nice)
Nutmeg
Cinnamon
Whipped cream
Powdered sugar
Grease a pan large enough to hold the croissants in one layer. The pan should have 2″ high sides. Depending on number of folks you are feeding you may need several pans.
Carefully cut the croissant while still slightly frozen and spread each half with cream cheese, spreading is easier this way. Place the croissant halves cream cheese side up in one layer in the greased pan.  Combine the eggs, milk and vanilla in a bowl and beat until well mixed and all eggs are incorporated. Pour the mixture over the croissants so that they are just barely covered with liquid. If you find that you need more liquid make more 1 egg, 1/4c milk mixture until you have sufficient. The actual amount will vary depending on the moisture content in the croissant. Lightly dust with cinnamon then grate a sprinkling of nutmeg over the top. Cover with plastic wrap and tuck into the fridge until morning.
In the morning,  about  an hour or so before you wish to eat,  set the oven to heat to 350'F. Remove the pan from the fridge and let it sit on the counter for about 20 minutes or so to warm up to room temperature. While it is sitting out, mix together the brown sugar, melted butter and nuts. Dot croissants with spoonfulls of the sugar mixture and carefully spread it around with the back of a spoon. Sprinkle with blueberries. Cover lightly with foil and pop into the oven for about 25-30 minutes. Remove foil and return to oven for another 5-10 minutes to brown.
Let it cool just a bit then serve with a dusting of powdered sugar, a dollop of whipped cream, some real maple syrup or blueberry syrup and some bacon or sausages. Yumm!
Dishing it out! About three years ago I decided our blueberry bushes were way too tall, at this point they were about 10′ tall, and even with poles and ladders, getting a net over the top was neigh on impossible. In fact it was a useless exercise and that year we harvested the 3 berries that the birds missed! The obvious thing to do was to trim the bushes – but how? After consulting several agricultural extension sites on the internet a plan was devised, the tools were gathered and with lots of TLC the bushes were cut back to a respectable size . The results? Great bushes for the last three years but not a single blueberry in sight. Most disappointing and we're feeling quite blue – what had we done wrong?  Thank goodness for the local farmers' market where we can purchase this fantastic fruit from our neighbouring farms.
June 13, 2010 by Peter MacLaren
Stirring it up! We had a BBQ on the long weekend in May, a day I always think of as the first day of summer. In my books, watermelon is the quintessential summer fruit so of course it had to be included in the menu, but watermelon with a twist.
Watermelon & English Cucumber Salad
1T apple cider vinegar
1/4 c. olive oil
1 sm clove garlic, minced
1/2  large watermelon
1 English cucumber
1 cup  feta cheese
5-6 sprigs of mint, save some whole leaves for garnish and finely chop the remainder
1/4t. salt
a few grinds of fresh pepper
Mix the first three ingredients together in a small bowl and set aside to allow the flavors to blend.
Cut the watermelon in half width-wise then cut slices about 1″ thick. Remove rind and cut into bite-sized chunks. (If you wish to  serve the salad in a melon bowl, cut the melon either width-wise or length-wise and remove melon flesh with a melon baller. Scrape out remainder of the flesh with a large spoon then turn over the "bowl" and trim a small piece off the underside of the rind so the "bowl" sits flat.)
The skin on an English cucumber is edible so wash the cuke and trim the ends off. Cut the cuke into bite- sized chunks.
Place the melon, cuke,  feta cheese, and chopped mint in the serving vessel, sprinkle with salt and a few grinds of fresh pepper. Pour the dressing over the salad and gently toss.
Place whole mint leaves on top and either serve immediately or cover and refrigerate until serving. It is not a good idea to make this too far in advance of serving as watermelon tends to loose a lot of juice as it sits.
Dishing it out! Many, many years ago we lived two doors down from a family with 5 boys roughly the ages of the four of us. Often on hot summer weekends the two families would pack up food and kiddos and go off to the mountains for a picnic. Watermelon was always for dessert and cooled in a nearby stream while we all enjoyed our lunch. Upon arriving at the picnic ground we would park the cars and the 7 younger kids would race off to find the perfect picnic table leaving the oldest offspring and adults to lug the food. On one memorable occasion I guess my dad was carrying a bit too much as the watermelon slipped from his grasp and landed with a resounding kerthump on the ground splitting open and  laying the juicy fruit at our feet. Needless to say lunch started with dessert that day!!
May 19, 2010 by Peter MacLaren
Stirring it up! Sometimes our cookie jar is in reality a cookie plate – especially when I've baked a Chocolate Chip Oatmeal Sheet Cake. I found this recipe on The Old Farmer's Almanac web site.  From the original recipe I have cut down the sugars and chocolate chips a bit with no complaints from chocoholics! Great for an afternoon snack or a dinner dessert with a scoop of ice cream – Ben & Jerry's of course!
Chocolate Chip Oatmeal Sheet Cake
350'F              20-25 minutes baking time              Makes about 35 servings
1 3/4c. boiling water
1 c. rolled oats (not instant)
1/2 c.  (1 stick) butter or margarine
3/4 c. light brown sugar, packed
3/4 c. white sugar
2 large eggs
1 3/4 c. sifted all-purpose white flour
1 t.  baking soda
1/2 t. salt
1 T. unsweetened cocoa powder
3/4 c.  semi-sweet chocolate chips
3/4 c. chopped nuts (optional)
Preheat the oven to 350'F.
Lightly grease a 15″ x 10″ baking pan. I line my pan with parchment paper so it is easy to transfer to the cooling rack.
Pour boiling water over the oats and let stand for 10 minutes. Be careful as the hot water may bubble up when it hits the oats.
Add the butter/marg and stir until melted.
Add the Sugars and stir until dissolved.
Add the eggs and mix well.
Sift together the flour, soda, salt and cocoa.
Add to the oat mixture and mix well.
Pour into the baking pan.
Sprinkle chips and nuts on top.
Bake for 20 – 25 minutes.
Cool completely before serving.
My preference is to cut the cake into squares about 2″ x2″ dust them with powdered sugar and serve them like brownies. Cut into larger pieces with a scoop of Ben and Jerry's ice cream on top makes a wonderful dessert!
Dishing it out! I have on my bedside table, a stack of books all of which I am reading depending upon the mood I am in…  historical fiction, biography, Vermont history, classics and of course a couple of cookbooks. Many of the cookbooks I have are gifts from friends. Just now I am perusing "Fare for Friends" a delightful gift from a friend of more than 30 years. The book is filled with recipes which are simple to make and with ingredients which are likely to be on your panty shelf. While chances are I'll never make all the recipes in this or any other of my cookbooks, I love to read recipes, get inspiration, think about the combination of tastes and what I would serve along with it. Above all, it's nice to remember the friends who have given me these books and their contribution to my life;  a good serving of care, a heaping helping of laughter, and a cup full of love. What better gifts to give a friend.
May 3, 2010 by Peter MacLaren
Stirring it up! This recipe is a guest favorite here at West Hill House and should be familiar to those of you who get your oatmeal from those lovely tubular containers of Quaker Oats. I like the recipe because it requires no fancy ingredients, is quick to make,  numerous items can be substituted for the raisins and the cookies taste great!
Vanishing Oatmeal Cookies
350'F      10-12 minutes baking time      Makes about 4 dozen
1 c. butter, softened
1 c. firmly packed brown sugar
1/2 c. white sugar
2 eggs
1 t. vanilla
1 1/2 c. all-purpose flour
1 t. baking soda
1 t. cinnamon
1/2 t salt (optional)
3 c. Quaker Oats (quick or old fashioned, uncooked)
1 c. raisins
Beat the butter and sugars until creamy.
Add eggs and vanilla and beat well.
Add combined flour, baking soda, cinnamon and salt and mix well.
Stir in oats and raisins and mix well.
Drop by rounded tablespoons onto ungreased cookie sheet.
Bake 10-12 minutes or until golden brown.
Cool for about 1 minute then remove to cooling rack.
Can be frozen -if you can get them into the freezer before they are all eaten!
To make bar cookies: Put dough into a 9×13 inch metal baking pan and bake for 30-35 minutes.
Dishing it out! It's hard to say exactly when my interest in cooking began – likely as a baby when I started to eat solid food!!  Really though, the first time I  remember buying something which was food prep related was one summer when we were camping – I must have been about 8 years old.  I wanted to be able to cut my own apples and sandwiches so with my parents' permission I purchased a very small pocket knife with one blade and a picture of the Grand Canyon on the case.  While the knife served me well and my mom let me help with meal prep,  a younger sister decided to give the knife a try and ended up cutting her finger. The knife went into the care of my dad for the remainder of the trip. Hummm, I think I still have that knife packed away somewhere…