It's summer vacation time and no matter where your  travels may take you, it is nice to be given a warm welcome upon arrival at your destination.
Fredericksburg Texas, now there's a town that knows how to welcome folks!
Some years ago, I went on a girls-weekend to A Place In Time B&B in Fredericksburg, TX. We chose the Ruby Bell Suite on the second floor as it was perfect for the three of us. We received a warm greeting from Jon (innkeeper/owner) as well as from the local shopkeepers and restaurant staff we met as we explored the area. In the intervening years I have continued to receive their newsletter, which highlights events going on at the B&B as well as festivals and activities in the town. The newsletter makes me feel welcomed all over again. While visiting this delightful town may not be in your immediate plans, I highly recommend a visit to Fredericksburg, TX because it's a friendly and welcoming.
And why is this such a friendly and welcoming place? Because as the town points out…
Isn't this a wonderfully creative idea? Now we can't all rename the streets in our towns but we can all give a warm welcome to visitors. Hospitality always gives visitors and guests feel a warm feeling. Whether you are greeted in your own language; Welcome! !Hola! Aloha! Bienvenue! Willkommen! Ciao! Välkomnde! or perhaps Witja!, or you meet with helpful folks when you need directions, receive excellent service in a shop, are greeted with a cheery smile from a local or are welcomed by the names of the streets, it's a good feeling.
In the 10 years we have owned West Hill House B&B we have welcomed guests from every continent (we counted the scientist who had been stationed for a number of months in Antarctica). Whether you come for romance, relaxation or recreation, we will  be delighted to say "Welcome!" and extend the hospitality of West Hill House B&B to you. Come visit us and teach us to say "welcome" in your mother tongue!
December 15, 2014 by Susan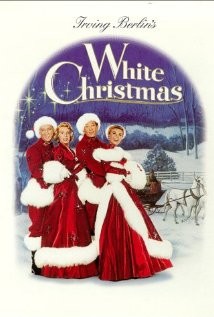 Dreaming of a White Christmas but live where there isn't any snow? Stop dreaming and come live your dream. Come to Vermont!
The movie White Christmas is indeed a classic and a must see Christmas movie in our family and perhaps yours too. The holidays are not complete without a visit, via DVD, to the the Columbia Inn in Pine Tree, Vermont.
Starring Bing Crosby and Danny Kaye as successful broadway producers, and Rosemary Clooney and Vera-Ellen as a sister, singing act, a twist of fate brings the foursome to The Columbia Inn in Pine Tree, in late December. Dreaming of a white Christmas and that "Vermont should be beautiful this time of year, all that snow" the four arrive and find, to their great disappointment, that there is no snow at all. The sisters find, with few registered guests, their singing contract is to be cancelled. Meanwhile, the two men discover that the innkeeper is their former commanding general.
Despite the lack of guests and the challenge of the weather, the four decide to stay and the story develops as a light-hearted romance suitable for family viewing. With songs sung by Crosby and Clooney and beautiful dancing by Vera-Ellen and Kaye, the movie is a good way to spend a winter evening.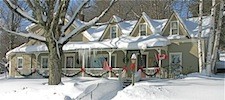 While there is no Columbia Inn, there is West Hill House B&B in Warren, Vermont, a place to enjoy a white Christmas and winter in all its glory.
We can predict with some degree of certainty that we will have a white Christmas and we most certainly have a copy of the movie for you to watch!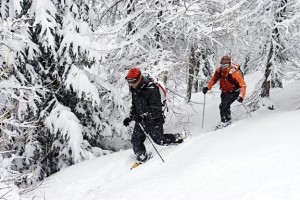 Skiing at  Mad River Glen  and Sugarbush will be in full swing with people from around the world enjoying the opportunity to ski some of New England's best slopes. On the Sugarbush golf course just behind our Handsome Red Barn, is a perfect hill for sledding on one of the Mad River Rocket Sleds created here in Warren. If your pace is slower, there are miles of cross-country skiing at Olé's and  Blueberry Lake only 10 minutes from West Hill House B&B. If skiing isn't for you, our snowshoes are perfect for exploring around our property or farther afield.
If you're not an outdoors type or your skiing days are past, there are numerous artisan shops, small stores and coffee shops to visit but that will have to wait for another blog.
If  a white Christmas to you means looking at snow through a window,  how about curling up in a big chair by the fireplace and losing yourself in a good book, or playing a board game with your special someone.
If you are dreaming of a white Christmas look no further than Vermont in winter. Winter in its natural state!

Only one special package is being offered for a wedding with just the two of you on the special date of 12-13-14 (for the numerically challenged that's December 13, 2014). 
It has now been booked! However our normal wedding and elopement packages are available for other dates.
All of the following are included: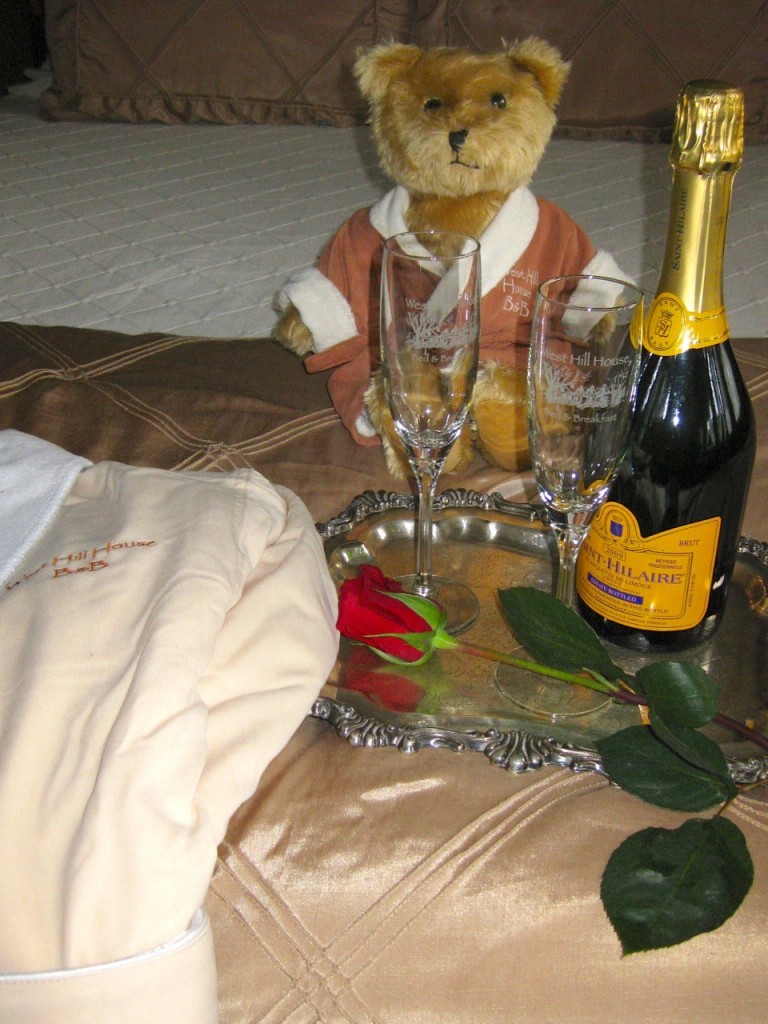 An excellent Justice of the Peace who will officiate at your wedding ceremony and contact you ahead of time to work with you to personalize your ceremony

Digital photographs of your ceremony and a CD of your photos

A wedding cake

A bottle of sparkling wine or sparkling pear or apple juice

Seasonal flowers as bouquets or boutonnieres

Two signature West Hill House B&B coffee mugs

Two West Hill House B&B keepsake Champagne flutes

Two nights of accommodation in the Paris Suite

Two luxurious West Hill House B&B "Doe Skin" robes

One Ted E. Bear complete with matching robe

Dinner for two on Saturday at either excellent restaurant: The Common Man or 275 Main at the Pitcher Inn
This great package is offered for $1516.17 plus 9% tax. Call us at (802) 496-7162 to book.
The Small Print: This offer is only good for a wedding to be held at 1:00PM on December 13, 2014. No change of time or date will be considered. A $500 non-refundable, non-transferable deposit for this special wedding package is required at the time of booking. Note that the deposit does not entitle the couple to any of the offerings should the wedding be cancelled. 
November 29, 2012 by Susan
With early season snowflakes whirling about them, and the temperature sitting at about 28°F, Ryan and Jeff were married in the meadow at West Hill House B&B. Our favorite Justice of the Peace, Greg Trulson officiated at the wedding making it a very meaningful occasion, as he always does. Following the ceremony,  the newly married couple asked Peter to continue taking photos as they enjoyed a short stroll around our wintery gardens.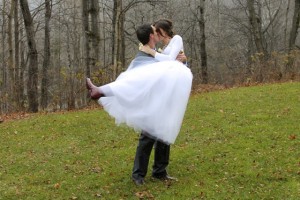 Warming up by the fireplace a few minutes later Ryan and Jeff enjoyed an intimate wedding reception complete with wedding cake, made here at West Hill House, and a bottle of  Champagne. They were kind enough to invite Greg and Peter and Susan to join them.
Ryan loves experimenting with recipes. Check out her food blog called Skinny Supper. It's a fun site with lots of photos to help you along.
March 16, 2012 by Peter MacLaren
Winter gives way to an early spring
Mountainside snow melts in the warm sun
The ground begins to thaw as we enter mud season
Crocuses, tulips, and irises poke their heads through the soil
Inside West Hill House B&B Smoky demos cat yoga and enjoys a relaxing nap.
Come join Smoky and Snowball, choose your own chair of course, and chill out.
For new bookings made after March 27th for between then and April 26th we are offering these two special deals:
Stay two nights and have the third night on the house! A 33% discount.
Stay one night and get the 2nd night at half price! A 25% discount.
These discounts are not available on-line. Please call us to book.
(may not be combined with other discounts)
February 5, 2012 by Peter MacLaren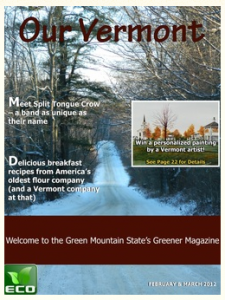 Our Vermont,  is the new Green Mountain State's Greener Magazine, and features articles about people, places, events, food, and local flavor offered in the great state of Vermont. Not only is this a paperless magazine, and you can subscribe for free on line, but they chose a 100% wind powered company to do their hosting.
Lucky us, West Hill House B&B has a featured ad in the magazine's inaugural edition. Check us out on page 2-3, the full-screen option, and accept our invitation to come to Vermont to sample the wonders of our amazing state. West Hill House is a 'Green Hotel in the Green Mountain State'. We offer Ski & Stay Packages. If you and your sweetie need a little pampering check out our Valentine's Day special. Perhaps a proposal is in your future …let us help you make that a memorable event.
West Hill House B&B is where you'll want to B&B.
January 31, 2012 by Peter MacLaren
A picture postcard Valentine's Day package awaits you…
A snow covered landscape, a beautiful room with a double Jacuzzi tub in its ensuite bathroom, a sleigh ride to whisk you through the snow, and a delicious dinner at The Common Man restaurant.
We have two all inclusive packages:
The Logan Suite for any 3 nights including the 14th of February  – just $999 inclusive
The Mountain Room for any 2 nights including the 14th of February – just $649 inclusive
Extra nights can be added at our regular rates less 10%.
Your package includes:
Your beautiful room and a delicious breakfast each morning
A wondrous sleigh ride with views over the Mad River Valley
Dinner at The Common Man Restaurant on the 14th
6 Roses – that you can take home with you
A bottle of Champagne and two souvenir Champagne flutes
Lake Champlain chocolates
And most of all – a peaceful get-away among the snow covered Green Mountains of Vermont
Please plan ahead as these packages will doubtless sell out quickly.
January 19, 2011 by Peter MacLaren
Then please check out our Valentine's Day "Pop The Question" Special!
To help set the scene we will provide:
Six Red Roses
Two West Hill House Champagne Flutes
One 375ml bottle of Champagne
Vermont Chocolates
A small red pillow for ring presentation.
This special is valid with a stay of two or more days over February 14th 2011.  Just $89 in addition to the price of your room.
Please call us so that we help you arrange all the details, including dinner reservations, maybe a sleigh ride, or whatever you are looking for to make this a perfect day! The deadline for booking this special is February 10, 2011.