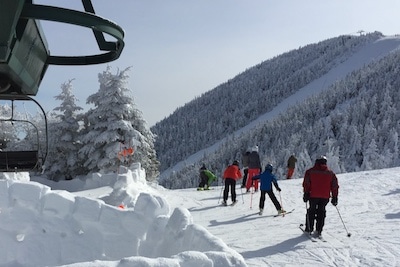 The Deal:
Enjoy skiing Sugarbush and Mad River Glen – the Mad River Valley's two legendary ski areas both close to the B&B – while getting a great deal on lodging here. Also don't forget our two extensive cross country ski areas in Warren – Olé's and Blueberry Lake.
We are just one mile from Lincoln Peak at Sugarbush, 7 miles from Mad River Glen, and about 5 miles from each of Olé's and Blueberry Lake.
Stay 3 or more nights and save 25% off our regular lodging rates for weeknights and 15% for weekend nights for Bed and Breakfast.
Downhill Skiing:
If you are a skier or rider you need to be here. Plan ahead and score great deals at both resorts when you order your Sugarbush and Mad River Glen tickets online. (Should be available by late October.) Please note that planning ahead will be essential this year as same-day tickets will NOT be available, and capacity may be limited.
As food options will be limited at the ski areas this season we will be offering modestly priced packaged lunches.
Cross Country Skiing:
You can also enjoy Nordic skiing at Olé's and Blueberry Lake. We expect day tickets will be sold normally.
Book now!
Book your ski-break online using promo code "ski". (Booking via our website is required; new bookings only.) See you soon!
(From December 1st through April 11th. Note that savings are not applicable Christmas Week, MLK weekend, nor Presidents Week – regular prices apply. Ski passes are not included and are purchased separately from the ski area websites.)