February 5, 2012 by Peter MacLaren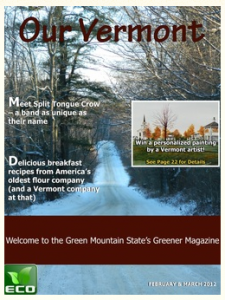 Our Vermont,  is the new Green Mountain State's Greener Magazine, and features articles about people, places, events, food, and local flavor offered in the great state of Vermont. Not only is this a paperless magazine, and you can subscribe for free on line, but they chose a 100% wind powered company to do their hosting.
Lucky us, West Hill House B&B has a featured ad in the magazine's inaugural edition. Check us out on page 2-3, the full-screen option, and accept our invitation to come to Vermont to sample the wonders of our amazing state. West Hill House is a 'Green Hotel in the Green Mountain State'. We offer Ski & Stay Packages. If you and your sweetie need a little pampering check out our Valentine's Day special. Perhaps a proposal is in your future …let us help you make that a memorable event.
West Hill House B&B is where you'll want to B&B.
November 28, 2011 by Peter MacLaren
Picture yourself doing your Christmas shopping and enjoying Christmas music in the quiet serenity of the green mountains of Vermont.
Saturday, December 3 marks the 13th annual Country Christmas Open House in the Mad River Valley. Over 30 local shops and services are offering special discounts which will make your pocketbook happy and may offer free refreshments which will make your tummy happy. Pick up a punch card at any merchants displaying the Participating Merchant sign then visit 5 businesses and have your card punched at each. When you leave your card with the 5th business it will be entered for a prize drawing. Check out the list of participating merchants and services.
On Friday, December 9 The Vermont Symphony Orchestra presents Holiday Pops "Fun and Games"  at the Barre Opera House, just under one hour from West Hill House. Favorite Christmas music with a twist as they take a look at the youthful side of the holiday. Fun for everyone. Tickets required.
Thursday, December 15 the Warren United Church will host the Vermont Symphony's Brass Quintet and Counterpoint for a perfect mix of brass and voices to ring in the season. Free admission although tickets are required.(802-496-9714).
And of course the area also offers skiing and riding at Sugarbush, skiing at Mad River Glen, and cross country skiing at Ole's and Blueberry Lake. Dog sled rides, sledding, skating, and moonlight snowshoe tours are just some of the other ways to enjoy a white Christmas in Vermont – oh and you can also curl up with a warm beverage and watch the movie White Christmas.
November 6, 2011 by Peter MacLaren
Imagine a Christmas Card snow scene, a house surrounded by snow on a quiet country lane, a quintessential red barn, snowshoes, sleigh rides, shushing down the slopes or gliding on trails through the trees on your skis… Then comfortable beds, Jacuzzi tubs, steam showers, amazing breakfasts, and of course a cat or two curled up in front of a blazing fireplace…
Your imagination can become reality when you book this year's ski holiday at West Hill House!
To make things even simpler this year, while we will be happy to put together a custom package for you for two or more nights, we have two inclusive deals you can choose from:
3 nights of B&B over the weekend and 3 days of skiing at Sugarbush
4 weeknights of B&B and 4 weekdays of skiing at Sugarbush
All you have to do is choose your room and the same all inclusive price (including taxes) applies:
Queen Room Package – $899
King Room package – $999
Suite package – $1099
You can add dinner for two at The Common Man on any of Tuesday through Saturday evenings for just $99 including tax and gratuity (drinks are extra).
So time to stop imagining, and start planning.  We are looking forward to seeing you at West Hill House.  Smoky and Snowball are standing by!
Note that these package prices are not available over Christmas/New Years, MLK weekend and Presidents Week, although of course we will be pleased to have you stay at those time as well!
October 27, 2011 by Peter MacLaren
OK everyone… IT'S SNOWING HERE TODAY! 
Time to think about getting those skis tuned up and making those ski holiday reservations.
Vermont photographer, "Snowflake" Bentley, was the first person to photograph snowflakes. Check out the website dedicated to his works.
Also check out our skiing specials.
January 28, 2011 by Peter MacLaren
While we post regularly to our blog here, you can also follow us on our Facebookpage. Often we duplicate postings but usually there is more on Facebook than here on the blog.
For example we just posted a photo album from our Burns Supper, held for the first time in our newly renovated Handsome Red Barn. (Click on the photo to see the full album.) About 25 local residents and B&B guests joined in the festivities, celebrating the 252nd birthday of the great Scottish poet Robert Burns who was born on January 25th 1759.
In addition to pipe music, we enjoyed Haggis with the traditional fixings, Scottish Trifle, some Burns poetry then Scottish Country Dancing led by Don and Martha Kent. A good time was had by all. Be sure to come next year!
So "like" us on Facebook to keep up with ALL the news!
December 5, 2010 by Peter MacLaren

1 classic single chair lift

2 come or not to come – is there any question?!

3 hours from Boston (or maybe slightly more)

4 glorious seasons for romance, recreation and relaxation

5 beautiful ski areas: downhill, cross-country and back-country

6 great restaurants (or more – you decide) within ten minutes of the slopes

7 hours from NYC (or maybe a bit less)

8 AM, weekend fun-on-the-snow begins

9 B&Bs within ten minutes of Sugarbush (and some are much closer!)

A perfect "10" as a winter get-away!

If you are still undecided, please call and tell us why!

Just in case you have never heard about the Valley, or are still wondering whether to come to ski here this season, we thought we'd make it easy for you by listing 10 reasons for visiting:
November 25, 2010 by Peter MacLaren
Sugarbush opens today, November 25th, with a few runs, and both it and Mad River Glen will be fully open by early December.
The Mad River Valley, encompassing the picturesque towns of Warren and Waitsfield, is the perfect place to ski in the North East. We have three amazing ski hills, Lincoln Peak and Mt Ellen at Sugarbush, and Mad River Glen. The two high speed quads at the base of each of the Sugarbush hills mean short lines even on busy days, and at Mad River Glen – while you may have to wait a bit longer on weekends and holidays – you get to ride the legendary single chair and enjoy skier only slopes. (There's lots of variety at Sugarbush for riders.) Plus we have great cross country skiing, including right outside our door on the golf course, as well as two extensive networks of groomed trails nearby.
And there's more. We are privileged to offer a wide selection of excellent owner-operated restaurants here in the valley. No chains, no franchises, no fast food. One of our favorites is Mint, a boutique vegetarian restaurant that even meat eaters will love. Then there is The Hyde Away with a wide menu selection of good value home cooking open 7 nights a week. The Terra Rossa Ristorante will more than satisfy lovers of Italian food, and you can watch pizzas being cooked in front of you in the classic brick oven. Then of course there is The American Flatbread, the mecca of taking pizza to another level, which is so popular you almost always have to line up to eat there, but it's always worth it. Our overall favorite? The Common Man where you will always enjoy great food, great service and a unique atmosphere.
For non-skiers, our Artisans, anchored by the beautiful Artisans' Gallery in Waitsfield, are almost always open during the day and welcome your visits, we have Vermont classics to visit like Ben & Jerry's and Cabot Cheese, and to relax we can arrange a soothing massage at Mad River Massage.
If you've never been here, you are missing out! If you have, it's time to come back. Call us and we'll help you plan your visit, tell you about specials, and get you booked into the top rated B&B in the area (guess where!). Ask us about the newly opened Logan's Loft in the barn for a one-week stay.
See you soon!
March 17, 2010 by Peter MacLaren
As spring approaches, there is no better time to head to Sugarbush. The skiing is still great, and there are lots of special spring activities including barbeques, local bands, and ton of events. March is looking so good — you'd BETTER BE HERE! (Photo from Sugarbush website – click to link.)
Don't miss out on any of these March Madness events:
•  "Broadway Rocks II" Cabaret – Friday, March 19
•  Sugaring Time Festival – Saturday, March 20
•  43rd Annual Pond Skimming – Saturday, March 27
•  12th Annual Spring Mogul Competition – Sunday, March 28
•  Hot Dog Race – Sunday, March 28
•  32nd Annual Sugarbush Adventure Games – Saturday and Sunday, April 10-11
Click here for the complete events calendar, which also includes the latest event videos.
And of course we have our special spring prices in effect here at West HIll House.
So come and check it all out! Operators are standing by! (A.k.a Peter & Susan)
February 24, 2010 by Peter MacLaren
February 24, 2010 by Peter MacLaren
"Yabba-Dabba-Dooooooooooo!" 12-16 inches of NEW SNOW since yesterday morning and it is still snowing and snowing hard. No kidding, Vermont  is really beautiful this time of year! It looks like this will be THE weekend to come to the Mad River Valley and ski Mad River Glen, Sugarbush or do some cross country or snowshoeing at Ole's or Blueberry Lake. Of course West Hill House is a great place to stay – we're just a short distance from each of the ski areas. Come enjoy winter with us.