February 5, 2017 by Susan
Maple syrup and Vermont go together like, well, maple syrup and pancakes! Forty years are required to grow a sugar maple tree large enough to tap. A tree ten inches (25 cm) in diameter is considered minimum trappable size for one tap. A grove of sugar maples is called a sugar bush or sometimes a maple orchard. It takes 4-5 taps to produce enough maple sap (40 gallons – 150 liters) to produce one gallon of syrup. Would you like to see it in action?
The Vermont Maple Open House Weekend will be held the weekend of March 25th and 26th in 2017, and you can experience it right here around West Hill House B&B.
The West Hill Sugar Orchard is a short walk from the B&B and is a small scale, locally operated and community supported maple syrup producer. The orchard gathers its sap by bucket and boils it over a wood fire using traditional maple sugaring techniques. Owner Glenn and his associated will be ready to welcome you for a visit over the weekend!
For breakfast we shall of course be serving maple syrup to accompany Susan's delicious dishes, and maybe even as part of breakfast dessert. Newly produced 2017 will be available to purchase packaged in Glenn's signature glass bottles decorated by his own wood prints. To help you enjoy this special weened we have created a special package just for you!
Read the rest of this page »
January 9, 2017 by Peter MacLaren
As we look out the windows at West Hill House B&B during the winter months, we are thankful for the beautiful snowfalls, the ski areas and the great outdoor activities the local mountains and surrounding area offer.
While one man may not be able to move a mountain he surely can shape what happens on a mountain. Perry Merrill (1894-1993) is often called the "the father of Vermont's State Parks and Alpine Ski Areas…Merrill was the Vermont State officer who could lease State land…". (The History of Vermont Skiing by Jeremy Davis). It was Merrill who seems to have put Vermont on skis. With his help, Vermont received workers and money as part of  government project know as the Civilian Conservation Corp (CCC). In the 1940s, the CCC was responsible for building ski rails in Vermont which were the foundation for much of today's ski industry.
Vermont currently boasts some 15 major ski resorts as well as a number of smaller ski areas. Suicide Six, near Woodstock, VT., was the earliest resort opened in 1934. Others, including Mad River Glen- Ski It If You Can – and Sugarbush Resort – Be Better Here – both here in the Mad River Valley, were not far behind. Once night  temperatures fall to freezing, mountain resorts start snowmaking to provide base coverage then Mother Nature takes over. It is not unusual for Sugarbush to record 300″ (7.62m) or more of snow in a good winter.
Read the rest of this page »
December 20, 2014 by Peter MacLaren
Have you been reading "Top 10" lists over the last few weeks? If so you will have you see lists of almost everything under the sun, Top 10 Ugliest Cars, Top 10 Best Places to Live, Top 10 Best Companies to Work For, Top 10 Best Universities, and who knows, maybe even a list for the Top 10 Best Top 10 Lists!
Well…  here's our "Top 4" list – Four Great Reasons to come Ski in the Mad River Valley this Winter.
1.  Mad River Glen – Mad River Glen – Ski It If You Can. Seriously, don't miss out on skiing this legendary co-op owned ski area. Ranked by Ski Magazine as one of the most challenging on the east coast of the US, Mad River Glen provides an opportunity for skiers of all levels to ski a variety of trails on natural snow though narrow trails which follow the terrain. Riding the Single Chair, chairlift is an absolute must! Lessons, ski shop and General Stark Pub are hillside amenities. Down hill, telemark, and cross country skiers will love MRG but be warned snowboarders… you will  have to look elsewhere for your downhill excitement as no snowboards are allowed.
2. Sugarbush Ski Resort – As one of the largest ski areas in the northeastern US, and with two mountains to choose from, Lincoln Peak and Mount Ellen, snowboarders and skiers alike will enjoy the range of it's 111 trails from beginner slopes to the more challenging black diamond runs. Sugarbush is locally owned and offers lessons, a variety of places for foodies, ski shop and accommodations.
3. Blueberry Lake Cross-Country Center– Is a cross country skiers' delight. Designed for the average skiers,  outdoor enthusiast can enjoy the classic or skating style of skiing or can snowshoe on the 11 trails which includes 30km of groomed trails. Ski and snowshoe rentals are available as are lessons. Pre-skiing age children can also enjoy the outdoors in the comfort of a pulk which can also be rented. And for dog lovers, your well behaved dog is welcome and please, remember to clean up after your pooch.
4. Olé's Cross-Country Center – Offering about 40km of groomed trails, lessons, rentals of both skis and snowshoes, a deli and friendly staff, Olé's beckons to cross-country skiers of all ages to come and enjoy winter. With relatively flat terrain skiers can explore the trails while getting great mountain views and if quiet woodland trails are your choice you'll find them here too. There are about 15km reserved for snowshoeing only and today's modern snowshoes are a lot easier to walk in that the old, oversized 'tennis rackets' and you don't need special boots, your regular winter boots fit these snowshoes nicely.
The Mad River Valley offers skiing of all sorts, comfortable B&Bs and slope-side accommodations, friendly folks, great food, beautiful shops, gorgeous mountains, stately trees, as well as wonderful snow, more mountains, more trees, more snow and lots of fresh, crisp mountain air.
Get your mittens and scarf ready and consider this your invitation to visit Vermont, winter in its natural state. Come experience skiing at its best. We're ready and waiting for you…what are you waiting for?
December 15, 2014 by Susan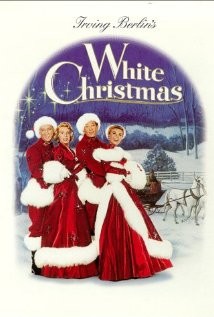 Dreaming of a White Christmas but live where there isn't any snow? Stop dreaming and come live your dream. Come to Vermont!
The movie White Christmas is indeed a classic and a must see Christmas movie in our family and perhaps yours too. The holidays are not complete without a visit, via DVD, to the the Columbia Inn in Pine Tree, Vermont.
Starring Bing Crosby and Danny Kaye as successful broadway producers, and Rosemary Clooney and Vera-Ellen as a sister, singing act, a twist of fate brings the foursome to The Columbia Inn in Pine Tree, in late December. Dreaming of a white Christmas and that "Vermont should be beautiful this time of year, all that snow" the four arrive and find, to their great disappointment, that there is no snow at all. The sisters find, with few registered guests, their singing contract is to be cancelled. Meanwhile, the two men discover that the innkeeper is their former commanding general.
Despite the lack of guests and the challenge of the weather, the four decide to stay and the story develops as a light-hearted romance suitable for family viewing. With songs sung by Crosby and Clooney and beautiful dancing by Vera-Ellen and Kaye, the movie is a good way to spend a winter evening.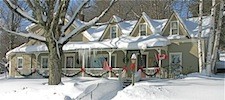 While there is no Columbia Inn, there is West Hill House B&B in Warren, Vermont, a place to enjoy a white Christmas and winter in all its glory.
We can predict with some degree of certainty that we will have a white Christmas and we most certainly have a copy of the movie for you to watch!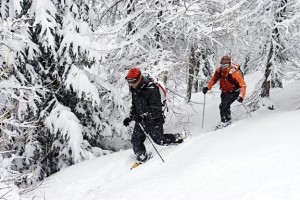 Skiing at  Mad River Glen  and Sugarbush will be in full swing with people from around the world enjoying the opportunity to ski some of New England's best slopes. On the Sugarbush golf course just behind our Handsome Red Barn, is a perfect hill for sledding on one of the Mad River Rocket Sleds created here in Warren. If your pace is slower, there are miles of cross-country skiing at Olé's and  Blueberry Lake only 10 minutes from West Hill House B&B. If skiing isn't for you, our snowshoes are perfect for exploring around our property or farther afield.
If you're not an outdoors type or your skiing days are past, there are numerous artisan shops, small stores and coffee shops to visit but that will have to wait for another blog.
If  a white Christmas to you means looking at snow through a window,  how about curling up in a big chair by the fireplace and losing yourself in a good book, or playing a board game with your special someone.
If you are dreaming of a white Christmas look no further than Vermont in winter. Winter in its natural state!

Only one special package is being offered for a wedding with just the two of you on the special date of 12-13-14 (for the numerically challenged that's December 13, 2014). 
It has now been booked! However our normal wedding and elopement packages are available for other dates.
All of the following are included: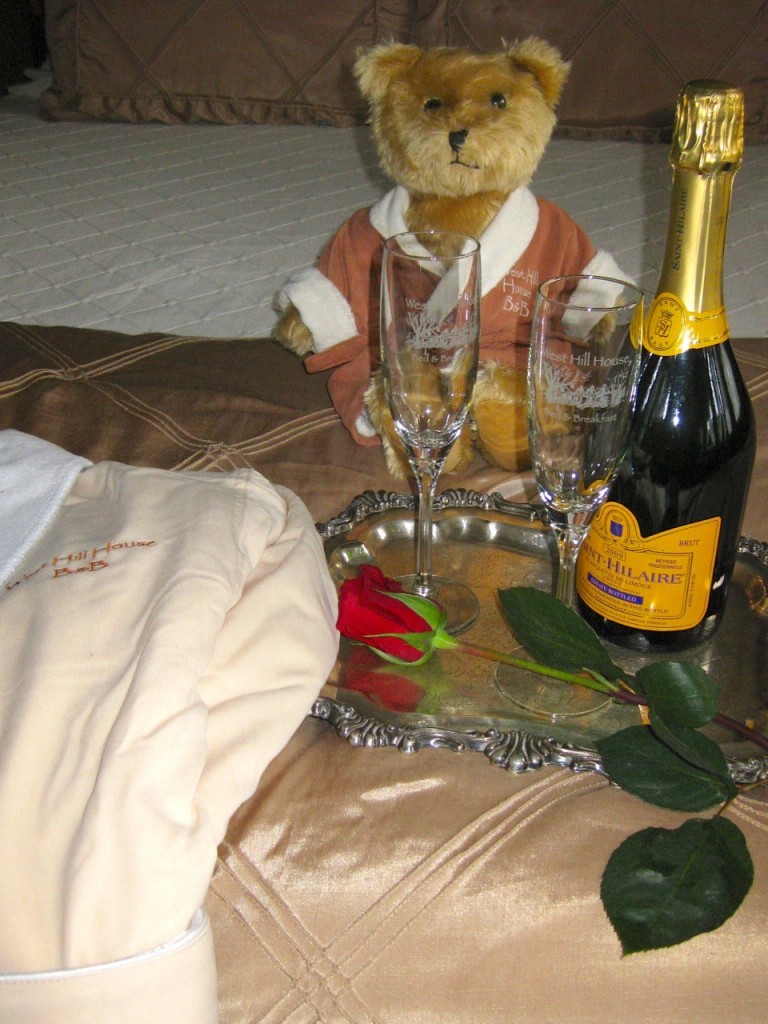 An excellent Justice of the Peace who will officiate at your wedding ceremony and contact you ahead of time to work with you to personalize your ceremony

Digital photographs of your ceremony and a CD of your photos

A wedding cake

A bottle of sparkling wine or sparkling pear or apple juice

Seasonal flowers as bouquets or boutonnieres

Two signature West Hill House B&B coffee mugs

Two West Hill House B&B keepsake Champagne flutes

Two nights of accommodation in the Paris Suite

Two luxurious West Hill House B&B "Doe Skin" robes

One Ted E. Bear complete with matching robe

Dinner for two on Saturday at either excellent restaurant: The Common Man or 275 Main at the Pitcher Inn
This great package is offered for $1516.17 plus 9% tax. Call us at (802) 496-7162 to book.
The Small Print: This offer is only good for a wedding to be held at 1:00PM on December 13, 2014. No change of time or date will be considered. A $500 non-refundable, non-transferable deposit for this special wedding package is required at the time of booking. Note that the deposit does not entitle the couple to any of the offerings should the wedding be cancelled. 
December 20, 2013 by Susan
Did you know that over 120 ski areas throughout Vermont have closed, from the 1930's through the 2000's? From local, town operated rope tows, to major resorts with high speed quads, these areas all played an important role in the development of skiing in the state.
Join ski historian and author Jeremy Davis for his presentation on:
SATURDAY, JANUARY 25
at
MAD RIVER GLEN, 7 – 9 PM.
A wide variety of ski areas will be discussed, including nearby areas as well as those featured in Davis' book, Lost Ski Areas of Southern Vermont.
As well as Jeremy's presentation, the evening will include light fondue refreshments,  a special showing of the new T-Bar film, United We Ski, and more. Admission by donation at the door .
Jeremy Davis is the founder of the New England Lost Ski Areas Project, a website dedicated to the history of lost ski areas throughout the region. He is the author of three books: Lost Ski Areas of Southern Vermont, Lost Ski Areas of the White Mountains,  and Lost Ski Areas of the Southern Adirondacks, and is currently working on his fourth book, Lost Ski Areas of the Northern Adirondacks. Davis serves on the Board of Directors on the New England Ski Museum in Franconia Notch, NH. He is a 2000 graduate of Lyndon State College, VT, and today works as a Senior Meteorologist at Weather Routing Inc. in Glens Falls, NY.
Plan to be there if you can – you might just find out what happened to that ski hill you skied on as a kid.
Print the poster!
This event is co-sponsored by West Hill House B&B and Mad River Glen.


November 2, 2012 by Susan
Hi everyone, I'm the Red Chair that has been traveling throughout New England for the past several months.
I arrived at West Hill House B&B in the aftermath of Hurricane Sandy and rain was the order of the day. Fortunately my hosts offered rain boots and an umbrella so I stayed pretty dry. Inside I was given a place by the fire to warm up a bit even had a pussy cat come curl up with me for a bit.
Once the weather cleared my first stop was at the top of the Lincoln Gap Road, the highest road pass in Vermont, where I set foot, or should that be feet, on the Long Trail. The air was so fresh I'm felt I could have walked the full 273 miles of the trail but I had places to go and things to see.
With winter just around the corner I wanted to be introduced to the Mad River Glen ski area. I checked out the ski school meeting place then of course had to have my photo taken with the single chair.
From there we went to Sugarbush where I had my photo taken with a local cow before going  to sit beside the year 'round skier. He didn't say much, we just enjoyed the solitude of the moment.
I visited the Hartshorn Farm and hey, for fresh food, maple syrup from their own trees and hay, head to their farm stand. And speaking of stand – look at me standing atop a huge bale of hay!
With my feet firmly back on the ground I posed with some squash then climbed up on the wall to sit with the boxes of pumpkins for a while.
My legs were getting a bit cramped so I hopped down and headed over to visit with the alpacas, The Finkles,  who didn't seem to mind my company.  I certainly did not expect to see alpacas in Vermont!
A stop to pose in front of the Warren Covered Bridge that spans the Mad River then back to my temporary home at the West Hill House B&B and ready for a warm cup of hot chocolate and a little cake.
Wow, have I had fun! I can't wait for my next adventure! Tomorrow I am off across the Green Mountains to visit Middlebury, Vermont – I wonder what adventures await me there.
March 16, 2012 by Peter MacLaren
Winter gives way to an early spring
Mountainside snow melts in the warm sun
The ground begins to thaw as we enter mud season
Crocuses, tulips, and irises poke their heads through the soil
Inside West Hill House B&B Smoky demos cat yoga and enjoys a relaxing nap.
Come join Smoky and Snowball, choose your own chair of course, and chill out.
For new bookings made after March 27th for between then and April 26th we are offering these two special deals:
Stay two nights and have the third night on the house! A 33% discount.
Stay one night and get the 2nd night at half price! A 25% discount.
These discounts are not available on-line. Please call us to book.
(may not be combined with other discounts)
March 6, 2012 by Peter MacLaren
After a busy day at Sugarbush and Mad River Glen, guests' boots rest by the fireside while their humans enjoy their steam showers and jacuzzis.
February 25, 2012 by Peter MacLaren
Come play in the snow! We finally got some significant snow so now it's time to book your Sugarbush or Mad River Glen ski vacation.
In the past 24 hours we have received 12″ of snow, most of it coming since about 11 AM  on Saturday.
Today's guests report that the mountains are in superb shape and the snowy scenery is stunning.
At the B&B our fences are all snowcapped and even the front porch rockers received a snowy blanket.
We're looking forward to your visit. Check our Ski and Stay specials!
February 5, 2012 by Peter MacLaren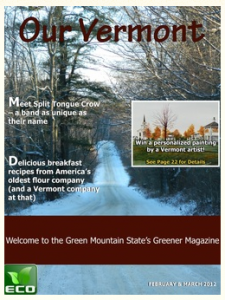 Our Vermont,  is the new Green Mountain State's Greener Magazine, and features articles about people, places, events, food, and local flavor offered in the great state of Vermont. Not only is this a paperless magazine, and you can subscribe for free on line, but they chose a 100% wind powered company to do their hosting.
Lucky us, West Hill House B&B has a featured ad in the magazine's inaugural edition. Check us out on page 2-3, the full-screen option, and accept our invitation to come to Vermont to sample the wonders of our amazing state. West Hill House is a 'Green Hotel in the Green Mountain State'. We offer Ski & Stay Packages. If you and your sweetie need a little pampering check out our Valentine's Day special. Perhaps a proposal is in your future …let us help you make that a memorable event.
West Hill House B&B is where you'll want to B&B.
November 28, 2011 by Peter MacLaren
Picture yourself doing your Christmas shopping and enjoying Christmas music in the quiet serenity of the green mountains of Vermont.
Saturday, December 3 marks the 13th annual Country Christmas Open House in the Mad River Valley. Over 30 local shops and services are offering special discounts which will make your pocketbook happy and may offer free refreshments which will make your tummy happy. Pick up a punch card at any merchants displaying the Participating Merchant sign then visit 5 businesses and have your card punched at each. When you leave your card with the 5th business it will be entered for a prize drawing. Check out the list of participating merchants and services.
On Friday, December 9 The Vermont Symphony Orchestra presents Holiday Pops "Fun and Games"  at the Barre Opera House, just under one hour from West Hill House. Favorite Christmas music with a twist as they take a look at the youthful side of the holiday. Fun for everyone. Tickets required.
Thursday, December 15 the Warren United Church will host the Vermont Symphony's Brass Quintet and Counterpoint for a perfect mix of brass and voices to ring in the season. Free admission although tickets are required.(802-496-9714).
And of course the area also offers skiing and riding at Sugarbush, skiing at Mad River Glen, and cross country skiing at Ole's and Blueberry Lake. Dog sled rides, sledding, skating, and moonlight snowshoe tours are just some of the other ways to enjoy a white Christmas in Vermont – oh and you can also curl up with a warm beverage and watch the movie White Christmas.