Stirring it up:
Finally, a way to use cottage cheese in baking! You might not think of this as a bread ingredient, but these little buns are dee-li-c-ious.
Ingredients for Cottage Cheese Buns: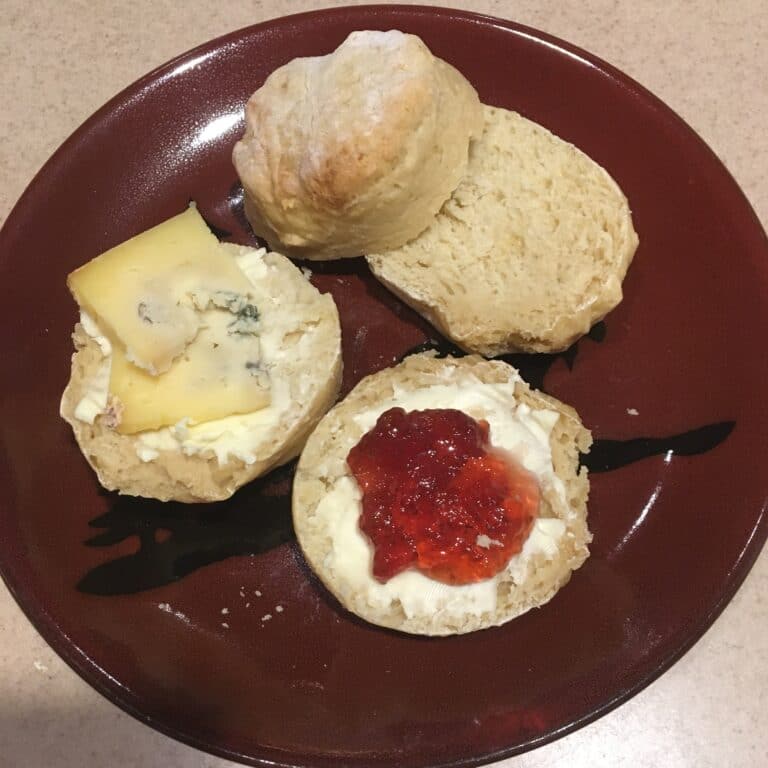 Makes: Depends on the size of the cutter. 3″ cutter makes about 15
Oven: 350°F   (175°C)
Bake: 20 minutes
1 1/2 c.cottage cheese
4 eggs
1/2 t vanilla
1/2 c maple syrup
1 t baking soda
1 1/2 t white vinegar
1 t baking powder
4 c all purpose flour  (from King Arthur Baking Co. is my choice!)
1 egg for egg wash
1/4 c sugar
Method:
In a mixer combine the first four ingredients.
In a small bowl combine the baking soda and the vinegar. When it stops bubbling add it to the cottage cheese mixture.
Add 4 cups of flour and 1 t of baking powder to the mixture.
Start the mixer slowly (or you'll have a flour shower!) and mix until the dough comes together. It will be shaggy.
Turn the dough out on a floured surface and kneed a few times, just until the dough is smooth.
Pat to about 1/2″ thick will yield a beautifully baked 1″ high bun or pat 1″ thick for an impressive 2″ high bun
Cut with an open top circular cookie cutter or cut into rectangles or squares using  knife.
Bake at 350° for 20 minutes.
Cool to too temperature and ENJOY! 😋
Dishing it Out:
What to do with cottage cheese besides having it as a side or as an ingredient in lasagna. If you grew up back-in-the-day,  you likely experienced cottage cheese in Jello salad! My all-time favourite is cottage cheese mixed with crushed or tidbits of pineapple, and a perfectly cooked ground beef patty on the side.
After indulging in my favourite, there was some left over cottage cheese in the fridge and, lacking inspiration, I surfed the internet for something I could make in less than 30 minutes. It was then that I came across the recipe for Cottage Cheese Buns on momsdish.com. I never imagined using cottage cheese in baking but I gave it a try and what a success! Fresh Cottage Cheese Buns for breakfast, another recipe to add to my breakfast repertoire along with such recipes as Gluten free Cornbread, Irish Soda Bread, Beer Bread and Scottish Oatcakes.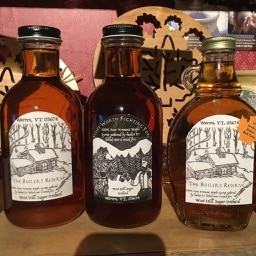 Since we are in Vermont I substituted the sugar (called for in the original recipe) for an equal amount of delicious, local, amber maple syrup. Here at the B&B we go through about 8 gallons of maple syrup each year. Since it takes 40 gallons of sugar maple sap to make one gallon of syrup, that means it took 320 gallons of sap to make our year's supply of syrup. Thank you Maple trees for giving up your sap. Done correctly, tapping does not damage the tree or its growth. Here in the Mad River Valley there are several 'sugar orchards' which have been in the same family for generations, producing countless gallons of syrup over the years.
When you are in the area you may want to visit one of these syrup producers. West Hill Sugar Orchard is just down the road from us is active during the 'sugaring season'. Morse Farm Sugarworks has been in the same family for 200 years and Brag Farm has been around for 8 generations.
Because the syrup added more moisture, I turned the dough out onto a floured surface and kneaded it just a few times. This not only brought the dough together but added the little bit of flour needed to make it less sticky.
I patted the dough out to about 1″ and used a round cookie cutter. After baking the buns were about 2″ high! The texture and taste was similar to that of a beautiful dense loaf of home made bread.
Delicious. Go ahead, try a mouthful of Cottage Cheese Bun with butter and jam! 😋