January 14, 2015 by Susan
At breakfast on January first I presented our guests with my variation of  the Icelandic dessert Vínarterta, a Shortbread and Prune Jam Layer Cake. If you want to learn more about our amazing Icelandic Experience check our January 5, 2015 blog.
So, with thanks to the Icelandic cooks for the inspiration which I gained from the Vínarterta recipe and apologies to Icelandic cooks for the changes I made to their much enjoyed special occasion cake, as promised, here is my recipe.
The Spread
5 oz dried apricots,  finely chopped
7 oz, dried figs,  finely chopped
3/4 c. granulated sugar
1 T. ground cinnamon
1/2 t. ground cloves
3/4 c. cranberry juice
Put these ingredients into a blender and puree. Add a bit of water or more cranberry juice if this seems too thick to puree. The resulting spread should be on the thick side. This will make enough spread for the dessert as well as a good amount which can be kept for toast, muffins or filling for a small genoise cake.
The Cake
3 1/2 c. all purpose flour
1 t. baking powder
1 t. ground cardamom
1 c. (two sticks) butter slightly softened
1 c. sugar
2 eggs
1/4 c. whole milk
Mix the flour, baking powder and cardamom together in a bowl and set aside.  In a larger bowl, by hand or with a mixer, cream the sugar and butter until fluffy. Add the eggs one at a time, beating well after each addition. Add the dry ingredients and milk alternately, mixing between additions. Transfer the dough to a floured board and knead for about one minute. Break dough into balls about the size of a large walnut. With a floured rolling pin, roll out each ball on the floured board, to a thin circle (about 1/6″ thick) and about 4″ across. Carefully lift the dough and place it on a parchment covered jelly roll pan and chill for at least one hour. I  covered my pans with plastic wrap and chilled them overnight. This dough is not like a cake dough, it is more like we'd call shortbread.
Bake chilled dough on the parchment lined pan in a 375° oven for about 20 minutes. Keep an eye on it though!
Cool then spread with the fig and apricot jam and top with a slice of pear and enjoy.
Icing  (I didn't use icing on my presentation)
2 c. icing sugar
1/4 c. brewed coffee, chilled
The traditional method of preparing this cake is to baking circles 7″ across, cooling them then spreading a very thick jam on each layer except the top layer. Stack the jam covered circles and pour the icing over top of the whole thing and chill it until the icing is firm. Slice and serve. Friends in Iceland tell me that using a thick jam between the cake layers should make the cake pretty sturdy and able to be cut neatly. My next try at this will be to make Vínarterta in the traditional way. Wish  me luck!
December 22, 2014 by Susan
At this time of year many of us pause to remember Christmases past. Do you remember receiving a special dress your mother made for you, or a the doll you were wishing for, or a new book by your favourite author (and you still have that book today)?  Perhaps you received a model train or Meccano set. Did you attend a Pantomime or the Nutcracker during the Christmas season? Do you remember hot cocoa with marshmallows and special baked goods on Christmas morning? Or perhaps a big family dinner after the presents were opened, did it feature ham, turkey, tourtière or haggis?
One of the fondest memories people have of this special season is of food, we bake (and eat!) cookies and special cakes, we bring out the eggnog, peppermint candy canes, ribbon candy, and oranges for the stockings. We prepare special meals and we invite friends to join us around the table. Food traditions are a big part of this season.
In Scotland Christmas Day didn't become a public holiday until 1958. Hogmanay (New Year's Eve) was, and still is, the big public holiday. Today as Christmas approaches, the winter days are short, with sunrise about 8:30 in the morning and dark skies again at about 3:30 in the afternoon so Christmas celebrations help to brighten up the long wintry evenings. A fire is set in the sitting room, the drapes are pulled against the darkness of the evening and in the kitchen a flurry of activity takes place as mincemeat pies are popped into the oven, fruit cake with thick marzipan icing is wrapped for giving to neighbours, and  preparations are made for the Christmas evening feast. Particular consideration is given to "pudding" (the general name for desserts of all kinds), would it be Sherry Trifle, Clootie Dumpling or perhaps Dundee Cake? Hmmm, this year for a memorable pudding, let's try Cranachan, a lovely, creamy fruit and oat creation.
At West Hill House B&B this Christmas Dinner our guests will enjoy this scrumptious 'pudding' made following recipe I have used and adapted from the BBC Good Food. The number of servings depends on the size of the presentation glass but I'd say about 4 servings. The recipe is fairly happy to be adjusted according to your taste.
Cranachan, a tasty Christmas treat
Ingredients:
3T  original rolled oats (not instant oatmeal)
1 cup of whole raspberries, blueberries or strawberries,
1 t. white sugar (optional)
1 1/2 c. heavy cream, whipped  or Greek yogurt
2-3 T. good whisky
3 T. honey, lavender honey is especially nice
Putting this together should take about 15 minutes.
Place the oatmeal on a jelly roll pan under the broiler and toast until it smells nutty. This may happen very quickly so keep a careful eye and nose on what's going on in the oven.
Remove from the oven and cool the oatmeal on the pan.
Take about 1/3 to 1/2 of the berries and puree them, adding the white sugar if needed for sweetness.
Whip the heavy cream while slowly adding the whisky until the cream will hold a peak. Be careful not to over whip. If you are using Greek yogurt instead of cream, carefully stir the whisky into the yogurt.
Fold in the oatmeal until it is nicely mixed.
Present in clear glass dessert dishes alternating layers of the cream mixture with the whole and pureed berries.
Drizzle the top with the honey.
Cool for a few minutes prior to serving.
Where ever you are on Christmas day, what ever your Christmas meal, may you be around a table with special friends and wish them, as we wish you, Merry Christmas and all the best for the coming year.
December 20, 2014 by Peter MacLaren
Have you been reading "Top 10" lists over the last few weeks? If so you will have you see lists of almost everything under the sun, Top 10 Ugliest Cars, Top 10 Best Places to Live, Top 10 Best Companies to Work For, Top 10 Best Universities, and who knows, maybe even a list for the Top 10 Best Top 10 Lists!
Well…  here's our "Top 4" list – Four Great Reasons to come Ski in the Mad River Valley this Winter.
1.  Mad River Glen – Mad River Glen – Ski It If You Can. Seriously, don't miss out on skiing this legendary co-op owned ski area. Ranked by Ski Magazine as one of the most challenging on the east coast of the US, Mad River Glen provides an opportunity for skiers of all levels to ski a variety of trails on natural snow though narrow trails which follow the terrain. Riding the Single Chair, chairlift is an absolute must! Lessons, ski shop and General Stark Pub are hillside amenities. Down hill, telemark, and cross country skiers will love MRG but be warned snowboarders… you will  have to look elsewhere for your downhill excitement as no snowboards are allowed.
2. Sugarbush Ski Resort – As one of the largest ski areas in the northeastern US, and with two mountains to choose from, Lincoln Peak and Mount Ellen, snowboarders and skiers alike will enjoy the range of it's 111 trails from beginner slopes to the more challenging black diamond runs. Sugarbush is locally owned and offers lessons, a variety of places for foodies, ski shop and accommodations.
3. Blueberry Lake Cross-Country Center– Is a cross country skiers' delight. Designed for the average skiers,  outdoor enthusiast can enjoy the classic or skating style of skiing or can snowshoe on the 11 trails which includes 30km of groomed trails. Ski and snowshoe rentals are available as are lessons. Pre-skiing age children can also enjoy the outdoors in the comfort of a pulk which can also be rented. And for dog lovers, your well behaved dog is welcome and please, remember to clean up after your pooch.
4. Olé's Cross-Country Center – Offering about 40km of groomed trails, lessons, rentals of both skis and snowshoes, a deli and friendly staff, Olé's beckons to cross-country skiers of all ages to come and enjoy winter. With relatively flat terrain skiers can explore the trails while getting great mountain views and if quiet woodland trails are your choice you'll find them here too. There are about 15km reserved for snowshoeing only and today's modern snowshoes are a lot easier to walk in that the old, oversized 'tennis rackets' and you don't need special boots, your regular winter boots fit these snowshoes nicely.
The Mad River Valley offers skiing of all sorts, comfortable B&Bs and slope-side accommodations, friendly folks, great food, beautiful shops, gorgeous mountains, stately trees, as well as wonderful snow, more mountains, more trees, more snow and lots of fresh, crisp mountain air.
Get your mittens and scarf ready and consider this your invitation to visit Vermont, winter in its natural state. Come experience skiing at its best. We're ready and waiting for you…what are you waiting for?
December 15, 2014 by Susan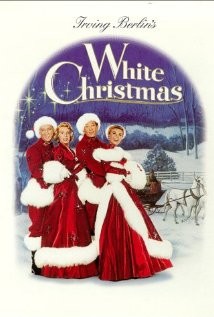 Dreaming of a White Christmas but live where there isn't any snow? Stop dreaming and come live your dream. Come to Vermont!
The movie White Christmas is indeed a classic and a must see Christmas movie in our family and perhaps yours too. The holidays are not complete without a visit, via DVD, to the the Columbia Inn in Pine Tree, Vermont.
Starring Bing Crosby and Danny Kaye as successful broadway producers, and Rosemary Clooney and Vera-Ellen as a sister, singing act, a twist of fate brings the foursome to The Columbia Inn in Pine Tree, in late December. Dreaming of a white Christmas and that "Vermont should be beautiful this time of year, all that snow" the four arrive and find, to their great disappointment, that there is no snow at all. The sisters find, with few registered guests, their singing contract is to be cancelled. Meanwhile, the two men discover that the innkeeper is their former commanding general.
Despite the lack of guests and the challenge of the weather, the four decide to stay and the story develops as a light-hearted romance suitable for family viewing. With songs sung by Crosby and Clooney and beautiful dancing by Vera-Ellen and Kaye, the movie is a good way to spend a winter evening.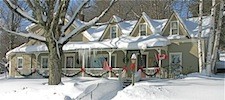 While there is no Columbia Inn, there is West Hill House B&B in Warren, Vermont, a place to enjoy a white Christmas and winter in all its glory.
We can predict with some degree of certainty that we will have a white Christmas and we most certainly have a copy of the movie for you to watch!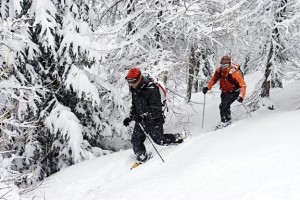 Skiing at  Mad River Glen  and Sugarbush will be in full swing with people from around the world enjoying the opportunity to ski some of New England's best slopes. On the Sugarbush golf course just behind our Handsome Red Barn, is a perfect hill for sledding on one of the Mad River Rocket Sleds created here in Warren. If your pace is slower, there are miles of cross-country skiing at Olé's and  Blueberry Lake only 10 minutes from West Hill House B&B. If skiing isn't for you, our snowshoes are perfect for exploring around our property or farther afield.
If you're not an outdoors type or your skiing days are past, there are numerous artisan shops, small stores and coffee shops to visit but that will have to wait for another blog.
If  a white Christmas to you means looking at snow through a window,  how about curling up in a big chair by the fireplace and losing yourself in a good book, or playing a board game with your special someone.
If you are dreaming of a white Christmas look no further than Vermont in winter. Winter in its natural state!
November 24, 2014 by Susan
Stirring it up:
These peanut butter cookies could be called by any number of names: I Can't Believe It! Magic!, Too Simple To Be True!, the list could go on and you are welcome to make up your own name for these delicious, miraculously quick cookies. Amazing Peanut Butter Cookies will have to do for now. Perfect to whip up if unexpected guests drop in and, like Old Mother Hubbard, your cookie cupboard is bare. Amazing Peanut Butter Cookies can be created in 5 minutes and cooked in 15 minutes fresh cookies can be ready by the time the coffee is perked or the tea kettle is boiled.
Ingredients:
1 c. peanut butter, smooth or crunchy
1 c. white sugar
1 large egg
2 measures of tender loving care!
Measure the peanut butter, sugar and egg into a bowl.
Mix together until smooth. The batter will be slightly thick.
Using a scoop or teaspoons, scoop out dough about the size of a walnut.
Place on parchment paper lined cookie sheet.
If desired, pattern the dough by pressing with a fork or by dressing it up with a chocolate chip. If you are making larger cookies use a Hershey's Kiss- unwrapped of course! I leave the cookies in their rounded state prior to cooking so they flatten out while they cook becoming crackled on top and slightly chewy in the center.
Bake for 15 minutes at 350°F. Keep an eye on them.
Cool on the pan for a few minutes then remove to racks to continue cooling.
Serve with tea, coffee, milk or just a plate!
Makes about 24 amazing peanut butter cookies. They freeze well so you can stock up for the holidays.
Dishing it out:
My Dad would have loved these cookies – peanut butter was a favorite; on toast, with carrots or celery, with a spoon!, with just about anything. I remember as a child we always had peanut butter in the pantry and in two or three pound jars. We even had peanut butter in large bear shaped glass jars and I still have a couple of these jars, empty of course!
Peanut butter is a staple many North American kitchens but not so in the United Kingdom or Europe. When growing up in Scotland, Peter seldom had peanut butter and when living in France we only found peanut butter in pricy, small containers.
This recipe is from amazing peanut butter lovers like Carol and Colin who were guests here at West Hill House B&B while attending the 50th year reunion of Vermont College and Norwich Military Academy respectively. Carol mentioned that Colin liked peanut butter cookies and she proceeded to give me this recipe. I'm not prone to disbelieving recipes which are shared with me, and I'm usually ready to experiment, so I made these cookies then and there and about 20 minutes later presented Colin with a plate of his favourite amazing peanut butter cookies. Give the recipe a try, I'll bet you say, "I can't believe it, these are amazing peanut butter cookies!"
Learn more about things that include peanuts – check out the information on George Washington Carver.
December 25, 2012 by Susan
Stirring it up! Until a few weeks ago I had never cooked with chestnuts. Many years ago I had chestnuts roasted on an open fire  (as one does at Christmas time!) from a street vendor in Toronto but nothing since then. I purchased some a few weeks back, sautéed them with some bacon and red onion and the results weren't bad at all. The  next day however,  I decided that left-over chestnuts weren't going to be on my list of favourite foods. Always ready for an experiment though I decided to try making some Chestnut Soup. I opened the pantry and this is what I came up with.
Ingredients:
1 lb chestnuts, precooked and roughly chopped
1 small red onion, diced
1 small yellow onion, diced
4 slices bacon cut into 1/4″ bits
1 medium potato, diced
2 c. chicken stock or vegetable stock
thyme, a couple of good shakes
salt & pepper
In a heavy bottom saucepan, sauté the bacon bits till cooked but not quite crispy.  Add the red and yellow diced onions and continue to sauté until the onions are soft and the bacon is crispy. Add the diced potatoes, chestnuts, thyme and stock. Cook on low heat until the potatoes are soft then simmer for a bit so the flavours can blend. Using a hand blender, purée the soup to a smooth thick consistency. Use caution when blending the hot soup and do NOT pour hot soup into a blender or processor to purée it.
Dishing it out! My dad was the soup maker in our family and his experiments in making vegetable soups were renowned amongst our friends. Dad could make soup out of just about anything and it was always "terribly healthy". Although at the time we often thought  "Not soup again", recently a homemade soup experiment  is often dinner for Peter and myself. Dad would be proud!
December 8, 2011 by Peter MacLaren
Stirring it up! Special baked goods play a key role in many of the winter holidays whether it be Christmas, Chanukka, Pancha Ganapati, Kwanzaa, Chinese New Year or any  number of others celebrations. Here's a yummy recipe for cookies to help us encourage winter, Pecan Snowballs.
Ingredients:
2 c. pecans
1 c. butter, softened
1/4 c. icing sugar
2 c. all-purpose flour
1/2 t. salt
1 1/2t. vanilla
1 c. icing sugar (for rolling cookies in)
Preparation:
On a baking sheet, bake the pecans at 350° for 7 to 9 minutes, or until fragrant, stirring once. Let cool then chop finely and set aside.
In a large bowl, cream butter with sugar until smooth.
Beat in vanilla.
With a wooden spoon, stir in flour, salt and pecans using your (clean!) hands to finish the mixing and to form the dough into a mound.
Wrap in plastic wrap, cover and refrigerate for 30 minutes.
Form dough into 1 inch balls and place 1 inch apart on an ungreased baking sheet.
Bake at 325° for 18 – 20 minutes or until lightly golden.
Remove to racks and let cool for 5 minutes.
Using the 1 cup of icing sugar, roll baked cookie balls in icing sugar then return to rack to cool completely.
Roll once again in icing sugar.
Snowballs can be stored in an airtight container for up to one week or frozen for up to 3 months.
Makes about 40.
Dishing it out! My first Christmas in Texas, my friend Jacquie invited me to a cookie exchange at her home. While I can't remember the exact number of guests, I believe were each to make 5 dozen cookies of the same recipe, bring them festively wrapped in groups of four,  along with 12 copies of our recipe and a cookie tin for our own collection of cookies. One dozen of the cookies were for refreshments at the party, the others were for sharing,  4 of each variety went into our tins. We visited over glasses of wine and plates of cookies – what a wonderful variety of delights for so little work!. I'm not sure how Jacquie managed to organize it, but after several years there were, I think, upwards of 30 ladies at the cookie exchange. No, we didn't have to make 30 dozen cookies – Jacquie did some mathematical magic and we each went home with a super selection of our friends' baking. Thanks, Jacquie, for your recipe for Pecan Snowballs.
November 28, 2011 by Peter MacLaren
Picture yourself doing your Christmas shopping and enjoying Christmas music in the quiet serenity of the green mountains of Vermont.
Saturday, December 3 marks the 13th annual Country Christmas Open House in the Mad River Valley. Over 30 local shops and services are offering special discounts which will make your pocketbook happy and may offer free refreshments which will make your tummy happy. Pick up a punch card at any merchants displaying the Participating Merchant sign then visit 5 businesses and have your card punched at each. When you leave your card with the 5th business it will be entered for a prize drawing. Check out the list of participating merchants and services.
On Friday, December 9 The Vermont Symphony Orchestra presents Holiday Pops "Fun and Games"  at the Barre Opera House, just under one hour from West Hill House. Favorite Christmas music with a twist as they take a look at the youthful side of the holiday. Fun for everyone. Tickets required.
Thursday, December 15 the Warren United Church will host the Vermont Symphony's Brass Quintet and Counterpoint for a perfect mix of brass and voices to ring in the season. Free admission although tickets are required.(802-496-9714).
And of course the area also offers skiing and riding at Sugarbush, skiing at Mad River Glen, and cross country skiing at Ole's and Blueberry Lake. Dog sled rides, sledding, skating, and moonlight snowshoe tours are just some of the other ways to enjoy a white Christmas in Vermont – oh and you can also curl up with a warm beverage and watch the movie White Christmas.
July 5, 2011 by Peter MacLaren
A Scott Joplin serenade after breakfast – what a treat!
Jeanne and John, long time friends from Texas, were making a cross country tour in June and stopped in to visit us. Always traveling with this very small trumpet he has often times surprised folks with a musical interlude.
They told the story of being stuck in an airport around Christmas one year, and, as happens in such a situation, found themselves wandering up and down the terminal. They came upon a group singing carols a cappella. They listened for a bit, then, unbeknownst to the singers, John slipped in behind the group, pulled out his trumpet and began to accompany them. Were they surprised!
Thank you for the visit and the wonderful music.
January 3, 2011 by Peter MacLaren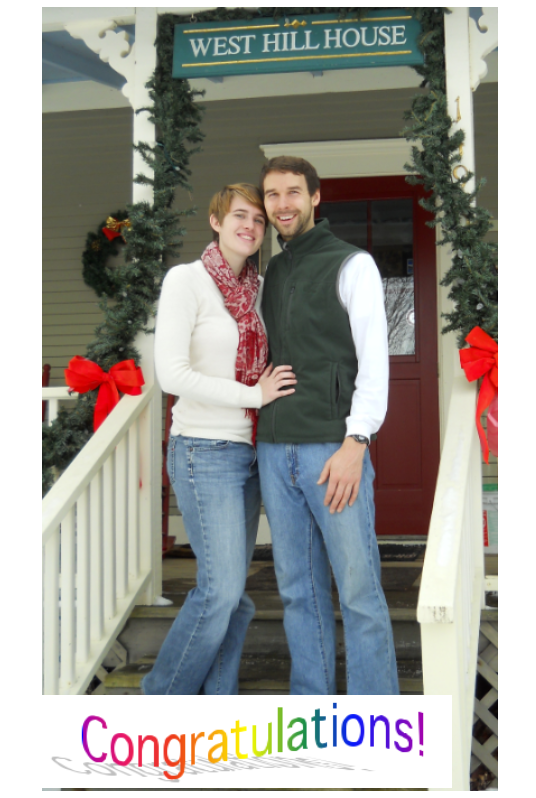 Look who just got engaged at West Hill House.
Kathryn and Peter visited us in the spring and came back during the Christmas holidays for some R & R – Relaxation and a Ring!
"Your bed and breakfast is so relaxing and enjoyable and I'm so glad that we were able to have it as our engagement location. I can't imagine anywhere else where I would have done it and Kathryn thought it was perfect. We can't wait to come back again."
Thanks Peter and Kathryn, we loved having you here and look forward to your next visit.
December 27, 2009 by Peter MacLaren

This Christmas at West Hill House we were delighted to have two musical families staying with us.
Here are Rick & Ben, accompanied by Rick's daughter Nicole on the pump organ, singing a Carol on Christmas day in the Sun Room, just before dinner.