May 29, 2017 by Corey A. Edwards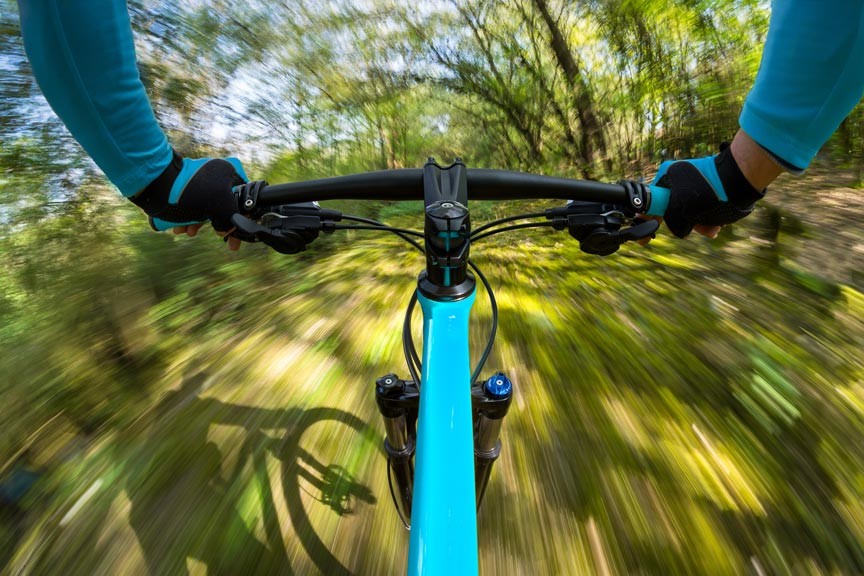 Vermont's Mad River Valley is crisscrossed with seemingly endless miles of mountain biking trails and well-maintained roads. If you've a passion for getting out on the old velocipede, you'd be hard-pressed to find a more friendly or scenic area to do it in!
Vermont has long been a bicycle-friendly state. Exploring trails or traveling from village to village is a great way to get out and about on two-wheels. That's especially true of the Mad River Valley region, tucked away as it is between two legendary mountain resorts, Sugarbush and Mad River Glen.
Read the rest of this page »
Serving it up:
Mud season is a gray and rainy time here is the northeast. The snow has melted, the ground is thawing and the rain is coming down. Sometimes a sweet and gooey baked treat is the perfect pick-me-up on a gray and rainy day.  This baked treat fits the bill perfectly, a brownie-like cake base topped with nuts, marshmallows and chocolate icing. Due to its bumpy appearance it resembles a bumpy and muddy gravel road during mud season. But of course this tastes much better than mud!
Thanks to my sister for this recipe and while she has never been here in mud season but I am pretty sure she has seen her fair share of mud in the places she has lived.
Ingredients:
1 c. butter or marg
2 c. sugar
4 eggs
1 1/2 c. flour
1/3 c. cocoa
1 c. chopped nuts, walnuts or pecans are a good choice.
Method:
Set the oven for 350°F.
Cream the above and spoon the batter into a 9×13 greased pan and bake for 30 -35 minutes.
Remove from the oven and immediately sprinkle the top of the cake evenly with 3-4 cups of mini marshmallows, enough to completely cover the cake.
Return to the oven for 3-5 minutes until the marshmallows are slightly puffy.
Remove from the oven and sprinkle the chopped nuts on top of the melted marshmallows.
Cool for 30 minutes.
Icing:
3 c. powdered sugar (icing sugar)
2 T. cocoa powder
1/3 c. butter or marg, softened
2 t. vanilla
3 T. milk – you may need to add more
Method:
Mix all the above together. If using an electric mixer or beater, be sure to start the machine at a low speed or you will have powdered sugar everywhere!
You may want to add some more milk so that your icing is rather thin and can be drizzled across the top of your marshmallow.
Cut into squares with a sharp knife dipped frequently in hot water. A cool knife will pull the marshmallow off the cake.
Dishing it out:
For me, mud season is greeted with mixed emotions.  I love winter. I've successfully skied Mad River Glen, do my fair share of shoveling and don't mind driving in the snow. Although I hate to see the snow disappearing, there is excitement in knowing that the spring flowers will soon be appearing in our gardens. Meanwhile we all manage to get through mud season by knowing which gravel roads to avoid and which can be more easily traversed.
It is the moisture in the soil from the melting, thawing and the rain that allows Vermont to be the 'Green Mountain' state. This past winter Sugarbush Resort, just  mile from us, recorded 363 inches of snow at the top of the mountain, just one inch short of the 1995-96 record snowfall. It was indeed a great 2016-17 winter.
Whether you visit West Hill House B&B in the winter, spring, summer or autumn, you will be guaranteed a warm welcome and a plate of home baked goodies will be waiting on the sideboard.
November 28, 2016 by Corey A. Edwards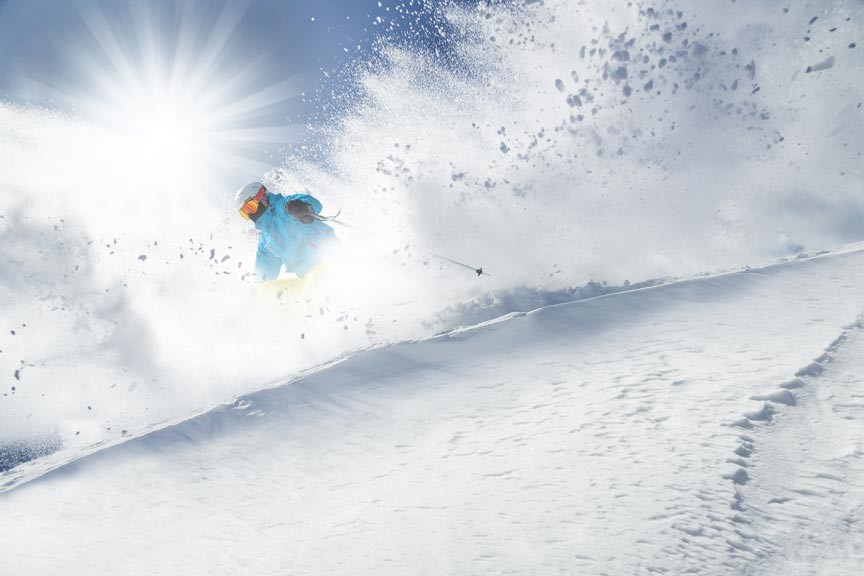 As this tumultuous year comes to a close, all anyone can really say is: it's time to hit the slopes! Luckily, Sugarbush's Valley Ski and Ride Week is scheduled for December 19th, 2016, so you can hone your skills for the new year! And we are offering discounted accommodation when you stay at the B&B—read on…
Valley Ski And Ride Week is a 50-year-old tradition in these parts and why not? Who among us could not benefit from five consecutive days of ski and ride lessons? I don't care how accomplished you are, there's always something old you could improve on – or something new to try!
Valley Ski and Ride Week is put on by Sugarbush, right here in Warren, VT. As a matter of fact, Sugarbush is just minutes away from West Hill House B&B's front door.
So just what, exactly, does Valley Ski and Ride Week entail?
Read the rest of this page »
September 30, 2016 by Corey A. Edwards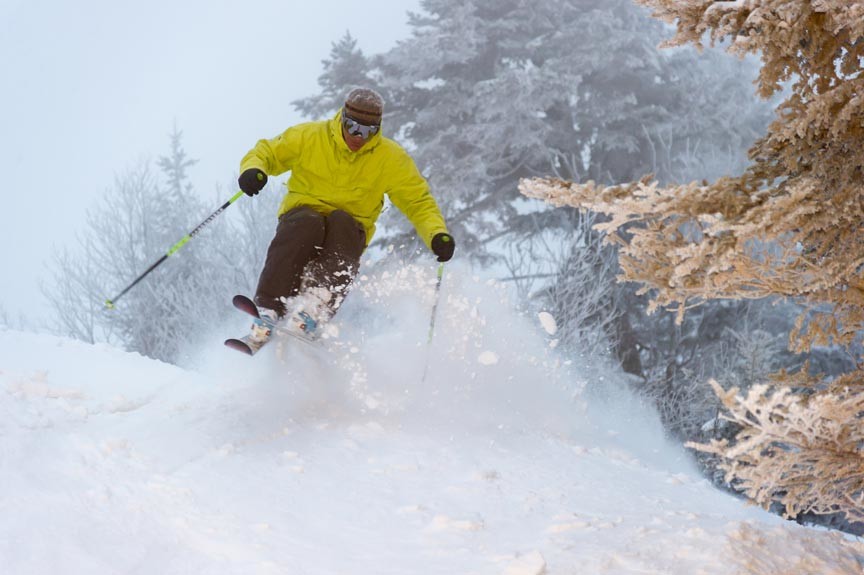 Hard as it may be to believe, we're already taking reservations for the upcoming, 2016-17 Mad River Valley Ski season! Consequently, now is the time to plan your Vermont ski getaway.
What better way to do so than by taking advantage of West Hill House B&B's Ski & Stay Passports!
Vermont's Mad River Valley offers so many opportunities to ski, snowboard, snowshoe, sled, or otherwise get out into the great, snowy outdoors.
Read the rest of this page »
January 22, 2016 by Corey A. Edwards
Imagine yourself moonlight skiing through deep powder that sparkles under the full moon's glow. Well, hang on because you can do more than just imagine it – you can live it with Sugarbush's Guided Moonlight Skinning and Snowshoe Tours!
Sugarbush resort's guided moonlight skiing tours are a popular – and rare! – opportunity to enjoy an evening of skinning or snowshoeing on Vermont's third highest peak, followed by a hearty dinner, drinks, and fun! This is a great opportunity to discover skinning or snowshoeing and connect with nature in Vermont's Mad River Valley.
Read the rest of this page »
October 30, 2015 by Corey A. Edwards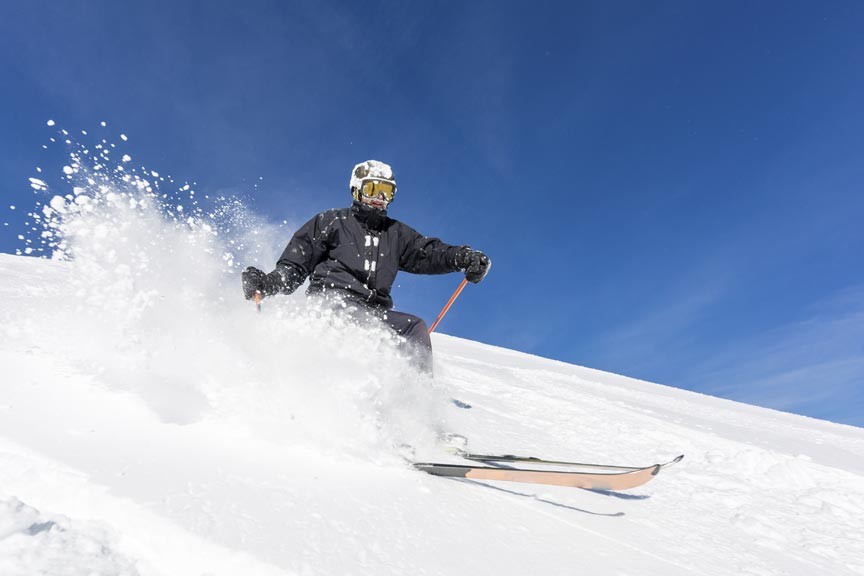 Don't be sad summer's over – be glad ski-season is almost here! Now is the time to plan your Mad River Valley ski vacation with West Hill House B&B's Ski & Stay Passports!
Vermont's Mad River Valley ski areas are legend – Mad River Glen, Sugarbush, Olé's Cross-Country Center, Blueberry Lake, our leg of the Catamount Trail – it simply doesn't get much better than this, and our Ski & Stay Passports go a long way towards making your Mad River Valley ski vacation the best it can possibly be
Read the rest of this page »
January 31, 2015 by Corey A. Edwards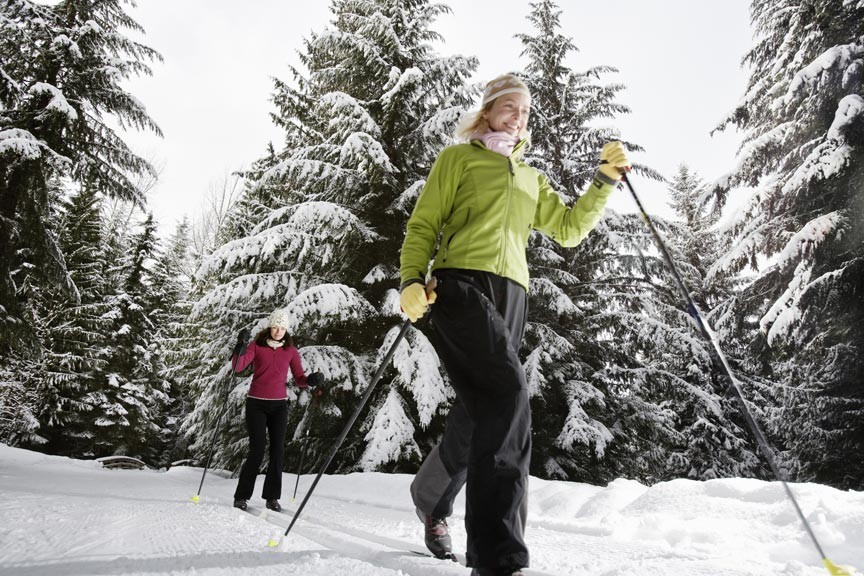 When old man winter blows his snows, the only thing to do is grab your hat and mittens and head out into it and enjoy it while it lasts. Vermont is a winter-sports wonderland and the Mad River Valley cross country skiing options are excellent!
Take a look:
Ole's Cross Country Ski Center
2355 Airport Road, Warren, VT
www.olesxc.com
Ole's Cross Country Center offers some of the best Mad River Valley cross country skiing and snowshoeing. With 30 miles of moderately rolling groomed trails, skiers of all abilities can comfortably ski and enjoy both panoramic views and the rare quiet of the deep woods.
Read the rest of this page »
December 20, 2014 by Peter MacLaren
Have you been reading "Top 10" lists over the last few weeks? If so you will have you see lists of almost everything under the sun, Top 10 Ugliest Cars, Top 10 Best Places to Live, Top 10 Best Companies to Work For, Top 10 Best Universities, and who knows, maybe even a list for the Top 10 Best Top 10 Lists!
Well…  here's our "Top 4" list – Four Great Reasons to come Ski in the Mad River Valley this Winter.
1.  Mad River Glen – Mad River Glen – Ski It If You Can. Seriously, don't miss out on skiing this legendary co-op owned ski area. Ranked by Ski Magazine as one of the most challenging on the east coast of the US, Mad River Glen provides an opportunity for skiers of all levels to ski a variety of trails on natural snow though narrow trails which follow the terrain. Riding the Single Chair, chairlift is an absolute must! Lessons, ski shop and General Stark Pub are hillside amenities. Down hill, telemark, and cross country skiers will love MRG but be warned snowboarders… you will  have to look elsewhere for your downhill excitement as no snowboards are allowed.
2. Sugarbush Ski Resort – As one of the largest ski areas in the northeastern US, and with two mountains to choose from, Lincoln Peak and Mount Ellen, snowboarders and skiers alike will enjoy the range of it's 111 trails from beginner slopes to the more challenging black diamond runs. Sugarbush is locally owned and offers lessons, a variety of places for foodies, ski shop and accommodations.
3. Blueberry Lake Cross-Country Center– Is a cross country skiers' delight. Designed for the average skiers,  outdoor enthusiast can enjoy the classic or skating style of skiing or can snowshoe on the 11 trails which includes 30km of groomed trails. Ski and snowshoe rentals are available as are lessons. Pre-skiing age children can also enjoy the outdoors in the comfort of a pulk which can also be rented. And for dog lovers, your well behaved dog is welcome and please, remember to clean up after your pooch.
4. Olé's Cross-Country Center – Offering about 40km of groomed trails, lessons, rentals of both skis and snowshoes, a deli and friendly staff, Olé's beckons to cross-country skiers of all ages to come and enjoy winter. With relatively flat terrain skiers can explore the trails while getting great mountain views and if quiet woodland trails are your choice you'll find them here too. There are about 15km reserved for snowshoeing only and today's modern snowshoes are a lot easier to walk in that the old, oversized 'tennis rackets' and you don't need special boots, your regular winter boots fit these snowshoes nicely.
The Mad River Valley offers skiing of all sorts, comfortable B&Bs and slope-side accommodations, friendly folks, great food, beautiful shops, gorgeous mountains, stately trees, as well as wonderful snow, more mountains, more trees, more snow and lots of fresh, crisp mountain air.
Get your mittens and scarf ready and consider this your invitation to visit Vermont, winter in its natural state. Come experience skiing at its best. We're ready and waiting for you…what are you waiting for?
December 15, 2014 by Susan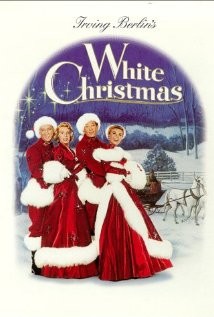 Dreaming of a White Christmas but live where there isn't any snow? Stop dreaming and come live your dream. Come to Vermont!
The movie White Christmas is indeed a classic and a must see Christmas movie in our family and perhaps yours too. The holidays are not complete without a visit, via DVD, to the the Columbia Inn in Pine Tree, Vermont.
Starring Bing Crosby and Danny Kaye as successful broadway producers, and Rosemary Clooney and Vera-Ellen as a sister, singing act, a twist of fate brings the foursome to The Columbia Inn in Pine Tree, in late December. Dreaming of a white Christmas and that "Vermont should be beautiful this time of year, all that snow" the four arrive and find, to their great disappointment, that there is no snow at all. The sisters find, with few registered guests, their singing contract is to be cancelled. Meanwhile, the two men discover that the innkeeper is their former commanding general.
Despite the lack of guests and the challenge of the weather, the four decide to stay and the story develops as a light-hearted romance suitable for family viewing. With songs sung by Crosby and Clooney and beautiful dancing by Vera-Ellen and Kaye, the movie is a good way to spend a winter evening.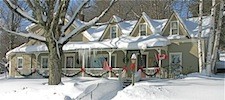 While there is no Columbia Inn, there is West Hill House B&B in Warren, Vermont, a place to enjoy a white Christmas and winter in all its glory.
We can predict with some degree of certainty that we will have a white Christmas and we most certainly have a copy of the movie for you to watch!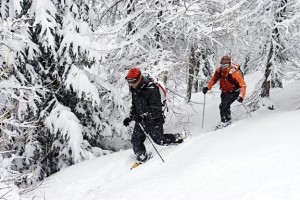 Skiing at  Mad River Glen  and Sugarbush will be in full swing with people from around the world enjoying the opportunity to ski some of New England's best slopes. On the Sugarbush golf course just behind our Handsome Red Barn, is a perfect hill for sledding on one of the Mad River Rocket Sleds created here in Warren. If your pace is slower, there are miles of cross-country skiing at Olé's and  Blueberry Lake only 10 minutes from West Hill House B&B. If skiing isn't for you, our snowshoes are perfect for exploring around our property or farther afield.
If you're not an outdoors type or your skiing days are past, there are numerous artisan shops, small stores and coffee shops to visit but that will have to wait for another blog.
If  a white Christmas to you means looking at snow through a window,  how about curling up in a big chair by the fireplace and losing yourself in a good book, or playing a board game with your special someone.
If you are dreaming of a white Christmas look no further than Vermont in winter. Winter in its natural state!
December 13, 2014 by Corey A. Edwards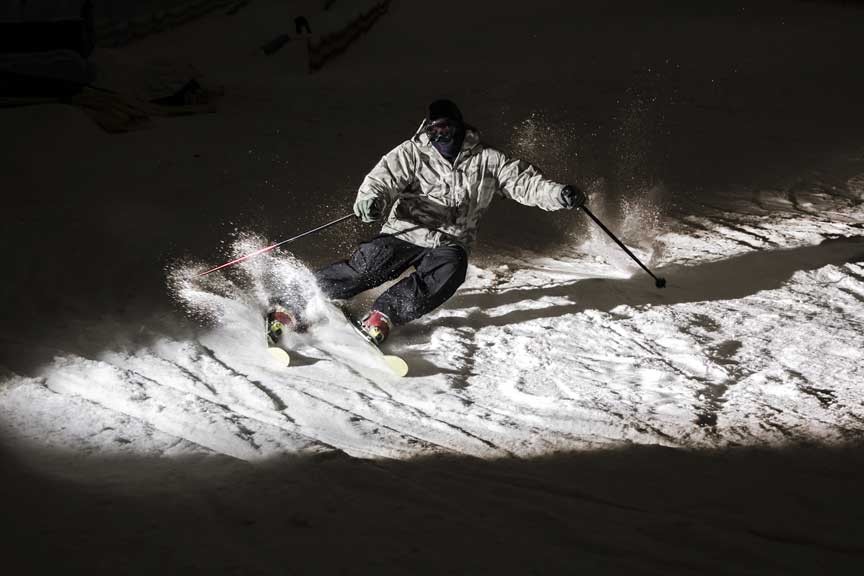 What do snowshoeing, skiing, Mad River Valley's Sugarbush resort, and winter's beautiful, moon-lit, night sky have in common? Tour de Moon, of course!
Tour De Moon is the brainchild of Sugarbush resort and involves a snowshoe hike up Mount Ellen to Glen House – the mid-mountain lodge – for a hearty, skier's drinks and dinner, then strap on the skis and glide back down the mountain – and all of it under the beautiful, warm glow of winter's full moon!
Read the rest of this page »
October 11, 2014 by Corey A. Edwards
Snow transforms Mad River Valley into a winter-wonderland of outdoor entertainment, replete with skiing, snowshoeing, dog-sledding, and more. If you're thinking of a Mad River Valley ski vacation, West Hill House B&B has a deal for you!
Mad River Valley is all about winter. You can feel the electricity of excitement in those around you once the crisp scent of snow hits the air – and once the slopes are ready? Look out! That's why West Hill House B&B has spent so much time crafting our Ski & Stay Passports: we want to help you make your Mad River Valley ski vacation the best it can possibly be – because we share your enthusiasm for the season!
Read the rest of this page »
November 28, 2012 by Peter MacLaren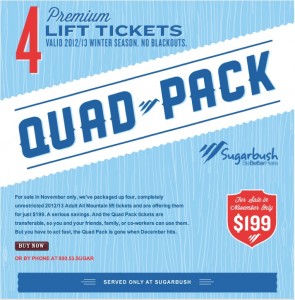 The snow is flying, Sugarbush is open and Mad River Glen is opening soon.  It's time to plan to your ski vacation!
You have an IMMEDIATE, but fleeting, opportunity to get a great deal on Sugarbush ski tickets for the coming season with their Quad-Pack.  The great thing about this pack is that there are no black-outs and you can share it.  So 4 unrestricted tickets at $50 each! These are ideal if you plan to ski during Christmas week, MLK weekend or President's Week as our Ski and Stay Passport is blacked-out at those times. But you must buy them in advance on or before November 30th.
From December 15th onwards, other than the black-out dates, our Ski and Stay Passport offers great value as you can ski freely at Mad River Glen, Sugarbush and Olé's cross-country, as well as enjoy offers and freebies at local stores and restaurants most evenings.
If you are planning to come during the Christmas season from December 21st to January 1st, please finalize your plans now!  We do have some rooms still available for some dates, but we are filling up fast!