November 2, 2012 by Susan
Hi everyone, I'm the Red Chair that has been traveling throughout New England for the past several months.
I arrived at West Hill House B&B in the aftermath of Hurricane Sandy and rain was the order of the day. Fortunately my hosts offered rain boots and an umbrella so I stayed pretty dry. Inside I was given a place by the fire to warm up a bit even had a pussy cat come curl up with me for a bit.
Once the weather cleared my first stop was at the top of the Lincoln Gap Road, the highest road pass in Vermont, where I set foot, or should that be feet, on the Long Trail. The air was so fresh I'm felt I could have walked the full 273 miles of the trail but I had places to go and things to see.
With winter just around the corner I wanted to be introduced to the Mad River Glen ski area. I checked out the ski school meeting place then of course had to have my photo taken with the single chair.
From there we went to Sugarbush where I had my photo taken with a local cow before going  to sit beside the year 'round skier. He didn't say much, we just enjoyed the solitude of the moment.
I visited the Hartshorn Farm and hey, for fresh food, maple syrup from their own trees and hay, head to their farm stand. And speaking of stand – look at me standing atop a huge bale of hay!
With my feet firmly back on the ground I posed with some squash then climbed up on the wall to sit with the boxes of pumpkins for a while.
My legs were getting a bit cramped so I hopped down and headed over to visit with the alpacas, The Finkles,  who didn't seem to mind my company.  I certainly did not expect to see alpacas in Vermont!
A stop to pose in front of the Warren Covered Bridge that spans the Mad River then back to my temporary home at the West Hill House B&B and ready for a warm cup of hot chocolate and a little cake.
Wow, have I had fun! I can't wait for my next adventure! Tomorrow I am off across the Green Mountains to visit Middlebury, Vermont – I wonder what adventures await me there.
Happy 4th everyone!
The Sugarbush area 4th of July celebrations got off to a great start on June 30 with the 3rd annual Stars and Stripes Air Show featuring vintage plane and glider aerial acrobatics.
This morning the focus is on the 64th annual Warren 4th of July parade with its collection of quirky floats which draw thousands of folks to the area for a day of celebration. Family activities, music, and food – including a roast pig from Gaylord Farm and pizza from American Flatbread- will help keep the celebration going all day.
Swimming holes will be a great attraction today too, as folks look to cool off. Sugarbush Resort  has activities throughout the day and to the enjoyment of everyone will conclude the day with a spectacular  fireworks display.
Come Sunday we'll all be encouraging the runners in the 2nd annual Mad Marathon as it winds it's way through the beautiful Mad River Valley. We have a house-full of runners booked in for the weekend. Go runners!
Wishing you all a safe and fun filled day.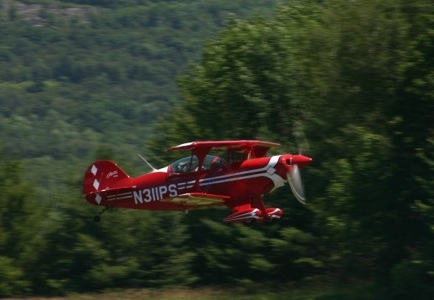 Our Sap-bucket list is overflowing with activities for one super week of 4th of July celebrations for all tastes and interests!
The 3rd annual Stars and Stripes Air Show on June 30 will bring excitement to the Sugarbush Airport in Warren with vintage planes, stunt flying by both planes and gliders, glider rides, classic motorcycles, food and fun for children and adults alike. Tickets may be purchased on line or at the gate. Check out the air show website for more information and some video of last year's show. Sorry but dogs and coolers must be left at home.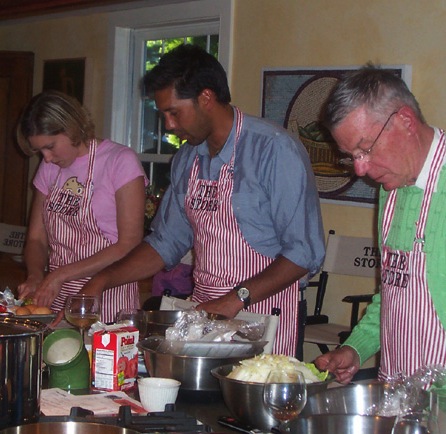 If cooking is your delight, you can learn to impress your family and friends at the cooking classes at The Kitchen at The Store in Waitsfield.  Chef John shares his wisdom and makes learning in the kitchen most enjoyable.
On Saturday, Chef's Table-Aound the World offers participants not only the opportunity to create food from 4 different countries but to eat it too!
July 2 and 3 will have you creating scrumptious pies at the Butter, Sugar & Sin-Pies class and the Easy Entertaining-Soups and Paninis classes. The best thing is you don't have to be an expert cook to take these classes, they are fun for all skill levels.
Of course on the 4th of July is the world famous, wild and wacky, 4th of July Parade which makes its way down the main street of Warren to the delight of thousands, yes thousands, of spectators. Family fun, kids games, music, food an more follow the parade in the town as well as up at Sugarbush.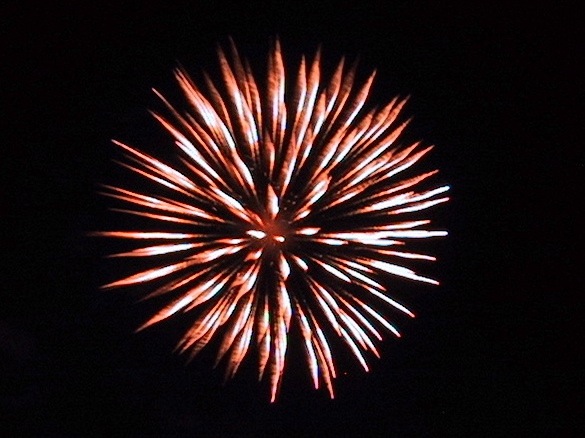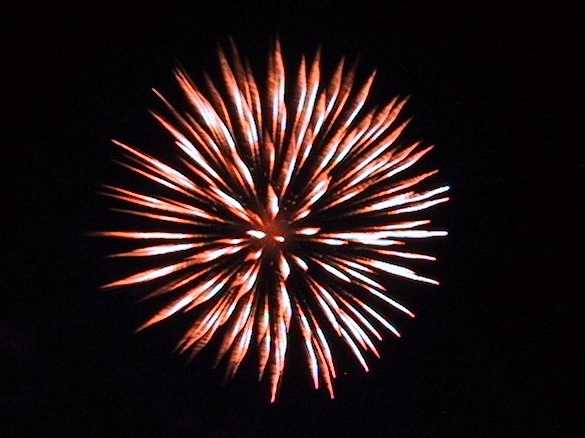 The parade starts at 10AM but be there early, no cars are allowed in town but buses will be making the circuit from various parking places to town. The day closes with a bang a fireworks will light the sky over Sugarbush starting shortly after 9PM.
As well as all these activities, don't forget there are mountain walks, energetic hikes, river and lake kayaking, refreshing swimming holes, eclectic shopping, golf and plenty of relaxing to be had here in the valley.
Join the residents of the Mad River Valley and celebrate the 4th of July Vermont style. With the many lodging opportunities here in the Valley, from welcoming B&Bs to condos and rental houses, there will surely be something perfect for you.
See you soon!
May 21, 2012 by Peter MacLaren
A basket filled with Vermont cider, cheeses, crackers, home made cookies and other goodies brings smiles to Grace and Charlie who welcomed the warm spring weather with a picnic by our pond. Spring has indeed sprung in the Mad River Valley. Signs of the season are all around us; chipmunks are sunning themselves on the rocks, peepers are singing our guests to sleep each evening and our beautiful gardens are coming back to life with brilliant daffodils now in bloom. We won't even mind a few April showers. Sugarbush has opened the golf course, folks are out walking and cycling as well as hiking on the many local Green Mountain trails.
Though we can't guarantee that there will be warm picnic weather when you come, we can guarantee that a warm welcome awaits you.
See you soon!
March 16, 2012 by Peter MacLaren
Winter gives way to an early spring
Mountainside snow melts in the warm sun
The ground begins to thaw as we enter mud season
Crocuses, tulips, and irises poke their heads through the soil
Inside West Hill House B&B Smoky demos cat yoga and enjoys a relaxing nap.
Come join Smoky and Snowball, choose your own chair of course, and chill out.
For new bookings made after March 27th for between then and April 26th we are offering these two special deals:
Stay two nights and have the third night on the house! A 33% discount.
Stay one night and get the 2nd night at half price! A 25% discount.
These discounts are not available on-line. Please call us to book.
(may not be combined with other discounts)
March 6, 2012 by Peter MacLaren
After a busy day at Sugarbush and Mad River Glen, guests' boots rest by the fireside while their humans enjoy their steam showers and jacuzzis.
February 25, 2012 by Peter MacLaren
Come play in the snow! We finally got some significant snow so now it's time to book your Sugarbush or Mad River Glen ski vacation.
In the past 24 hours we have received 12″ of snow, most of it coming since about 11 AM  on Saturday.
Today's guests report that the mountains are in superb shape and the snowy scenery is stunning.
At the B&B our fences are all snowcapped and even the front porch rockers received a snowy blanket.
We're looking forward to your visit. Check our Ski and Stay specials!
February 5, 2012 by Peter MacLaren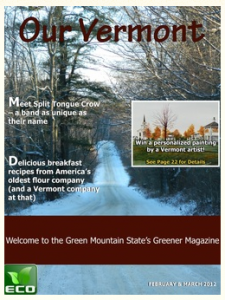 Our Vermont,  is the new Green Mountain State's Greener Magazine, and features articles about people, places, events, food, and local flavor offered in the great state of Vermont. Not only is this a paperless magazine, and you can subscribe for free on line, but they chose a 100% wind powered company to do their hosting.
Lucky us, West Hill House B&B has a featured ad in the magazine's inaugural edition. Check us out on page 2-3, the full-screen option, and accept our invitation to come to Vermont to sample the wonders of our amazing state. West Hill House is a 'Green Hotel in the Green Mountain State'. We offer Ski & Stay Packages. If you and your sweetie need a little pampering check out our Valentine's Day special. Perhaps a proposal is in your future …let us help you make that a memorable event.
West Hill House B&B is where you'll want to B&B.
January 18, 2012 by Peter MacLaren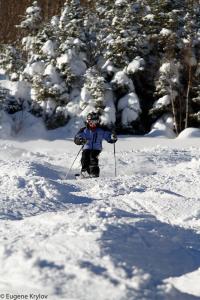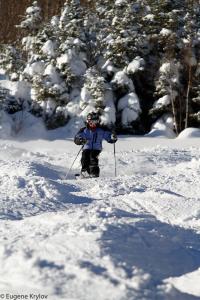 For the 2011-12 Ski Season we are once again offering our guests great prices AND flexibility for skiing at Sugarbush – immediately adjacent to the B&B with door-to-door shuttle service, Mad River Glen – a few minutes drive away, and the option to also ski on Olé's Cross Country Ski trails just down the road from the B&B.
Ski & Stay "Passport*" packages for Sugarbush & Mad River Glen start at $110 per person per day, plus tax (2-night minimum weekdays, 3-night minimum weekends) and we'll be pleased to customize a package with your choice of room and days of skiing.
The best value packages are:
4-day inclusive weekday package including Ski the Valley "Passports*" for two for 4 consecutive week-days of skiing and 4 week-nights of B&B
3-day inclusive weekend package including Ski the Valley "Passports*" for two for 3 days & nights.
Pricing for both packages, including taxes, is just:
Queen Room Package: $899
King Room Package: $999
Suite Package: $1,049
Our King Room ensuite bathrooms have double Jacuzzi tubs.
You can add another weekday day (or more) at Mad River Glen to any package for just $35 per person per day if you stay an extra night at our regular rates. The Lincoln Peak base at Sugarbush is just two minutes away by free shuttle bus from our front door and you can come back anytime during the day.
*The Passport also includes skiing at Ole's cross country resort, and specials and freebies at some restaurants and stores.
Check our Winter Activities page for more information on a winter holiday at West HIll House.
Offers are good for one pair of ski tickets per night stayed. Note ski conditions cannot be guaranteed! (The packages are not available on Presidents Week, and weekend packages require a minimum of 3 days & nights. Note that 7 days advance notice is required for all Ski the Valley passport packages.)
Photo credit Sugarbush and EKrylov.
December 3, 2011 by Peter MacLaren
We've found it! The Pot of Gold is in the Mad River Valley!
November brought us 11″ (28cm) of snow for our Thanksgiving Day guests to enjoy and 60°F (15°C) weather a few days later. November also brought us this magnificent rainbow on the 30th. While we can't guarantee you a rainbow or a pot of gold when you visit West Hill House B&B, Sugarbush or Mad River Glen, we can guarantee you beautiful scenery and warm Mad River Valley hospitality.
November 28, 2011 by Peter MacLaren
Picture yourself doing your Christmas shopping and enjoying Christmas music in the quiet serenity of the green mountains of Vermont.
Saturday, December 3 marks the 13th annual Country Christmas Open House in the Mad River Valley. Over 30 local shops and services are offering special discounts which will make your pocketbook happy and may offer free refreshments which will make your tummy happy. Pick up a punch card at any merchants displaying the Participating Merchant sign then visit 5 businesses and have your card punched at each. When you leave your card with the 5th business it will be entered for a prize drawing. Check out the list of participating merchants and services.
On Friday, December 9 The Vermont Symphony Orchestra presents Holiday Pops "Fun and Games"  at the Barre Opera House, just under one hour from West Hill House. Favorite Christmas music with a twist as they take a look at the youthful side of the holiday. Fun for everyone. Tickets required.
Thursday, December 15 the Warren United Church will host the Vermont Symphony's Brass Quintet and Counterpoint for a perfect mix of brass and voices to ring in the season. Free admission although tickets are required.(802-496-9714).
And of course the area also offers skiing and riding at Sugarbush, skiing at Mad River Glen, and cross country skiing at Ole's and Blueberry Lake. Dog sled rides, sledding, skating, and moonlight snowshoe tours are just some of the other ways to enjoy a white Christmas in Vermont – oh and you can also curl up with a warm beverage and watch the movie White Christmas.
November 6, 2011 by Peter MacLaren
Imagine a Christmas Card snow scene, a house surrounded by snow on a quiet country lane, a quintessential red barn, snowshoes, sleigh rides, shushing down the slopes or gliding on trails through the trees on your skis… Then comfortable beds, Jacuzzi tubs, steam showers, amazing breakfasts, and of course a cat or two curled up in front of a blazing fireplace…
Your imagination can become reality when you book this year's ski holiday at West Hill House!
To make things even simpler this year, while we will be happy to put together a custom package for you for two or more nights, we have two inclusive deals you can choose from:
3 nights of B&B over the weekend and 3 days of skiing at Sugarbush
4 weeknights of B&B and 4 weekdays of skiing at Sugarbush
All you have to do is choose your room and the same all inclusive price (including taxes) applies:
Queen Room Package – $899
King Room package – $999
Suite package – $1099
You can add dinner for two at The Common Man on any of Tuesday through Saturday evenings for just $99 including tax and gratuity (drinks are extra).
So time to stop imagining, and start planning.  We are looking forward to seeing you at West Hill House.  Smoky and Snowball are standing by!
Note that these package prices are not available over Christmas/New Years, MLK weekend and Presidents Week, although of course we will be pleased to have you stay at those time as well!