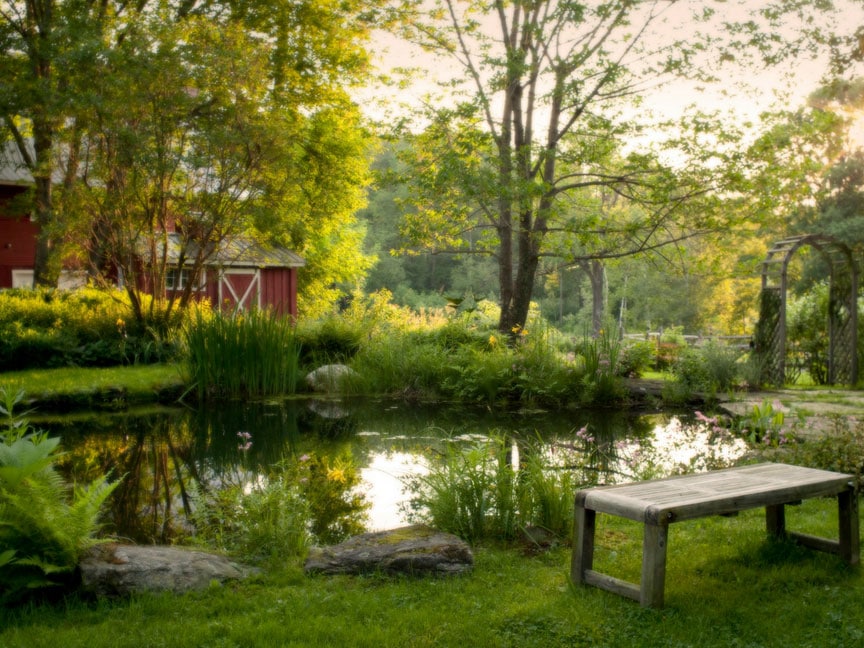 When you think Vermont what do you think? A couple popular trademarks are the Green Mountains, skiing, craft brews, Ben and Jerry's but we have one more item to add to that list; romance! It should be no surprise that the most romantic place in Vermont is smack in the middle of our rural paradise.
We have the perfect setting with beautiful mountains, bubbling brooks, and not a bill board in sight (seriously, billboards are illegal here).
Our award-winning bed and breakfast sits in the quiet town of Warren, but don't let the tranquility fool you! There is plenty to do in and around town, especially in the summer when trails and water spots are abundant. We're located right next to the popular ski town; Waitsfield which has just as much to do in the summer. Visit galleries, farms, and restaurants in the area and soak up the culture of Vermont. There's something to do for every couple!
Here is a wonderful shot of Mt. Ellen from Bragg Hill Road in the Mad River Valley. Just driving around the area you'll find many picture-perfect places. Feel free to stop and enjoy the scenery!
Of course, we know not every couple enjoys the same things, so we've gathered information on the many activities in the area so you can tailor your romantic getaway to your specific tastes.
Golf – There are many wonderful courses close to our bed and breakfast including Sugarbush Resort, right next door!
Farm-to-Table Dining – If you love the farm to table movement, then the Mad River Valley is the place for you. See all the local spots that offer this proud tradition.
Cheese Lovers – In Vermont we love our farms and that means we love our dairy and especially cheese! We're lucky enough that the Vermont Cheese Trail comes straight through Vermont and our town.
Hiking and Biking – The green mountains aren't just there to look pretty! We have a load of local trails for hikers and bikers alike. The most romantic place in Vermont just might be at the summit of one of our beautiful mountains.
The Arts – Mad River Valley comes alive in August with festivals, workshops, and shows all month long.
Whatever your taste and whatever your adventure we know you'll love spending it with us!
Follow us on Facebook  to stay up-to-date on area activities.