January 27, 2017 by Corey A. Edwards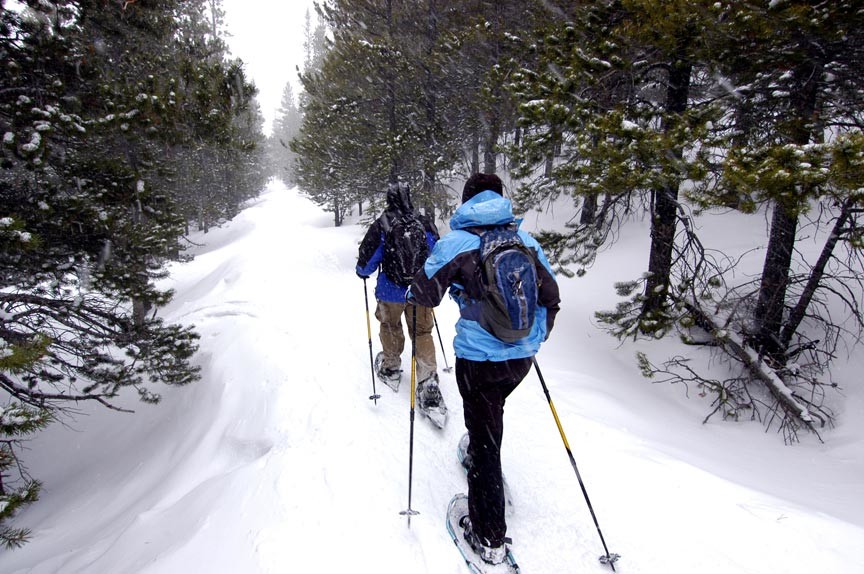 If you haven't been on a snowshoe tour in the Mad River Valley, you're missing out on one of the more relaxing winter experiences Vermont has to offer.
It probably goes without saying but, if you're a hiking enthusiast, you'll love snowshoeing. On skis, it's about the ride while, on snowshoes, it becomes more about your surroundings. There's something magical about entering the woods when they're blanketed with snow and enjoying them with a more contemplative and low-impact pastime.
Snowshoeing extends the hiking season and the popularity of this age-old sport is on the rise. Our Vermont bed and breakfast is right off the Catamount Trail, so we keep snowshoes on hand for those who want to go exploring the immediate neighborhood.
Read the rest of this page »
December 14, 2015 by Corey A. Edwards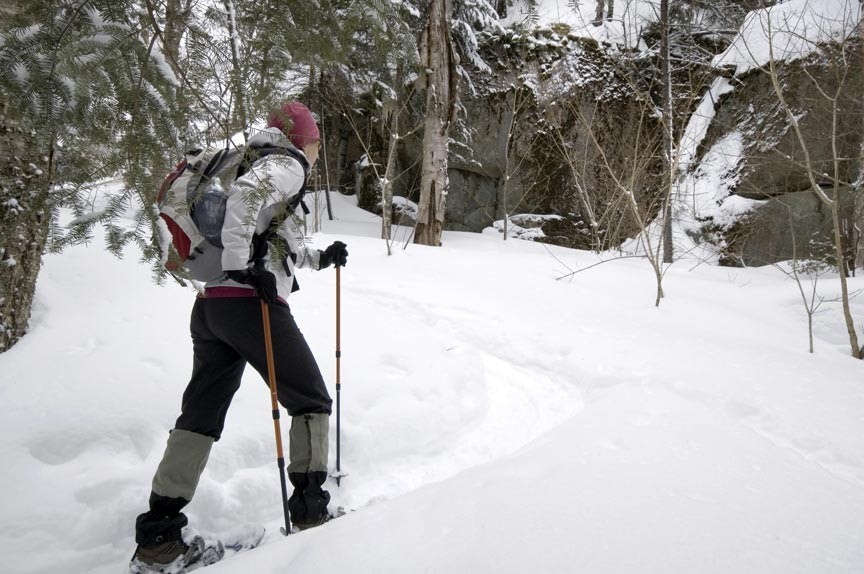 Vermont's Mad River Valley is known for its skiing – Mad River Glen, Sugarbush, Olé's Cross Country, Blueberry Lake, we've got the best – but snowshoeing Mad River Valley is also a popular winter pastime.
Snowshoeing popularity is on the rise, with light, modern, aluminum and carbon fiber snowshoes designed to not just walk atop the snow with more ease than the old, wood and cat-gut kind, but to even run across it! Snowshoeing has come a long way …
And so, too, might you! People come from all over to enjoy the kind of skiing and snowshoeing Mad River Valley offers. Most of our ski resorts offer snowshoeing trails along with skiing and snowboarding, often snowshoeing gear rentals as well.
Read the rest of this page »
July 27, 2015 by Corey A. Edwards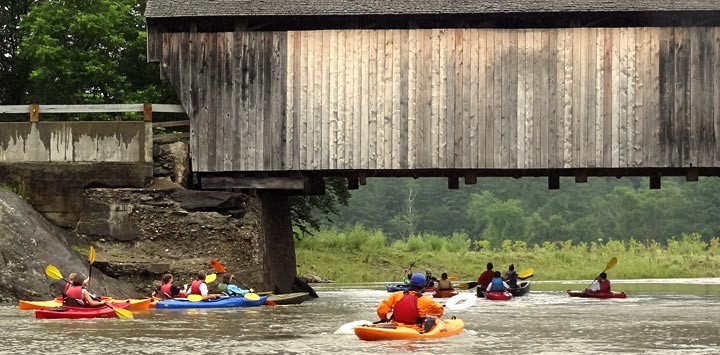 Why is the Mad River mad? It isn't – but if you want to be happy, try a guided Mad River Kayak tour with Clearwater Sports through West Hill House B&B!
Getting out of doors this time of year in Vermont's Mad River Valley is the obvious choice for really enjoying life – and what calls strongest on a hot, summer day than a chance to be out on some cool, flowing water? Not much.
Read the rest of this page »
March 14, 2015 by Corey A. Edwards
Born in Warren, Vermont, the Mad River Rocket Sled has gone from humble beginnings to becoming the foundation of a popular, new winter sport: back-country sledding.
The allure of the great outdoors – no matter the season – can be particularly hard to ignore when you live somewhere as beautiful and appealing as Vermont's Mad River Valley and outdoor recreation is a great platform for creativity. It's how so many of our favorite, outdoor pastimes came to be. That's certainly true of the Mad River Rocket!
Read the rest of this page »
November 16, 2014 by Corey A. Edwards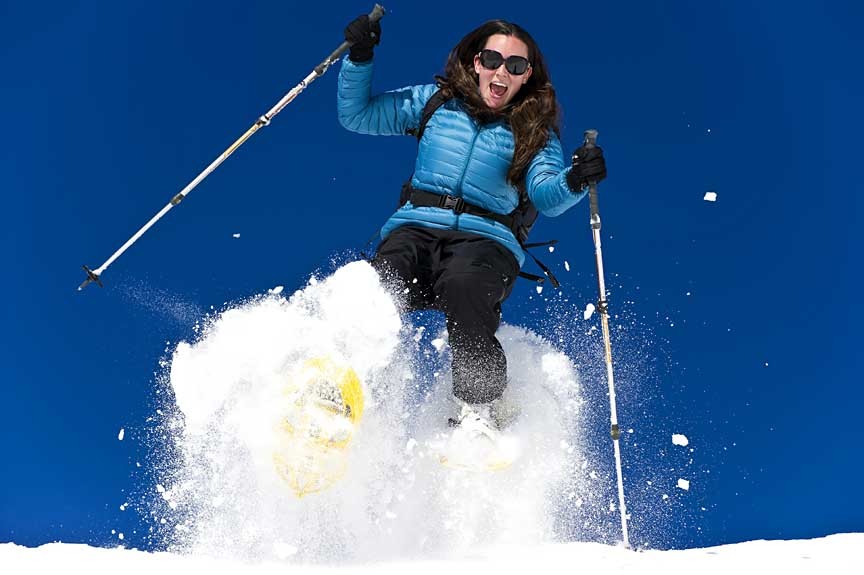 With all our recent talk about skiing, you might think that's the only popular winter sport around here but au contraire, mon frere! Mad River Valley snowshoeing is also a popular winter activity!
Snowshoeing has existed for time out of mind and, like skiing, evolved into a leisure-time sport out of a need for traversing fields of snow with greater ease. As a winter sport, snowshoeing extends the hiking season into winter and combines a good, low-impact workout with a more contemplative way to enjoy those snow-blanketed woods and fields.
Read the rest of this page »
April 28, 2014 by Corey A. Edwards
December 20, 2013 by Corey A. Edwards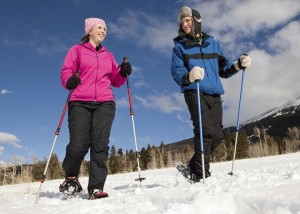 There's nothing wrong with skiing, sledding, or taking the car out for a literal spin on the ice (okay – maybe there is something wrong with that last, there) but sometimes you may find yourself craving something a little slower and more nature-intimate in your outdoor, wintertime activities – in that instance, may we recommend snowshoeing Mad River Valley?
Read the rest of this page »
February 24, 2013 by Katie Pate
Are you interested in exploring Vermont back country this winter? Why not have a true backwoods snowshoe experience with Clearwater Sports? We think this company offers superb tours through unmarked and off-trail areas. On special dates you can snowshoe through the scenic Mad River Valley forest to a secluded log cabin nestled into the woods and enjoy a warm fire, delicious hors d'oeuvres and a hearty, down-home Vermont dinner. Here is more information about the tours that Clearwater Sports offers through the Mad River Valley. Come up to Vermont and enjoy the end of the winter!
For the speed seekers: Meet the Rocketsled!
Try out the infamous Mad River Rocketsled. Conceived and built here in Warren, Vermont, this totally controllable sled allows you to carve down the mountains.
Snowshoe up the Green Mountains along the Lincoln Gap road, which is closed during the winter. This curvy, steep road becomes your rocketsled route the whole length down. You can control your speed by the way you carve your way down. This is a fun and safe adventure that will make you feel like an Olympic champion! $55 per person (including equipment rental) 11 a.m. to 2 p.m. daily, reservations required.
Vermont Back Country Snowshoe Tours
Clearwater Sports offers true backwoods experiences with experienced guides. The showshoe trips lasts three hours and brings you to unmarked and off-trail areas. Choose a level of difficulty from beginner or if you are able, a more strenuous level. Guides are naturalists that provide plenty fun animal tracking and naturalist skills. This is a truly wonderful Vermont winter experience!
A Big Breakfast and a Beautiful Bed
Complete your winter trip to Vermont by staying at our B&B. Whether you plan to hit the slopes or snowshoe, we know a hot and filling breakfast is the right way to start your day. Every morning, we serve a three course breakfast. Menu items in the past included: Sweet Pepper Scrambled Eggs, Breakfast Casserole, Ginger Pancakes with Lemon Sauce, Pain Perdu (French Toast) with local Mad River Valley Maple Syrup, Asparagus filled Crêpes, or Granny's Cheesy Soufflé. Along with amazing breakfasts, we have nine private, unique and comfortable guest rooms. We look forward to seeing you this winter!