Stirring it up!
These bars are quick and easy to make, perfect when you need a little something to go along with an afternoon cuppa. Dates add a special sweetness and walnuts give a nice crunch to each bite. This recipe does not call for any butter or shortening.
Ingredients:
2/3 c. all purpose flour
1 t. baking powder
1/4 t. salt
3/4 c. sugar, white
1 c. dates,  pitted and chopped
1 c. walnuts, chopped
2 eggs, well-beaten
1/2 t. vanilla
confectioners sugar
Stir the flour, baking powder and salt together.
Add sugar, dates and nuts, then stir in the eggs and vanilla.
Spread about 1/2″ thick in a well greased or parchment lined 9″ x 9″ square pan.
Bake at 325°F  for 25 to 30 minutes.
Cut into small squares while still warm and dust with confectioners sugar.
Dishing it out:
Apparently this recipe was first published in Good Housekeeping magazine in 1917 but by all accounts, why the name Chinese Chews, remains a mystery. While this recipe may not be the same as the early version, my mom made these from a recipe in her trusty Five Roses Flour cookbook,  A Guide to Good Cooking. My copy of the same cookbook is filled with annotated recipes on well worn pages, several of which are held in the book with tape.  The recipe actually called for the squares, once cool enough to handle, to be rolled into balls then dusted with sugar. I never remember having them rolled but no matter the shape, the taste is great and they are chewy! One drawback though, they are so good they won't last long!
December 20, 2013 by Susan
Did you know that over 120 ski areas throughout Vermont have closed, from the 1930's through the 2000's? From local, town operated rope tows, to major resorts with high speed quads, these areas all played an important role in the development of skiing in the state.
Join ski historian and author Jeremy Davis for his presentation on:
SATURDAY, JANUARY 25
at
MAD RIVER GLEN, 7 – 9 PM.
A wide variety of ski areas will be discussed, including nearby areas as well as those featured in Davis' book, Lost Ski Areas of Southern Vermont.
As well as Jeremy's presentation, the evening will include light fondue refreshments,  a special showing of the new T-Bar film, United We Ski, and more. Admission by donation at the door .
Jeremy Davis is the founder of the New England Lost Ski Areas Project, a website dedicated to the history of lost ski areas throughout the region. He is the author of three books: Lost Ski Areas of Southern Vermont, Lost Ski Areas of the White Mountains,  and Lost Ski Areas of the Southern Adirondacks, and is currently working on his fourth book, Lost Ski Areas of the Northern Adirondacks. Davis serves on the Board of Directors on the New England Ski Museum in Franconia Notch, NH. He is a 2000 graduate of Lyndon State College, VT, and today works as a Senior Meteorologist at Weather Routing Inc. in Glens Falls, NY.
Plan to be there if you can – you might just find out what happened to that ski hill you skied on as a kid.
Print the poster!
This event is co-sponsored by West Hill House B&B and Mad River Glen.


Stirring it up:
Who doesn't like chocolate? And what about chocolate and mint? A yummy combination to be sure. These absolutely delicious chocolate cookies have just a hint of peppermint and pack a mouthful of chocolaty goodness.
Makes 36 cookies
Oven 350F
Bake 5 – 6 minutes
Ingredients:
1 c. white sugar
6 T. canola oil
2 eggs
2 c. all-purpose flour
1/2 c. baking cocoa
1 T. baking soda
1/4 t. salt
1/4 t. peppermint extract
4 T. milk (whole, 2% or fat free)
In a bowl, beat sugar and oil until crumbly. Add eggs and beat for 1 minute. Combine flour, cocoa, baking soda and salt and gradually beat into the sugar mixture. Add the milk and mix well
With lightly floured hands roll dough into 36 balls and place 2″ apart on a parchment lined or non-stick sprayed baking sheet. Flatten slightly with your fingers.
Bake at 425° F for 5 – 6 minutes just until the edges are set and the tops crack. Cool a couple of minutes before removing to cooling racks. Enjoy as excellent plain chocolate cookies or make cookie sandwiches with some fluffy vanilla butter icing or you could make larger cookies and make ice cream sandwiches with them – now that would be great for a 4th of July party!
Dishing it out:
Outside our Garden Room we have an herb garden which at this point is growing like crazy because of all the rain we have been having. The first crop of chives has been snipped and dried in the oven for use in the winter and the remaining sprigs have flowered. The flowers make a lovely garnish and are good in soup and cream sauces as well. You'll see in the photograph that I have put some mint along with the cookies. This isn't just ordinary mint but chocolate mint. It looks like "regular" mint but it has a chocolate brown stem and it actually smells and tastes like chocolate mint—like the cookies! While I considered chopping the mint and mixing it into the cookies I wasn't sure how guests would react to bits of green stuff in their cookies. Maybe I'll try that another time. In the meantime, this mint is really nice floating in black tea or just in hot water. A real treat is mint with strawberries and some whipped cream. There is a tasty summer watermelon salad that has mint, feta cheese, english cucumber among other ingredients—you'll find that in the June 13, 2010 blog. Happy munching.
February 12, 2013 by Susan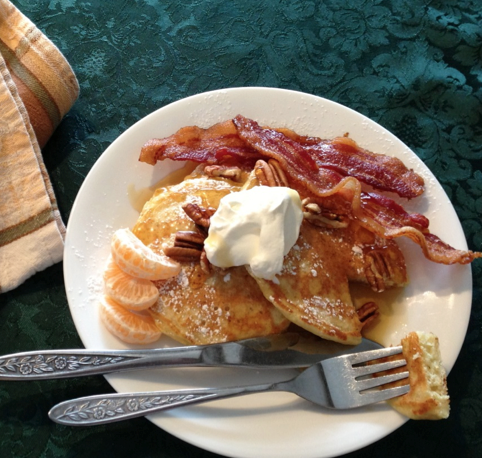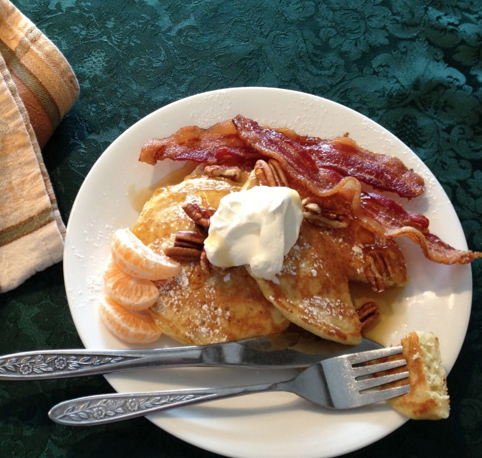 Stirring it up: Pancakes…just the name conjures up the sights and smells of a marvelous breakfast. These Ricotta Pancakes are easy to make and will provide you with great taste, fluffy pancakes and enough energy to tackle a day on the slopes.
Ingredients:
1 1/2 c. all-purpose flour
1 t. baking powder
1/4 t. baking soda
1/4 t. salt
1 1/2 T.  sugar
1-2 t. finely grated orange zest
4 T. melted butter
1/2 c. ricotta cheese
1 lg egg
1/2 c. orange juice
1/3 c. milk (or almond milk or silk)
1/2 t. vanilla extract
In a large bowl, combine the flour with the baking powder, soda, salt,  orange zest,  and sugar. In another bowl, whisk together the butter, ricotta cheese, egg, orange juice, milk, and vanilla. Combine the wet into dry ingredients until just blended,  the batter will be thick and you may add a bit more milk if you wish but you still want it to be fairly thick.  Onto a lightly greased, medium-hot skillet pour about 1/4 c. of batter for each pancake. Flip when bubbles appear on the top of the pancake. Serve with all the fixings and don't forget the maple syrup.
Dishing it out: In our house they were flapjacks. My dad was a great flapjack maker and we loved the mornings when we would smell them cooking. Dad would tell the story of Paul Bunyon and flapjacks: Paul Bunyon was a giant of a lumberjack. Paul's lunber jack friends (who were also very large) loved flapjacks too so Ole the Blacksmith, made a griddle so large you couldn't see across it when the smoke was thick. Sourdough Sam had fifty men with pork rinds tied to their feet skating around the griddle to grease it. The batter was mixed in large barrels and it took a strong cook just to turn the flapjacks, let alone get them to the table. Check here for more Paul Bunyon stories. We would always ask Dad if he would  make Paul Bunyon sized flapjacks for us. He never made them  quite that large but they were delicious and we gobbled them up just the same. I think Paul Bunyon would have liked Dad's flapjacks!
Whether you call them pancakes, hotcakes, flannel cakes, drop scones (Scottish),  oatcakes (English), griddle cakes, or flapjacks this is one breakfast that will surely hit the spot.
January 30, 2013 by Susan
Stirring it up! Cornbread is often thought of as a southern US food and seldom served in the northern states which is a pity. This cornbread recipe has become a favorite of our guests especially when served warm with honey-butter and along side an eggy breakfast casserole. Can't say where I found this recipe as it's been in my collection for ages.
Ingredients:
1/4 c. butter, melted
1 c. yellow cornmeal  (I use coarse cornmeal)
3/4 c. flour
2-3 T. Sugar
4 t. baking powder
1/2 t. salt
1 can creamed corn (8oz)
1 c. milk
1 large egg lightly beaten
Turn the oven temp to 450°F. Pour 2T. of melted butter into an 8×8 pan and bake for 5 minutes until the cake pan is very hot. While the pan is heating, whisk together the cornmeal, flour, sugar, baking powder and salt. Make a well in the center of the mixture and pour in the creamed corn, milk, egg and the remaining 2 T. of melted butter. Stir until smooth then pour into the hot cake pan. Bake for 30 – 35 minutes or until golden brown and tests done in the center. Let stand for about 10 minutes before serving. Makes 9 pieces.
Dishing it out!  When I was about 10 years old, a friend and I decided to start a cooking club with only ourselves as members and our moms as consultants. We took turns week about in each other's kitchens and choose recipes from our mom's recipe collections. With their  blessings we'd cook up a storm and of course have to clean up after, this part was not nearly as fun as the making part!  I cannot remember what we made or how long we did this but I do remember we enjoyed the time in the kitchen.  I wonder if Brenda still loves to bake?
November 29, 2012 by Susan
With early season snowflakes whirling about them, and the temperature sitting at about 28°F, Ryan and Jeff were married in the meadow at West Hill House B&B. Our favorite Justice of the Peace, Greg Trulson officiated at the wedding making it a very meaningful occasion, as he always does. Following the ceremony,  the newly married couple asked Peter to continue taking photos as they enjoyed a short stroll around our wintery gardens.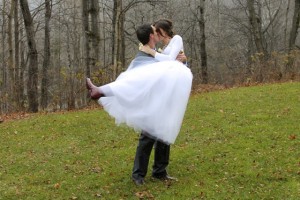 Warming up by the fireplace a few minutes later Ryan and Jeff enjoyed an intimate wedding reception complete with wedding cake, made here at West Hill House, and a bottle of  Champagne. They were kind enough to invite Greg and Peter and Susan to join them.
Ryan loves experimenting with recipes. Check out her food blog called Skinny Supper. It's a fun site with lots of photos to help you along.
November 14, 2012 by Susan
RoadID
. Pro cyclists wear it. Marathon runners wear it. Ironman competitors wear it. And, not that I fall into
any
of these categories, I wear one too. Whether you are an athlete or not, this comfortable little wrist band is a great way to have ID on you at all times.
For years we have watched the Tour de France on TV and have not only seen Bob Roll in some pretty funny ads for this ID but have also seen commentators Phil Liggett and Paul Sherwen and of course cyclists wearing the RoadID. The ID is available in numerous colors and styles including a style to thread in your shoelaces and even a RoadID for Fido.
Thanks to encouragement from Ted King we're on board.
RoadID – never leave home without it – you just never know when it might help save your life.
November 2, 2012 by Susan
Hi everyone, I'm the Red Chair that has been traveling throughout New England for the past several months.
I arrived at West Hill House B&B in the aftermath of Hurricane Sandy and rain was the order of the day. Fortunately my hosts offered rain boots and an umbrella so I stayed pretty dry. Inside I was given a place by the fire to warm up a bit even had a pussy cat come curl up with me for a bit.
Once the weather cleared my first stop was at the top of the Lincoln Gap Road, the highest road pass in Vermont, where I set foot, or should that be feet, on the Long Trail. The air was so fresh I'm felt I could have walked the full 273 miles of the trail but I had places to go and things to see.
With winter just around the corner I wanted to be introduced to the Mad River Glen ski area. I checked out the ski school meeting place then of course had to have my photo taken with the single chair.
From there we went to Sugarbush where I had my photo taken with a local cow before going  to sit beside the year 'round skier. He didn't say much, we just enjoyed the solitude of the moment.
I visited the Hartshorn Farm and hey, for fresh food, maple syrup from their own trees and hay, head to their farm stand. And speaking of stand – look at me standing atop a huge bale of hay!
With my feet firmly back on the ground I posed with some squash then climbed up on the wall to sit with the boxes of pumpkins for a while.
My legs were getting a bit cramped so I hopped down and headed over to visit with the alpacas, The Finkles,  who didn't seem to mind my company.  I certainly did not expect to see alpacas in Vermont!
A stop to pose in front of the Warren Covered Bridge that spans the Mad River then back to my temporary home at the West Hill House B&B and ready for a warm cup of hot chocolate and a little cake.
Wow, have I had fun! I can't wait for my next adventure! Tomorrow I am off across the Green Mountains to visit Middlebury, Vermont – I wonder what adventures await me there.
October 24, 2012 by Susan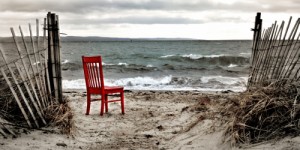 Yes, a Red Chair is traveling throughout New England and having a great time visiting B&Bs, historic sites, museums, gardens and beaches.  
Keep your eyes open, it may be coming to a B&B near you!
September 4, 2012 by Susan
On the go from one place to another at the B&B, I always take a quick look around to see that everything is as it should be.  But today I seem to have an supervisor relaxing in an unusual spot!
"Excuse me, but what exactly do you think you are doing up there?"
A quiet "meow" was the reply.
Not wanting to startle Smoky into moving too quickly and perhaps upsetting our heirloom grandfather clock I left him there and, after a few minutes, he delicately hopped down – as only a cat can do.
Today on our Sap-bucket list we highlight the Stetson Hollow Trail and Falls. A perfect activity for a hot summer day in the Mad River Valley, the tree shaded Stetson Hollow trail follows along the Stetson Brook and is an easy 1.2 mile hike.  Take your camera – there is some gorgeous scenery on this 45 minutes hike to the falls.
At the head of the trail you will be treated with the sight of a 40 foot 'horsetail' falls. A seasonal falls, spring and fall are when the water is most abundant however during other times of year this is still a lovely trail. While the water is cooling, swimming is not permitted.
Heading south from the town of Warren, Stetson Hollow Road is on the right 2.2 miles from the Lincoln Gap/Rte 100 intersection. It looks like you are  driving into someone's yard and actually you are (please respect their privacy) but keep going, you're on the right track to the start of the trail and a bit  farther along is space for parking.
Have fun and keep cool.
Happy 4th everyone!
The Sugarbush area 4th of July celebrations got off to a great start on June 30 with the 3rd annual Stars and Stripes Air Show featuring vintage plane and glider aerial acrobatics.
This morning the focus is on the 64th annual Warren 4th of July parade with its collection of quirky floats which draw thousands of folks to the area for a day of celebration. Family activities, music, and food – including a roast pig from Gaylord Farm and pizza from American Flatbread- will help keep the celebration going all day.
Swimming holes will be a great attraction today too, as folks look to cool off. Sugarbush Resort  has activities throughout the day and to the enjoyment of everyone will conclude the day with a spectacular  fireworks display.
Come Sunday we'll all be encouraging the runners in the 2nd annual Mad Marathon as it winds it's way through the beautiful Mad River Valley. We have a house-full of runners booked in for the weekend. Go runners!
Wishing you all a safe and fun filled day.